The investing community is concerned whether Linn Energy (LINE) will be able to retain its high dividend characteristics in the wake of the events that have taken place in recent times. However, Linn Energy's credibility among its lenders makes us believe that the company still has enough potential to continue its high dividend payout. Additionally, a mix of recent events has caused the stock price to decline in the last three months, but the fundamentals of Linn Energy are strong, which prompts us to believe it has upside potential in the future.
Moving forward on Berry acquisition
On September 11, 2013, Linn Energy announced that it is working on filing a form S-4/A, following the comments it received on an earlier filing with the SEC regarding its proposed acquisition of Berry Petroleum (BRY). Linn Energy, its acquisition vehicle Linn Co (LNCO), and Berry have agreed to set the record dates of their stockholders meeting to Sep 30 this year. This disclosure clears the uncertainty regarding the Berry merger and indicates that the companies are making progress on this issue. The market reacted positively to these developments, creating a one day surge in the stock price of all three companies involved - Linn Energy (+12.77%), Linn Co (+12.02%), and Berry Petroleum (+3.11%).
How will this merger impact each company involved?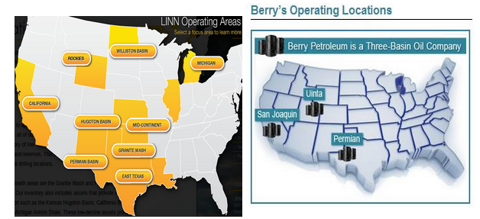 Source: Google Images
Linn Energy will benefit a lot from the Berry merger. As shown in the image above, this merger will add complementary assets to Linn Energy in the Permian Basin and The California region. Berry also adds its Uinta basin in Utah to Linn Energy's asset base. Acquiring assets in the Permian basin will be particularly beneficial for Linn Energy, as the Permian Basin is projected to be the top shale oil producer.
Linn Co is also likely to benefit a lot as a result of this merger. Linn Co is Linn Energy's acquisition vehicle, and this deal will help Linn Co pursue future acquisitions aggressively. On the strength of this acquisition, Linn Co can look to acquire a few other small players that are potential acquisition targets as well. Additionally, Linn Co shareholders receive a Form 1099 instead of the Schedule K-1 as a tax document. Schedule K-1 is complex and requires multiple entries on the taxpayer's federal return, and income investors who wish to save themselves from the paperwork hassles will prefer Linn Co.
Berry investors are also likely to gain on two counts. Berry gives only a token dividend of $0.08 to its shareholders on a quarterly basis. After this merger, Berry shareholders will become Linn Co shareholders, and Linn Co provides a dividend of $0.2416 every month. This dividend will rise to $0.2566 monthly if the Berry merger takes place. Berry, which is concentrated in only three locations, will become significantly more diversified as a result of this merger.
Wrong is right
Linn Energy filed an amended S-4/A with the SEC on Sep 18, 2013, following an inquiry by the SEC about their accounting practices. There has been an outcry in the investing community following this development, and some believe the company has misled investors by manipulating several fundamental factors in the past. Linn Energy's past reporting practices have been in line with those of master limited partnerships because of its broad acceptance as one. However, the SEC investigation has now forced it to report as per its limited liability company agreement. It is believed that these changes will hurt Linn Energy's cash flows in the future. As far as we are concerned, such fears are unfounded.
The new accounting methodology adopted by Linn Energy will require using the Operating Cash Flow, instead of the Adjusted EBITDA, to calculate the distribution for the shareholders. Additionally, it will have to replace the term maintenance capital expenditures with discretionary reductions for a portion of oil and natural gas development costs. The most important metric, which allows investors to hold onto this stock, is the distributable cash flow or dividend. The dividend yield at the current price is 11%, which is more than four times the yield investors receive on a 10-year treasury bond at the current interest rates. So, even in the absence of capital appreciation, the return from this stock is very healthy. The major fear surrounding the new accounting practices is whether it will be able to maintain its robust dividend payments. So, we have presented three scenarios here to indicate whether the company can maintain its dividend payments.
Ø Scenario 1:
In its Supplemental Q2 2013 Financial and Operational Results, Linn Energy provided guidance for its Adjusted EBITDA and Maintenance Capital Expenditure, or Maint. Capex, for the year ending 2013. The company expects Adj. EBITDA to be $1.459 billion and Maint. Capex to be $457 million at the year-end. This implies that the Adj. EBITDA will be 1.03 times in the second half of 2013, as compared to the corresponding figure in the first half. For estimating the Operating Cash Flow, or OCF, we are using this guidance, assuming that the OCF will remain constant in both halves of this year. This provides us with OCF figure of $1.123 billion for 2013 and a distributable cash flow of $665.7 million. On an outstanding share count of 235.3 million, we are left with $2.83 per share. Distribution Coverage Ratio, or DCR, is defined as the distributable cash flow divided by total cash distributions. Linn Energy's monthly dividend payment of $0.2416 implies total annual dividend payment of $2.90 per share. This gives a DCR of 0.98. Linn Energy gave a DCR guidance of 0.9, and using the new accounting method, we are actually getting a figure higher than that, which eliminates any cause of concern.
Ø Scenario 2:
Another scenario that we can consider is one where Linn Energy posts an operating cash flow 10% lower than what it managed in the first half of 2013. In that case, operating cash flow at the end of this year will be $1.067 billion. Distributable cash flow will then be $610.18 million. This results in a cash flow of $2.59 per share. DCR in this case is 0.89, which is very close to the company's guidance.
Ø Scenario 3:
In case the Berry merger goes through, Linn Energy will increase the monthly dividend payment to $0.2566. This implies a dividend yield of 11.9% at the current price. Annual dividend payment in this case will be $3.08 per share. The distributable cash flow is $2.83, as discussed in scenario 1 above, and the DCR in this case will be 0.92. This is manageable for Linn Energy considering its history of funding dividend shortfalls with debt.
Possibilities of Berry merger
To us, the Berry merger is still a wild card. Our reasoning is the difference in the stock price of Linn Co and Berry. If the Berry merger is successful, their shareholders will receive 1.25 Linn Co common shares for each share of Berry common stock that they own. However, Linn Co is currently trading at $29.28, and Berry at $43.17. Since the exchange ratio in the merger is fixed, if the prices don't change much before the scheduled shareholder voting on Sept. 30, Berry shareholders will lose nearly 15% per share. So, the merger completely depends on how close Linn Co gets to Berry at the time the stock changes hands, and whether Berry shareholders are ready to net a current loss in anticipation of the future gains.
The Berry merger was also previously expected to increase the DCR for Linn Energy. According to Linn Energy's guidance in its Supplemental Quarter 2 2013, the DCR will increase from 0.9 to 0.96 at the end of 2013 as a result of the Berry acquisition. However, with the accounting changes in place, this will not happen. Linn Energy used to include the charges and benefits of acquisitions and divestitures in adjusted cash flows, but following the change, OCF won't include any effects of M&A. Therefore, any synergies created as a result of the merger won't reflect in the OCF (which adj. EBITDA used to include previously). Therefore, there won't be an effect on the distributable cash flow to shareholders. However, as we have already pointed out, the DCR is strong even without the effects of the merger.
Active in Permian Basin
Amidst all these activities, Linn Energy also made an announcement this month to acquire oil and natural gas based assets in the Permian Basin for $525 million. This is a move to expand its exposure in the Permian Basin, as this deal will add 300 proved drilling opportunities to the company. It will finance this deal with the proceeds of a $500 million senior secured term loan with its lender group. This announcement comes close to the heels of an additional $1 billion credit facility secured by Linn Energy in August, increasing its revolving credit facility to $4 billion. The company's ability to acquire assets by securing loans with its lender group shows the lenders' confidence in the company's future. This further enhances our confidence in the stock.
These oil and gas assets have an estimated net production of about 4,800 barrels of oil equivalent per day in the first year of production. The overall proved reserves in these assets are about 30 million barrels of oil equivalent. Since this deal is fully financed with a term loan, it is estimated to add $0.10-$0.15 per share in distributable cash flow for Linn Energy. This will reduce the debt burden for the company at the time of distributing dividends.
Conclusion
Linn Energy is a company that has been under a cloud for quite some time, and the speculation has guided its stock price recently. Its accounting practices have been the subject of discussion for quite some time, and analysts have presented differing opinions. However, a bit of number crunching has helped us realize that the modified accounting practices will not affect the company's cash distribution going forward. Additionally, the stock should move forward following the Berry merger because of the synergies it brings to the table. In case of a non-merger, the stock may move down temporarily, but income investors shouldn't worry, as it will not affect Linn Energy's cash flow. Linn Energy has strong fundamentals and can do well even without Berry.
Investors looking for capital gains from this stock also have reason to benefit. The trailing twelve months price/sales ratio is 3.22. The consensus revenue estimate for Linn Energy for 2013 is $2.35 billion. On an outstanding share count of 235.3 million, this implies revenue per share of $9.99. If the price/sales ratio at the end of 2013 remains at 3.22, we get a target price of $32.16. This results in a potential upside of over 20% from the current level. Additionally, even in the absence of capital appreciation, a dividend yield of 11% looks compelling enough to consider indulging in this dividend player.
Disclosure: I have no positions in any stocks mentioned, and no plans to initiate any positions within the next 72 hours. I wrote this article myself, and it expresses my own opinions. I am not receiving compensation for it (other than from Seeking Alpha). I have no business relationship with any company whose stock is mentioned in this article.
Additional disclosure: Fusion Research is a team of equity analysts. This article was written by Madhu Dube, one of our research analysts. We did not receive compensation for this article (other than from Seeking Alpha), and we have no business relationship with any company whose stock is mentioned in this article.