Designing, manufacturing and installing the labyrinth of systems and equipment required for today's massive subsea projects is one of the most complex tasks in the oil and gas industry. Without question, the daunting challenges at these depths contribute to the perdurably low customer satisfaction ratings for subsea products we have observed over the years.
Although not the market-share leader in the space, Cameron International (NYSE:CAM) has recently been dynamic in its efforts related to subsea offerings, most specifically advancing its capabilities with the OneSubsea JV with Schlumberger (NYSE:SLB).
Poised for Growth
Cameron executives portray an ambitious organization growing both in its traditional areas of strength and at the fringes. A portion of growth has come through a company initiative to sell a wider variety of its products to existing customers. But this approach is no panacea, as our studies show that companies run the risk of disappointing customers when they try to do too much. Cameron is no exception, with its customer ratings falling along established lines by service segment.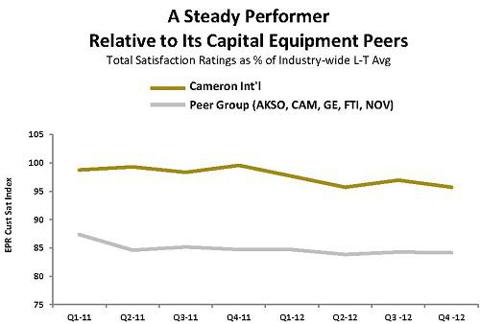 The recent announcement by National Oilwell Varco (NYSE:NOV) to spin off its distribution business into a separate entity suggests at least one Cameron competitor might be coming to see less as more. Cameron executives also point to its record $10.5 billion backlog as an indicator of a sustainable expansion. Yet again, customary backlogs add to a company's health to a point, but they can also drag down the customer experience if clients find themselves too far back in the queue.
OneSubsea As Catalyst?
We note that Cameron's statements on its offshore capabilities increasingly center on OneSubsea. This is understandable as the JV affords the company the aggressive technology development and marketing muscle of Schlumberger.
When the venture was announced late last year, we projected the move meant a tighter focus on the part of all parties involved. Even with the recently captured $540 project for Chevron in the North Sea and other deals in the pipeline, it's too early to tell how customers will size up the partnership.
Cameron CEO Jack Moore says despite its capabilities, the venture must pursue OneSubsea projects with "commercial discipline" and "focused execution." He also argues subsea is a premium segment and pricing should reflect accordingly.
On the surface, customers in our surveys have historically taken little pleasure in either Cameron's or Schlumberger's pricing and terms. We suspect the same will hold for OneSubsea. That said, deeper analysis indicates pricing is not a major determining factor in customers' eventual satisfaction. Rather, overall satisfaction tends to color feelings about pricing.
Wiggle Room In Pricing
Cameron right now is a tale of success and growth in its traditional offerings, with commensurate exposure in less familiar, but promising, areas. Never one to target market share through discounting, the company's subsea revenues are nonetheless on the rise, no doubt in part due to its strong ratings and reputation for subsea wellheads and trees.
According to Moore, the JV's accomplishments so far show only a glimpse of the promise of the venture's combined capabilities. In the end, as a leader in blow-out prevention systems and land-based wellheads, with a promising set of drilling-rig and -system offerings in a time of high demand, we sense Cameron may have earned some wiggle room when it comes to pricing across its entire product line.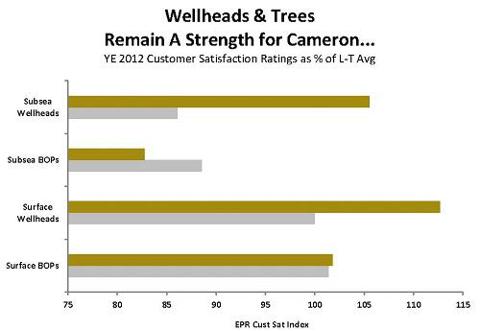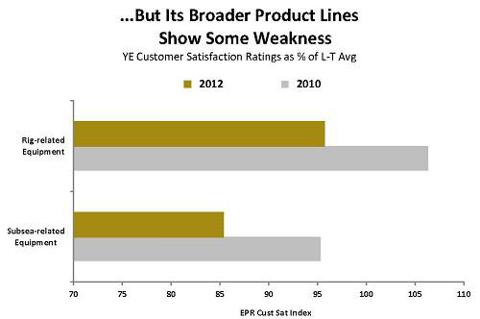 Disclosure: I have no positions in any stocks mentioned, and no plans to initiate any positions within the next 72 hours.
Business relationship disclosure: My firm, EnergyPoint Research, does and/or seeks to provide for-fee data subscriptions to oil and gas industry participants, investors and other stakeholders, including companies covered in its posts, reports, articles and surveys.