Oilfield services company National Oilwell Varco (NYSE:NOV) has announced that it will be spinning-off its distribution business as a separately traded company. After the split, two separate publicly traded companies will remain. The distribution business will operate as a provider of maintenance, repair, and operating supplies for the global energy and industrial markets.
The logic behind the spin-off is that the distribution business and what remains of NOV will each be better focused on their specific products, services, and customers. By streamlining their operations, the two separate companies are expected to be worth more as individual entities rather than one company. The 2012 acquisitions of Wilson Supply and C.E. Franklin have allowed the distribution business to become large enough to have the scale to operate as a standalone company. The distribution business will have over 415 locations with operations in 26 countries. This spin-off comprises about 85% of NOV's Distribution and Transmission segment revenue, which equates to $1.1 billion for Q2 2013. To put the distribution revenue in perspective, $1.1 billion was 19.6% of NOV's total Q2 revenue. The spin-off is expected to be completed in the first half of 2014.
Another successful spin-off in the energy sector was implemented by ConocoPhillips (NYSE:COP) with the creation of Phillips 66 (NYSE:PSX). Both companies have experienced above average stock gains since the split. Phillips 66 has a clear focus on refining, midstream, and chemicals, while ConocoPhillips focuses on the exploration and production of oil, natural gas, and bitumen. It is likely that their performance as individual companies was better than if the spin-off never took place. It makes you wonder if a large company like Exxon Mobil (NYSE:XOM) should do a spin-off to allow for more efficient operational performance. Exxon Mobil has significantly underperformed the S&P 500 in 2013. Unloading one of its businesses may unlock operational value in the form of focused efficiencies, which is likely to lead to increased shareholder value.
NOV has also underperformed the S&P 500 this past year. I think that the company is looking to unlock some shareholder value with the spin-off. The company's acquisitions of Wilson Supply and C.E. Franklin have helped NOV's distribution business to grow into its own efficient entity.
The company is valued below the market with a forward PE of 12.4 and a price to book ratio of 1.6. As a comparison, the S&P 500 has a forward PE of 15 and a price to book ratio of 2.4. However, NOV looks fairly valued when looking at its PEG of 1.4, which is about on par with the market.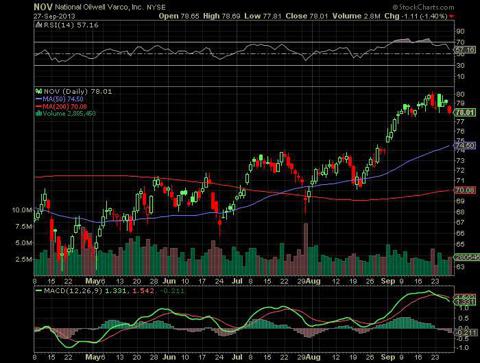 Click to enlarge
Pricing conditions are currently conducive for National Oilwell Varco. With oil prices over $100 and natural gas over $3.50, continued exploration makes sense for NOV's customers. Commodity prices are a risk for the company. If the price of oil or natural gas falls too far, NOV's customers may cut back on their business activities which would reduce the demand for its products/services. However, I think that the supply/demand conditions will allow for commodity prices to remain in an acceptable range for continued exploration and production, despite some fluctuations.
As a whole, NOV was expected to grow earnings annually at about 10% for the next five years. Next year's earnings growth is expected to be over 17%, so I would expect that better stock performance will be in store for what remains of NOV and its distribution spin-off for the next twelve months. The spin-off should provide an added boost as the separate companies gain efficiencies from their new individual operational focus. I'm looking forward to seeing strong stock performance from both entities as a result of the spin-off.
Disclosure: I have no positions in any stocks mentioned, and no plans to initiate any positions within the next 72 hours. I wrote this article myself, and it expresses my own opinions. I am not receiving compensation for it (other than from Seeking Alpha). I have no business relationship with any company whose stock is mentioned in this article.