More than three-fourths (77%) of online Americans ages 65+ say they shop online, the highest percentage among any generational group, according to a study by the Cable & Telecommunications Association for Marketing (CTAM).
The research found that older Americans - including both Seniors (also referred to as "Matures") and the younger Baby Boomer cohort - have overwhelmingly made the internet an integral part of their everyday lives and often rival younger generations in online activities.
Seniors Online in Droves
Online seniors regularly use email (94%), go to the internet to look up health and medical information (71%), read news (70%) and manage their finances and banking (59%). They also turn online for gaming: Approximately half (47%) of online Matures regularly play free online games.
Boomers Logged On
Boomers (ages 45-64) are heavy online users as well, with 93% using email and 71% shopping online, the study found. Other regular activities for online Boomers include reading news (73%), gathering information (67%) and paying bills (66%).
Additionally, three in 10 (30%) regularly watch videos online, and 39% regularly go to networking websites, forums, message boards and chat rooms, according to CTAM.
Tech Ownership by Generation
The study did find that Matures often lag younger generations in terms of owning the newest technology. However, Boomers are tech-savvy and nearly as likely as younger generations to own a digital camera, DVD player and cell phone. And, while younger generations are more likely to send and receive text messages -- 92% of Millennials ages 18 -29 and 76% of Gen Xers ages 30-44 text -- half of all Boomers (48%) and 18% of Matures also engage in this activity.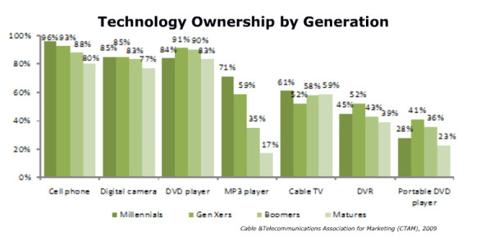 While all generational groups are high subscribers to cable TV service, the youngest generation – Millennials (61%), leads in this category, followed by Matures, CTAM found.
"The technology adoption behaviors of the younger generations is studied frequently and their impact on advertising and marketing is widely known." said CTAM President and CEO Char Beales. "But this study is unique in that it reveals opportunity among the Boomers and Matures, who have significant purchasing power, are active online and more comfortable with technology than often reported."