The night is always darkest just before the dawn.
General Motors (NYSE:GM) is known to some as an icon of American manufacturing expertise. To others it represents the ultimate American comeback story with parallels to the turnaround case of American International Group (NYSE:AIG). Almost falling off the cliff in the 2008-2010 period, only government assistance kept the company afloat. Better than the Republican approach to just hand over pay checks, the Obama administration settled the issue the right way: getting all parties (management, creditors, employees) together to set the company on a new growth path with a more competitive cost base, carving out bad assets and an underlying incentive structure that allowed GM to reorganize its business and come back a leaner and more efficient company.
Investment thesis
Since I am magically drawn to bankruptcy investments and post-reorganization securities, General Motors could be a tremendous value play for investors who excel on patience and who can manage their expectations. More than half of the investment equation is being emotionally unaffected by group thinking, while the remaining part is determined by analytical skills (such as valuation and accounting knowledge) and investment experience which combines the emotional and analytical sphere. While Tesla (NASDAQ:TSLA) gets all the attention and fetches outrageous valuations based on lofty sales projections, General Motors takes a back seat which is quite undeserved.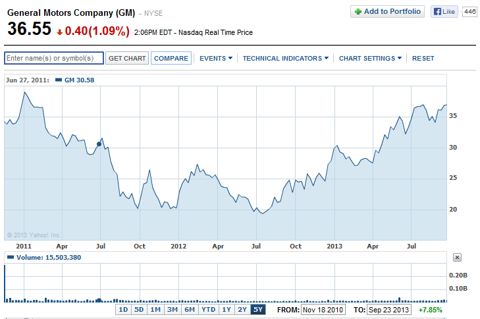 Q2 2013 shows fundamentally improved financial performance and continued market penetration
General Motors posted promising Q2 2013 results:
Record level Chevrolet sales
US Cadillac sales were up a Tesla-like 33% y-o-y
Group net revenues were up $1.5 billion indicating strong demand of GM's auto models that can compete in the market place
Adjusted EBIT was up 10%
Adjusted Free Cash Flow was up 53% to $2.6 billion
A further geographic breakdown of adjusted EBIT is provided in the performance comparison chart below. The most noteworthy developments are the EBIT improvements in General Motors home market in the US and in Europe. The results show that General Motors can achieve growth in saturated markets with a competitively priced fleet. With exception of GMIO adjusted EBIT improved across the board.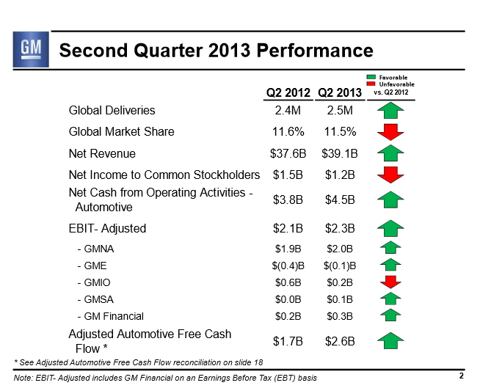 Why GM has a good position to face perceived Tesla threat
Challenges practically relate to industry competition, emission regulation and political demands to produce a higher efficiency car fleet. Rivalry in the industry is fairly intense, regular promotional activities linked to serious rebates are margin eroding and unfavorable for shareholders. However, aggressive pricing is a key characteristic of free markets and affect other automobile manufacturers such as Ford (NYSE:F), Chrysler and Toyota (NYSE:TM) just as well. Top-line and bottom-line growth over the last few years has shown that GM can price and sell its fleet in competitive markets.
The big question in terms of industry challenge is whether the automobile market will transition to alternative energy transportation modes. I generally do not believe that food can reasonably be used to fuel cars. Besides the moral question of using food as a transportation means (while there is still hunger in the world) biofuel production remains unprofitable. Whether there will be a switch to electric models is questionable. I believe that even if such a transition were to occur, it wouldn't be a big game changer as GM is fully capable of adapting to electric car or any other alternative fuel technology. After all, GM has a century of experience manufacturing cars. The first mover advantage assigned to Tesla is overrated. If the consumer would indeed demand electric cars, the demand will be allocated among those car manufacturers which can accommodate different tech processes in their assembly lines. Demand creates supply, not the other way around.
Why buy General Motors?
The main reason: The absolutely compelling valuation. Investors can purchase a blue-chip company with a recent completed restructuring which cut off all the fat from the cost structure at less than 8x forward earnings. The implied earnings yield is a remarkable 12.5% and the stock has substantial upside as the company can utilize huge operational leverage from its manufacturing base when the economy picks up steam. Scaling advantages benefit sales leaders rather than newcomers like Tesla.
In addition, General Motors holds about $17-18 dollars per share in cash and marketable securities which the market does not consider. The GM consensus EPS estimate for 2014 comes in at $4.57. Stripping out the cash, General Motors would be trading at around $19 a share (considering $17.50 of cash per share). As a result, the market value of GM's operating assets stands at just 4.2 times leading earnings which is almost a grotesquely low valuation for a large-cap, global industry sales leader.
Bottom line
I believe that General Motors makes a hugely attractive value proposition. Investors can purchase a premier car manufacturer at a seriously depressed ex-cash P/E multiple of just around four. Additional upside can come from operational leverage once the US economy recovers and shareholder remuneration in form of dividend initiations and share buybacks. As a value investor I believe that General Motors offers as extremely attractive risk/reward ratio while Tesla remains everybody's darling. Tesla trades at 100 times forward earnings: A multiple 25 times higher than General Motors' multiple while GM's sales volume is 116 times larger than that of Tesla.
Tesla is now a deeply crowded play that runs on group thinking and ever higher valuations that aren't backed by fundamentals. Given the already lofty expectations regarding Tesla's projected net sales and earnings, it is likely that expectations will disappoint at some time and confidence in the stock will be lost quickly. General Motors, on the other hand, offers an outsized margin of safety at a valuation of 4x earnings with substantial upside. General Motor's closest peer Ford fetches an ex-cash P/E multiple of 8 which is everything but a rich multiple. If Ford's valuation would be the benchmark though, General Motors could potentially double. Multiple expansion over the next 1-2 years could also add spice to the stock making General Motors an even more attractive candidate with a manageable risk profile.
Disclosure: I am long GM. I wrote this article myself, and it expresses my own opinions. I am not receiving compensation for it (other than from Seeking Alpha). I have no business relationship with any company whose stock is mentioned in this article.