Cheniere Energy (NYSEMKT:LNG) made shareholders very happy over the last five years, starting from liquidation prices in 2009, Cheniere Energy's shares ballooned up and produced a 1,725% return for owners. Peer firms Kinder Morgan (NYSE:KMI), TransCanada (NYSE:TRP) and Enbridge (NYSE:ENB) are left behind with what seems to be inferior returns. Investors wanting to ride the predicted natural gas boom have made a big wager on Cheniere Energy but now it may be time for investors to abandon the ship and move on to more attractively priced investment prospects.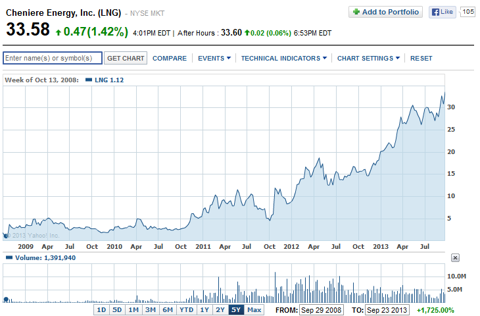 Cheniere Energy's return is way ahead of the pack and its fundamentals. As this article seeks to highlight, the extreme returns earned in the past are not backed by solid earnings and cash flows.

Industry poised to grow
Chart Industries (NASDAQ:GTLS) manufactures industrial gas equipment that is used in the production, storage and use of natural/industrial gases. The investor presentation from September 2013 includes insightful slides that succinctly break down projected global energy demand, namely oil and natural gas, and illustrate the persistent drivers of energy consumption. The two key points are:
Oil and gas continue to dominate world energy use with gas gaining in relative importance.
Incremental energy demand will be driven by non-OECD countries.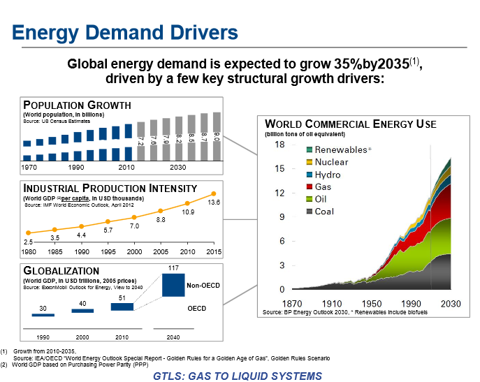 Natural gas has certain advantages over other energy commodities, namely crude oil. For one thing, natural gas offers a compelling price advantage: gas prices are about 15% of crude oil prices and spreads continue to be significant in the US. Environmentally speaking, natural gas is the preferred fossil fuel due to a lower carbon footprint. Potential environmental regulation is likely to be biased in favor of natural gas giving it a competitive edge in the commodity market.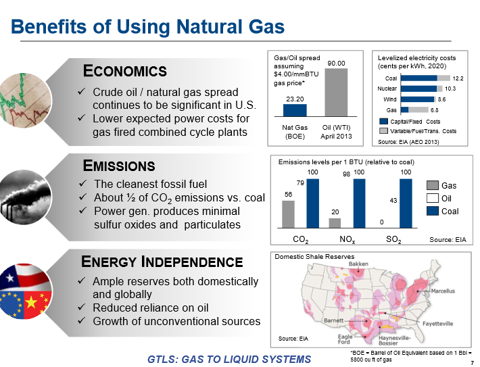 Financial performance terrifying
The industry outlook is attractive with energy demand projected to increase 35% until 2035 and the underlying drivers (population growth, industrial energy demand in non-OECD countries) of the natural gas market favor an investment in LNG companies. But investors need to consider the price they pay for the value they receive. Cheniere has already increased from rock-bottom prices in 2009 as the market priced the collapse of the natural gas industry. It is likely that Cheniere was then trading at a significant discount to intrinsic value and is now fetching an outsized premium given its near absence of positive operating or free cash flows.
Cheniere Energy's 2014 EPS is expected to be negative $1.50. More importantly, however, is the notion that Cheniere has earned negative operating cash flows in all of the last three years with increasing net losses and has posted negative free cash flows for 2011 and 2012 as well. Positive free cash flows in 2010 were driven primarily by lower net losses which widened considerably from ($76) million in 2010 to ($199) million in 2011 and ($333) million in 2012. Losses continue to pile up. On August 2, 2013 Cheniere Energy reported:
For the six months ended June 30, 2013, Cheniere reported a net loss attributable to common stockholders of $271.9 million, or $1.26 per share (basic and diluted), compared to a net loss attributable to common stockholders of $129.5 million, or $0.86 per share (basic and diluted), during the corresponding period of 2012.

Results for the three and six months ended June 30, 2013 were also impacted by increases in general and administrative expenses and LNG terminal operating expenses. Increases in general and administrative expenses of $114.3 million and $180.1 million for the three and six months ended June 30, 2013, respectively, compared to the comparable 2012 periods were primarily due to the February 2013 granting of awards under the long-term incentive plan related to Trains 3 and 4 of the Sabine Pass Liquefaction Project.
A track record of low cash flow profitability, an increasingly bloated cost structure and future projected net losses that may very well be stretching beyond 2014 do not make Cheniere Energy an attractive investment proposition. In the absence of normalized positive cash flow and earnings a market valuation is the only approach that makes sense in the case of Cheniere Energy.
Peer group richly valued
Kinder Morgan and Enbridge trade at over 20x forward earnings, while the market estimates Cheniere to deliver negative EPS of $1.50 in 2014. The P/B ratio is one of the few ratios that allow comparisons between companies with different degrees of earnings and cash flow profitability. Cheniere trades at nearly 20x book value and indicates gross overvaluation that is completed detached from fundamentals and reality. Morningstar states the current P/B industry average at 2.8: Cheniere Energy fetches a 600% premium.
Additionally, Kinder Morgan pays a dividend of 4.46% while TransCanada comes in second with 4.02%. Cheniere cannot remunerate shareholders, even if it wanted due to its negative earnings picture. A summary of key valuation metrics for the oil- and gas pipeline industry is provided below.

Conclusion
Cheniere's market valuation is not even remotely backed by its fundamentals. Cash flows are consistently negative and operating losses are expected to continue with negative EPS projections for 2014 ranging from ($3.20) to ($0.19). The share price, which has climbed on speculation that Cheniere can leverage a projected natural gas boom, is way out of whack compared to cash flow, earnings and even sales. LNG's P/S ratio stands at 27 compared to an industry average of 1.4. Investors should be treading carefully here as Cheniere has a very unattractive risk/reward ratio with substantial downside risk once the market comes to terms with Cheniere's fundamentals.
Disclosure: I am long AIG. I wrote this article myself, and it expresses my own opinions. I am not receiving compensation for it (other than from Seeking Alpha). I have no business relationship with any company whose stock is mentioned in this article.