Bank of America Corp. (NYSE:BAC) recently saw its second-quarter 2013 net income rise by an impressive 63%, making Chief Financial Officer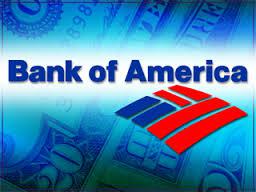 Brian Moynihan justifiably proud. Moynihan said, "At the beginning of the year, we said we would focus on three things - revenue stability, strengthening the balance sheet, and managing costs. This quarter, we delivered on all three."
In actual dollars, that percentage equates to a net income increase to $4 billion at the end of 2Q 2013 from $2.5 billion in 2Q 2012. The company achieved this success despite lower mortgage banking income, higher interest rates on its bond portfolio and competition in the banking industry from rivals Citigroup Inc. (NYSE:C), JPMorgan Chase & Co. (NYSE:JPM) and Wells Fargo & Co. (NYSE:WFC).
Background
Bank of America, based in Charlotte, North Carolina, is one of the largest financial institutions in the world, with clients ranging from individual customers and small businesses to multinational corporations and governments. It offers a complete menu of banking and financial services, including asset management, investing and risk management. With about 5,500 retail offices and three times as many ATMs, Bank of America provides services to over 53 million clients. Bank of America is also a recognized global leader in corporate trading and investment banking, conducting business in more than 40 countries.
Market Potential
Indications are that Bank of America should be able to sustain the business momentum it has built over the past 12 months, at least in the short term. Last quarter, it was able to realize double-digit increases in several areas compared to the same quarter in 2012. First-lien mortgages rose 40% and commercial-loan balances rose 20%. Fees from global investment banking increased 36% percent, and global wealth and investment management posted record revenue.
At the same time, Bank of America was also able to significantly reduce both expenses and losses during the quarter versus 2012. Driven by maturities and liability management action, long-term debt decreased by $39 billion and total noninterest expense was down $1 billion. Net credit losses fell below 1% for the first time in seven years.
Market Share
Bank of America is the second-largest bank in the United States, and the third-largest mortgage lender with 5.2% market share, up from 4.2% in the fourth quarter of 2012. A niche industry publication, Inside Mortgage Finance, reports the bank had home loans totaling $25.3 billion in the second quarter, up from $23.9 billion in the first quarter. The first-quarter numbers represent a 57% Y/Y increase, according to the magazine.

Industrywide Slowdown
According to Reuters, expected high interest rates are going to force a decline in refinancing revenue and volume that will affect the entire mortgage lending industry. The number of refinanced mortgages already has dropped 63% following an early May peak, according to the Mortgage Bankers Association refinance index.
In a pre-emptive response to this industrywide drop - and in a nod to future expectations - Bank of America has announced that it plans to eliminate about 2,100 positions. The bank said the move was in keeping with its "ongoing efforts to streamline our facilities and align our cost structure with market realities."
The expected layoffs follow similar action taken by Wells Fargo, which laid off more 2,300 employees in its home loan department in August in anticipation of about a 30% decrease in home loans.
Conclusion
Because of its positive trending since July 2012, aggressive commitment to reducing both debt and losses, and continuing efforts to rein in operating costs, Bank of America looks to continue over the short term to offer a viable stock. It remains a compelling long buy because it consolidates frequently and has a relatively modest technical setup.
Disclosure: I am long BAC, WFC. I wrote this article myself, and it expresses my own opinions. I am not receiving compensation for it (other than from Seeking Alpha). I have no business relationship with any company whose stock is mentioned in this article.