Exelon (NYSE:EXC) is an electrical utilities firm operating in 47 states in the US and Canada and is one of the largest power generators in the country. The shares of Exelon have dropped to what I believe is a sustained subsistence level and could offer dividend investors an interesting entry point. Exelon operates in a highly regulated market that has fallen on hard times lately. The deep-cutting SA article from Jon Parepoynt summarized the key issues facing the industry players succinctly:
What becomes obvious is the collapse in electricity pricing from 2008 to 2013 in the areas services by EXC merchant power auctions.

There is also a correlation between natural gas pricing and the competitive pressure it puts on the power markets.
Thesis
As natural gas prices spiked above $12/mmBtu in 2008 Exelon's output prices surged as well. Since then, the natural gas price literally collapsed during the financial crisis and now hovers just under the $4 mark: Squeezing Exelon's margins and earnings and leading to a hurtful dividend cut for investors in 2013. Since the gas price, which seems to have bottomed out, is highly correlated with the electricity price an investment in Exelon might actually have the characteristic of a leveraged play on a rebound in energy prices. On a comparative basis, Exelon was hurt the most and the stock is down 16% over a year.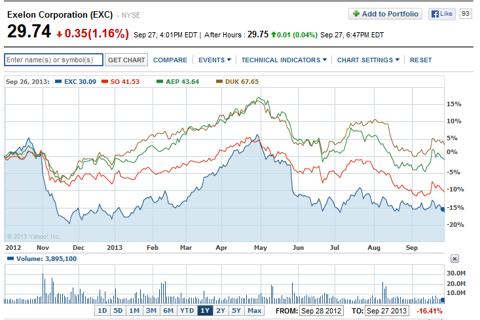 Financial performance
Q2 non-GAAP operating earnings came in $0.53 a share tending toward the lower end of the provided guidance range. More importantly, Exelon forecasted Q3 2013 earnings of $0.60-0.70 and full year earnings of $2.35-2.65. A breakdown of operating earnings contributions from Exelon's various business units is provided below.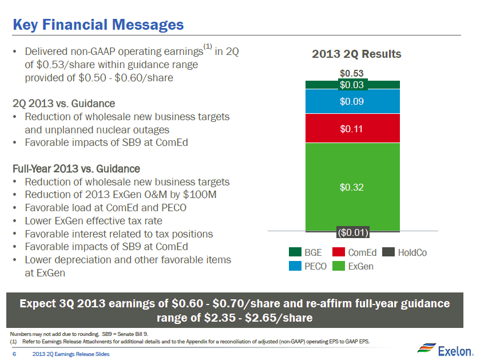 I expect continued improvements in profitability and EPS growth based on a rebounding natural gas price. But this scenario holds only over the long-term. I am not a market timer and lagging natural gas prices can persist for some time. Exelon's valuation, however, reflects a pessimistic scenario with respect to electricity prices that seems to be temporary in nature and could change just as quickly as it once collapsed.
The following table includes my Exelon 2014 P&L estimates, assuming rising electricity prices and operational leverage benefits for Exelon: Operating expenses accounted for 89% of 2012 operating revenues whereas stronger pricing in 2014 could push the cost ratio down to around 84%. Guidance for 2013 suggests full-year earnings of $2.35 to $2.65 while my EPS estimate for 2014 is just slightly above the top of the 2013 EPS range: $2.69. In any case, the fair value section attached to the P&L forecast indicates, that Exelon is still undervalued.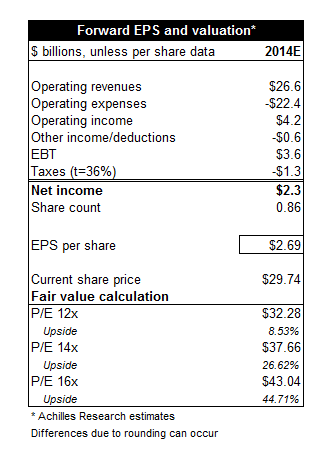 Peer group
Exelon cut its dividend in Q2 2013 to $0.31 per share down from $0.525 where it was held steady since 2008. A lot of income investors likely got burned by the dividend adjustment although a dividend cut could have been expected as declining electricity prices persisted for a while and questions about the sustainability of such dividend were raised last year already. Despite the dividend cut, Exelon shares still yield a decent 4.17% which I assume to be fair, considering the low risk of a utilities company and the distressed output pricing. The P/E ratio stands at 13.12 and has a 5.41% discount to the peer group average of $13.87. Competitors include Southern Copper (NYSE:SO), American Electric Power (NYSE:AEP) and Duke Energy (NYSE:DUK).

Conclusion
Income investors can collect a 4% dividend which I think is sustainable. Gas and electricity prices are likely bottoming out and growth in the US is more likely to expand than to contract. Increasing electricity prices, driven by higher demand from the US power sector, will have a disproportionate effect on Exelon's earnings growth as a higher percentage of incremental revenues trickle down through the cost structure to the bottom line.
According to my own 2014 P&L modeling investors who act anti-cyclically could also expect capital gains coming from multiple expansion. Given the scenarios provided Exelon has upside potential in the range of 8-45%.
Disclosure: I have no positions in any stocks mentioned, and no plans to initiate any positions within the next 72 hours. I wrote this article myself, and it expresses my own opinions. I am not receiving compensation for it (other than from Seeking Alpha). I have no business relationship with any company whose stock is mentioned in this article.