Introduction
With the news of Apple (NASDAQ:AAPL) selling over 9M iPhones in the launch weekend, it is easy to be an optimist on behalf of the company. However, I always try to take a slightly longer perspective, and while I believe that earnings for fiscal Q4 will do relatively well, I am not convinced that Apple can maintain the current level over the next 1-2 years.
The most alarming issue is the fact that the ARPU (average revenue per unit) of the iPhone has declined quite significantly over the last couple of quarters. In a previous article I argued that the decline was caused by consumers preferring cheaper (older) smartphones. This is quite problematic for Apple as the older phones are sold at a discount which results in lower margins.
Therefore it made a lot of sense when Apple announced the 5c, which I (back then) assumed was launched as a reaction to the "cheap-phone" trend. But Apple priced the iPhone 5c at $550, which suggests that consumers won't buy the phone if they are interested in saving money.
At least that is assuming that consumers are somewhat rational. But what if they aren't, and sales of the iPhone 5c replaces sales of the 4S (that is currently priced at $450)? Since the 5C is more profitable than the 4S, this would be absolutely wonderful for Apple if that's the case.
In this article I will attempt to analyze whether consumers have responded to the launch of the 5C by purchasing fewer of the older smartphone models.
Estimating earnings for each segment
To calculate sales of old models relative to sales of the 5c and 5s, there are quite a lot of stuff that needs to be estimated beforehand. First of all, we need to come up with an estimate for revenue and earnings for the iPhone business segment.
In order to forecast earnings related to the iPhone segment for this quarter, we should subtract expected earnings and revenue for the other business segments from the updated guidance provided by Apple.
Since no new products have been released for the other segments, we should expect a small decline in both earnings and revenue for the non-iPhone segments.
Based on the updated guidance, I assume that revenue for the quarter will come in at $36.3B with a gross margin of 36.9%.
This implies that both revenue and earnings related to the iPhone has increased in the current quarter (below table).
.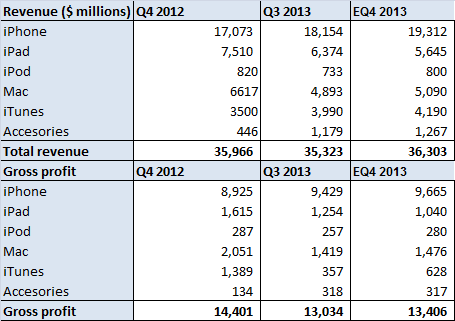 Source: My own estimations
Sales of old models are still at an all-time high
Based on the impressive sales figures of the launch weekend, I have increased my sales forecast for iPhone sales from 31.5M units sold to 34.7M for the quarter. This implies an ARPU of $546 (19,312/34.7) which is a decline of roughly $25 from the previous quarter. A decline was expected due to the launch of the cheaper iPhone 5c, but is it mainly due to the launch of the 5c or is it also related to growth in older models?
While this at first hand may seem like an impossible question to answer, it's actually not that complicated after all. Since we know the selling prices of the 5s and 5c respectively, we only need one more assumption to estimate sales of old iPhones; The ratio of iPhone 5s sales to iPhone 5c sales.
Luckily for us, analyst Ming-chi Kuo provides us with such an estimate as he argues that the ratio is roughly 50-50 due to limited supply of the 5S.
After doing a bit of algebra, I have created graph which shows that sales of new iPhone models just barely surpassed sales of older iPhones. Unfortunately for Apple, sales of the older iPhones haven't declined in fiscal Q4, which signals that the majority of the consumers doesn't see the iPhone 5C as a substitute for older models. Instead, it is likely that the 5c has cannibalized sales of the 5S.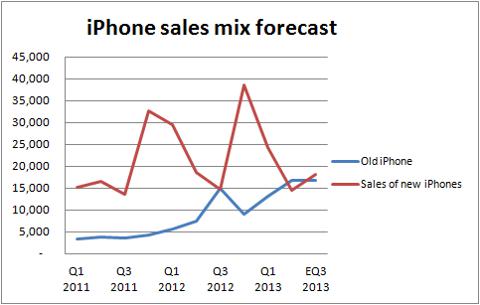 Note: Please be aware that these are approximate estimations.
Why this isn't good news for Apple over the longer haul
The problem for Apple is that the margin on the older models are lower than the margins on the newer models. If my estimated numbers are correct, then the 5C doesn't really accomplish anything (besides functioning as a back-up for the supply constrained 5s).
Over the next 1-2 years, I think it is likely that the ratio of old iPhones to new iPhones will continue to increase. At the same time, Apple doesn't really have any solid strategy for increasing its market share in emerging markets.
So basically, I believe that its margins will continue to decline and sales won't increase by enough to offset the lower profitability. Thus, I expect that earnings of the iPhone-segment will decline over the next 1-2 years.
What Apple instead could have done
There were obviously a few different strategies Apple could have chosen. It could for instance have developed the 5c as a budget phone priced in the $300-$400 range, or alternatively it could use the 5c as the mid/high-end phone with the 4S as the low/mid-end phone.
Personally, I am curious on what would have happened if it used a different lineup for developed and emerging markets. For instance, in developed markets Apple could have opted to only offer these two models;
iPhone 5s: $650 for the 16GB. Gross margin of roughly 55%.
iPhone 5c: $475-$525 for the 16GB. Gross margin of 45-50% (this implies that it should have lower production costs/quality)
Emerging markets should have the same lineup as in developed markets, but consumers in those countries should also be possible to purchase the old iPhone 4S at an even lower price than the 5c ($400).
If everything would turn out as I expect, it would have the following effect on Apple's results;
Sales of older models would decline in the short run as they aren't offered in developed markets.
Gross margin (and hopefully gross profit as well) would increase in developed markets as consumers would purchase the iPhone 5c instead of an old iPhone. As 5c has higher margins than the older models, it would be more profitable for Apple.
Gross margin and gross profit in emerging markets would decline, but eventually the effect of the higher market share would offset the short-term loses. Over the longer haul I also expect that loyal Apple users in emerging markets will be more willing to purchase the newest high-end phone which will have a positive on gross profit.
Final remarks
Obviously it is extremely easy to comment on what Apple should or should not have done. While it definitely is a relevant exercise for investors, it is important to note Apple's management may have various reasons (unknown to the public) for not using a different strategy.
Nevertheless, I think investors should be careful by not overvaluing the news of the higher than expected iPhone sales for this quarter. Instead, it is important to look at Apple on a slightly longer time horizon, and with the current strategy I fear that iPhone earnings will decline over the next 1-2 years. My fair value estimate of Apple is $496, but I fear that the stock may come under pressure over the next couple of quarters if management doesn't come up with a new strategy for the iPhone segment.
Disclosure: I have no positions in any stocks mentioned, and no plans to initiate any positions within the next 72 hours. I wrote this article myself, and it expresses my own opinions. I am not receiving compensation for it (other than from Seeking Alpha). I have no business relationship with any company whose stock is mentioned in this article.