By Chris McKhann
The XLE energy exchange-traded fund remains 5 percent below its recent highs, but traders are betting that shares will hold current levels.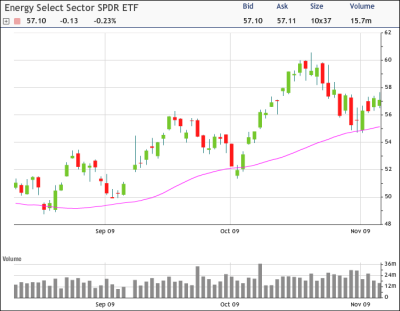 XLE, the Energy Select Sector SPDR, is off 0.23 percent to $57.10 after bouncing off support levels but remains below the Oct. 21 high of $60.56. While volatility has picked up with the recent swings from the highs, they remain near the lowest levels of the last two years.

The December 57 puts have seen the most action. Just shy of 5,000 contracts have traded, almost all of them sold. The largest block of 3,402 was apparently went for $2.67. The trader will be assigned if shares remain below that $57 level but, because of the credit taken in, this position will profit anywhere above $54.33.

Short puts can be used in this way to purchase shares below their current level. If shares do rally, the trader then just gets the credit. This could mean the trader misses out on upside gains, but only once the shares rise above $59.67.
(Chart courtesy of tradeMONSTER)