Target (NYSE:TGT) recently announced that the Minneapolis-based discount retailer would be joining the competitive world of streaming video with Target Ticket. While it is early to determine how much of an impact the new service will make of the industry, streaming video is a big industry worth participating in - TDG Research recently estimated that Netflix (NASDAQ:NFLX) would stream 13 billion hours of content in 2013, rising to 26 billion hours by 2018. With others - including Amazon (NASDAQ:AMZN) Prime, Roku, Google (NASDAQ:GOOG) Chromecast, and Apple's (NASDAQ:AAPL) AppleTV - all maneuvering for market share, Target has its work cut out for it. Investors should see the rollout as a potential catalyst, which could make the stock even more attractive.
The Service
Target is following the same model used by Walmart (NYSE:WMT) with its Vudu service. Users will be able to download from an extensive library of TV shows and movies, including over 30,000 movies titles that include several new releases - currently "World War Z" and "Iron Man 3"; 50 TV shows will be available the day after they air, including "The Big Bang Theory" and "The Walking Dead"; and shows including "Game of Thrones" and "Homeland," which are not available on Netflix or Hulu, will be included. Titles start at $0.99 per rental, and are good for 2 days, but most movies will cost between $3.99 and $4.99. Target will not offer an unlimited subscription service like Netflix or Amazon, preferring the "pay for what you use" model.
While Walmart has enjoyed a fair amount of success since it acquired Vudu in 2010, other attempts to enter the market have not worked. The question for Target is whether customers who have become accustomed to buying nearly everything from the retailer will be interested and willing to add a video option. Divisional Merchandise Manager of Entertainment Anne Stanchfield said: "Many of our guests told us that streaming and viewing videos is complicated, so we created Target Ticket to simplify the experience."
The Industry
The streaming market, which was pioneered by Netflix, has continued to grow rapidly, and is arguably on the cusp of changing the way we watch TV altogether. As a part of TDG Report, Senior Analyst Bill Niemeyer points out that Netflix "will face increasing competition in the US from online enterprises including Amazon, Google, and Hulu, as well as the TV Everywhere efforts of television networks and multichannel operators." Despite this competition, the industry will remain strong:
Even with domestic growth expected to plateau in 2020, Netflix will remain a formidable US market force. Would-be competitors will need to do as Netflix has done: spend the considerable money it takes to acquire quality content, move forward with good strategy, and offer a high-quality consumer search/discovery and viewing experience.
The report, in addition to giving great color to the situation for Netflix, serves as a map for the potential success or lack thereof of Target Ticket. Where I see the potential is not necessarily in the service being superior, but in its ability to be an easy add-on. Target customers have a tendency to use the retailer for everything. If streaming video can be added to the list, Target Ticket has potential.
The Trade
Target is currently trading at a P/E around 15, in line with where Walmart is trading. The stock offers a 2.7% dividend yield, and is establishing an import support level around $63 per share. In August, shares traded over $72, and if the new service can get a foothold, it could act as a catalyst to take shares higher. At current levels, Target looks attractive to trade higher.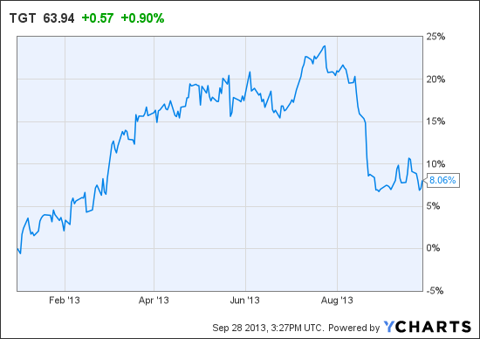 Critics of the services inaccurately view Target Ticket as just another video service. The power of Target Ticket is in the quality content it provides, but more thoroughly in the fact that it is offered by the popular retailer. Target is masterful at convincing consumers to rely on it as a one-stop-shop for things they never imagined they would buy at the same place: clothes and food, medicine and garbage bags. If it can bring streaming video into the mix, it will not need to lead the market to benefit from it.
Disclosure: I have no positions in any stocks mentioned, and no plans to initiate any positions within the next 72 hours. I wrote this article myself, and it expresses my own opinions. I am not receiving compensation for it (other than from Seeking Alpha). I have no business relationship with any company whose stock is mentioned in this article.