By Carl Howe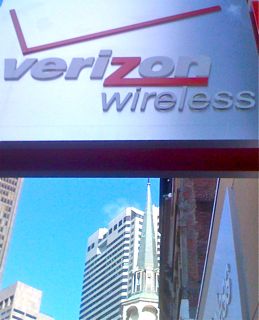 It seems like these aren't the Droids they were looking for.
Having blogged about the Apple iPhone, iPhone 3G, and iPhone 3GS launches, I walked up to the Boston Verizon Wireless store on Washington Street this lunchtime looking for long lines and a carnival atmosphere for its Droid phones that went on sale at 7 am. Sadly, it wasn't to be. I arrived at the store, asked the greeter to see a 'Droid, and waltzed right in. In the store with me were about 25 people who were playing with Droids, and about 5 or 6 people buying them. That was it.
Because there were no big crowds getting in the way, I did get to spend some time playing with the Motorola (MOT) Droid (not to be confused with the HTC Droid called the Eris that doesn't have a hard keyboard), and these were my initial (admittedly iPhone experience-biased) reactions:
First the good news:
Droid is FAST. When it comes to rendering text on the screen and putting up display screens, the Droid is probably the fastest app phone on the market. Even Google (NASDAQ:GOOG) searches snapped onto the screen faster than I've seen on my wife's iPhone 3GS. Admittedly, the phone was on a store WiFi network, but
The screen is spectacular. The 854×480 pixel screen is gorgeous to look at and easy on the eyes. Droid owners probably also have the best screens available on smart phones today.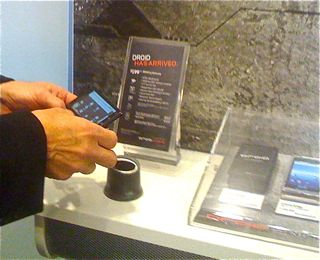 Now the shortcomings:
It's chunky. If you're looking for a phone that is all smooth and silky smooth in your hand, this isn't the Droid you are looking for. Already the heaviest smart Android phone on the market and weighing in at 1.2 ounces more than the iPhone 3GS, This Droid is all about hard edges and sharp corners. Yes, it's differentiated from the curvy design of Apple products, but don't expect many women to buy Droids; it's a guy phone.
The keyboard doesn't make touch typing easy. The slide-out keyboard on the Droid provides almost no tactile clues about where your fingers are. So forget touch-typing under the table on your Droid; this is a keyboard you have to look at to work. One guy behind me said he had hoped it would let him get rid of his Blackberry, but once he tried the Droid, he decided it wasn't going to do the job. On the other hand, the on-screen keyboard seemed just as usable as the slide-out one.
The user interface still needs work.. This isn't a phone you'll just pick up and know immediately how to use. With four buttons on the bottom of the screen and a lot of unfamiliar icons on the touchscreen, it's not immediately obvious how to do make a call or send a text. I'm sure it's something you could divine after a few minutes with the instruction manual, but no one should expect to hand a Droid to a non-Droid user and expect that person to be able to use it without a training session. Also there seem to be some odd software bits that need work; for example, I hit the off button in the store, and after that, no one could turn the Droid back on. Oops.
So will Droid be just another iPhone-killer that failed? No, I don't think so. I have to give Verizon (NYSE:VZ) credit for launching the Droid product line with the sort of full-court-press marketing that only Apple has previously done, complete with prime-time TV ads, billboards, and online advertising. That intense brand marketing takes some time to get the bandwagon moving. Further, there are going to be multiple vendors of Android devices, so if consumers don't take to Motorola's Droid device, they can look at alternatives from HTC, Samsung, and Sony Ericsson (albeit perhaps not all on Verizon's network). To borrow another Star Wars analogy, consumers may not notice Droids, but they may not be able to ignore an attack of their clones.
At the moment Apple (NASDAQ:AAPL) has little to fear from these Droid Visitors. But Apple should keep watching past the pilot launch; I don't think the next wave of Droids is going to be quite so friendly or quite as easy to defend against.