GSVC's largest bet so far to go public
This week we saw Violin Memory (NYSE:VMEM) go public with an IPO priced at $9 and by the end of the week had sank 22% to nearly $7. The IPO was considered a disappointment and private preferred shareholders Global Silicon Valley Capital (NASDAQ:GSVC) saw their stock price fall with VMEM (one of their top 5 holdings).
Many perceived this IPO as another failure for GSVC along the lines of Zynga (NASDAQ:ZNGA), Groupon (NASDAQ:GRPN), Silver Springs Networks (NYSE:SSNI), AltEgo, TopHat 430, Serious Energy and arguably Facebook (NASDAQ:FB). However, as of this writing VMEM is unknowingly another victory with GSVC which currently holds nearly 2.5 million shares at a cost of $6.
A recent IPO from Control4 (NASDAQ:CTRL) being held with 83% unrealized gains and Facebook shares being held at a 71% unrealized gain (assuming they haven't been sold) all improve investor confidence, increase NAV and increase the likelihood of a distribution but what is hard to overlook is the 2% management fee + 20% profit incentive, the mass shareholder sell-off expected once their largest holding Twitter goes public and the elephant in the room - has management created shareholder wealth and can they going forward.
GSVC Realized Scorecard
Ideally GSVC makes money buying private shares cheaper than what the public market will perceive those shares at after the IPO lockup period expires. The risks of private investing were realized during Q1 and Q2 this year:
An investment in Zynga was made through a secured note that matured 8 months after the IPO -

4 months after which the stock collapsed.

Groupon shares were overpaid for during later rounds of funding and post-IPO the stock fell. GSVC has been criticized for selling at the bottom.
Investments in AltEgo, Serious Energy and TopHat 430 all went belly up before going to public market.
IPO Failure Misconception
The following GSVC holdings have since had their IPOs and with the third quarter coming to a close it has yet to be announced if management has sold any shares following June 30th.
FB set the recent precedent for IPOs and proved that you can be too greedy. Originally priced between $28-$35 the IPO price was later revised to $34-$38, ultimately settling on their maximum price of $38. Subsequently the stock sank and it took over a year to recover but since has been on a tear. The question remains as to whether GSVC has sold shares or is still holding on at a cost of $29.92.
SSNI has a lockup agreement that expired on September 8th. In March their IPO went for $17 and it has been a bumpy ride back to today's price of $17.50. It reached a high of $33 at the beginning of August and hit a low of $15 the week following the lockup expiration date. GSVC holds SSNI at $50.43.
CTRL is held at nearly $9 a share by GSVC. The stock went IPO in August at $16 and remains well above what GSVC paid. The lockup period is 90+ days and more details will be released during the Q3 reporting.
So how were these IPOs perceived? FB was deemed a complete failure mostly due to underwriting. SSNI could be viewed as a positive IPO but was terrible for GSVC as they overpaid on the secondary markets. CTRL is viewed as a moderately successful IPO but was a complete win for GSVC.
Violin Memory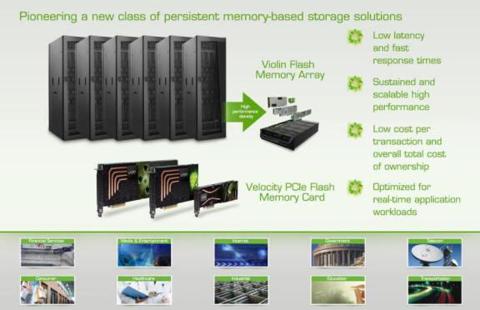 The big question for VMEM is can it maintain its price. The company does not make money, has a history of being heavily reliant on a small number of customers and is seeing bigger players move into their space, including once partner Hewlett-Packard (NYSE:HPQ).
As of the most recent filings GSVC owns 800,000 shares of Series B preferred stock and 1,666,666 shares of Series D preferred stock at a cost of $14.8 million. According to the S-1 VMEM filed with the SEC:
Each outstanding share of our preferred stock is convertible into one share of our common stock upon the completion of this offering, except for our Series D convertible preferred stock, each share of which is convertible into 1.014845743 shares of common stock. All of our outstanding convertible preferred stock will convert into 95,429,590 shares of our common stock assuming the conversion immediately prior to the closing of this offering.
This leads me to believe that GSVC will report ownership of 2,491,409 shares of common stock at a cost of $5.95 per share. Even with a "failed" IPO GSVC still sits with an 18% unrealized gains at $7.
Closing Thoughts
| Top 10 | |
| --- | --- |
| Twitter | 16.21% |
| Palantir | 8.58% |
| Facebook | 6.69% |
| Violin Memory | 6.52% |
| Dropbox | 5.63% |
| Chegg | 5.24% |
| Control4 | 5.15% |
| Solexel | 4.10% |
| 2U | 3.95% |
| Avenues | 3.88% |
| | 65.95% |
I currently value NAV around $13.75. Realized losses are currently $9.7 million. Unrealized losses in SSNI of $3.4 million. Unrealized gains are CTRL, FB and VMEM with $6.8 million, $7.5 million, and $2.7 million, respectively. It's a net positive but there are a lot of hoops including lockup periods, management's ability to time the market as well as the issue of the other GSVC portfolio holdings...
Disclosure: I am long GSVC. I wrote this article myself, and it expresses my own opinions. I am not receiving compensation for it (other than from Seeking Alpha). I have no business relationship with any company whose stock is mentioned in this article.