Precious Metals Weekly Market Wrap
The prospect of a U.S. government shutdown this Tuesday leading to further turmoil associated with raising the debt ceiling soon thereafter sent investors fleeing from risk assets to safe havens in recent days. Gold was a notable beneficiary of this shift, one that accelerated on Friday when a Federal Reserve official suggested that central bank tapering of their money printing effort may be delayed for some time to come.
These developments combined to push the trade-weighted dollar lower which aided precious metals, however, U.S. investors appear to have lost whatever interest they had developed for gold over the summer as steady, albeit modest, gold ETF outflows have resumed. So far this fall, seasonally strong gold demand in Asia has yet to develop, however, central banks continue to add steadily to their gold reserves.
With a few important exceptions, investment banks remain bearish on precious metals and some analysts are predicting sharply lower prices in 2014, though many of those outlooks are based on Fed tapering that now appears to be delayed, perhaps indefinitely.
For the week, the gold price rose 0.8 percent, from $1,325.60 an ounce to $1,336.20, and silver fell just two cents to $21.78 an ounce. Gold is now down 20.2 percent so far this year, 30.5 percent below its record high of over $1,920 an ounce two years ago, and the silver price has fallen 28.2 percent in 2013, now 56.0 percent below its record high near $50 an ounce in early-2011.
A looming government shutdown over House Republicans' insistence on defunding Obamacare and the potential for a much more serious debt ceiling crisis just two weeks later have clearly given precious metals a boost. Although a proposal on Friday for a 10-day extension of government funding is possible, there are no signs of lawmakers in Washington coming to any other type of agreement prior to the October 1st deadline.
This latest budget wrangling has pushed the trade-weighted dollar to a seven-month low, aiding the gold price that often moves opposite the world's reserve currency.
Investors have become conditioned to expect last-minute deals when it comes to the government's finances and, as such, financial markets have seen only a modest impact. But, absent any movement over the weekend, that outlook is likely to change very quickly when trading resumes in the days ahead.
Despite futures traders bidding the price higher, gold ETF investors were unmoved by recent developments in the nation's capital as outflows have resumed in recent weeks.
As shown below, holdings at the SPDR Gold Shares ETF (NYSEARCA:GLD) fell for the fourth week in a row, down 4.2 tonnes last week after a decline of 8.1 tonnes two weeks prior.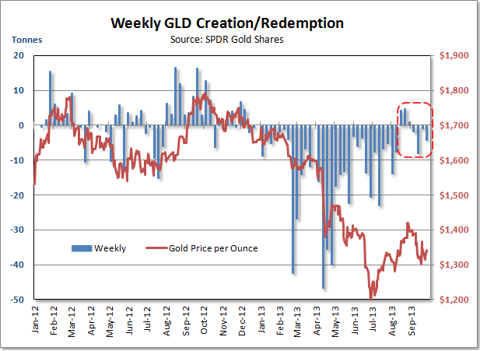 It's still possible that an enduring bottom in gold ETF holdings continues to form, however, the fact that GLD holdings dipped to just 906 tonnes on Friday, a four-and-a-half year low, now casts some doubt on that conclusion.
As for silver, the ETF situation couldn't be more different as demand for shares of the popular iShares Silver Trust ETF (NYSEARCA:SLV) resulted in its holdings rising by 132 tonnes over the last two weeks, now up more than 5 percent for the year despite a silver price that is nearly 30 percent lower.
The Federal Reserve has played an outsized role in recent moves for precious metals and that is likely to continue for the foreseeable future as central bank officials discuss possible policy moves after the surprising "no-taper" decision on September 18th. On Friday, Chicago Federal Reserve President Charles Evans said that, given the weakening U.S. economy, the Fed may not begin reducing its monthly asset purchases until sometime next year and, now, the prospect of Fed money printing for "as far as the eye can see" is suddenly a real possibility.
These comments were a key factor behind a gold price spike of more than $10 an ounce on Friday and more of this sort of knee-jerk reaction to Fed comments should be expected in the weeks and months ahead as markets attempt to discern what, if anything, the central bank will do next.
While the Fed is clearly in a wait-and-see mode, other central banks around the world continue to buy gold according to the latest data from the International Monetary Fund. Bloomberg reported that Russia increased their gold reserves for the 11th straight month, adding 12.7 tonnes in August, as Turkey, Kazakhstan, Azerbaijan, and the Ukraine also made gold purchases.
As shown below via a recent presentation from the folks at Sharps Pixley, net central bank buying has been an important source of gold market demand over the last few years.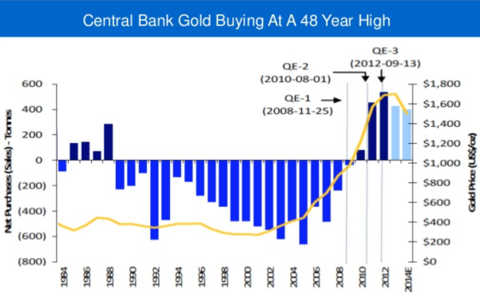 It's no coincidence that this all started when Western central banks began their money printing efforts back in 2008 and it's important to note that this data does not include the large quantities that China is believed to have purchased.
Recall that China's central bank last told the world how much gold they owned four years ago and, since then, they've been silent about their gold accumulation that many think is in the thousands of tonnes.
Emerging market central banks are long-term holders of the metal and, as a result, these large quantities of the metal are likely to be held off the market permanently. Also, central bank buying could accelerate on any sustained weakness in the U.S. dollar that currently makes up the bulk of their foreign currency reserves.
As for public demand for gold from emerging market nations, that is now a rather big question for the last few months of the year. After a surge in buying from Asia earlier in the year when prices first moved to lower levels, gold demand has been weak during the month of September which normally sees increased buying due to seasonal factors.
Gold premiums in Shanghai reportedly fell to a multi-month low of just $7 an ounce last week, down from $30 an ounce five months ago. In India, importers are still awaiting clarity on a spate of new rules for bringing gold into the country, part of the latest efforts by the Indian government to curb demand in order to lower its trade deficit. Large stocks are said to be sitting at airports, awaiting customs clearance amid the confusion.
Investment banks in the U.S. remain mostly bearish on precious metals for reasons that seem much less convincing today than they did just a few weeks ago, prior to the Fed deciding to delay tapering its asset purchase program. Both Citigroup and Morgan Stanley see sharply lower prices ahead, putting the 2014 average gold price at around $1,250 an ounce. Bank of America lowered their gold price forecast for next year to $1,294, citing the same factors as other investment banks in the gradual normalization of monetary policy.
Barclays was far more positive on precious metals, noting that the gold priced could rise to nearly $1,500 an ounce as soon as next month after the Fed's decision not to taper their money printing. Deutsche Bank also sees the recent Fed decision as being supportive of gold, joining U.S. bank JPMorgan as being in the minority of investment bank analysts with a positive outlook for precious metals.
Lastly, the five-year old investigation by the CFTC (Commodities Futures Trading Commission) into alleged manipulation in the silver market came to an end last week with no action being taken. This shouldn't be surprising as developments in recent years have shown that virtually all markets are manipulated to some degree and, in the scheme of things, the silver market just isn't that important.
The disappointment among silver investors was clear and CFTC Commissioner Bart Chilton said, "There's not been a more frustrating nor disappointing non-policy-related matter at the CFTC".
Disclosure: I am long GLD. I wrote this article myself, and it expresses my own opinions. I am not receiving compensation for it (other than from Seeking Alpha). I have no business relationship with any company whose stock is mentioned in this article.
Additional disclosure: I also own gold and silver coins and bars