Best Buy's Miraculous Turnaround Story
Best Buy Co. Inc. (NYSE:BBY) is best known as a multinational online and physical retailer that sells computers, computing services and mobile products, with stores in the U.S., Europe, Canada and China. Recently, however, the company was in the news for all the wrong reasons - falling profits, falling share prices - and it appeared to be headed to the graveyard on the back of a devastating three-year slide. Last December, Best Buy's stock was trading at a shocking low of $11, down from a multiyear high of $48.
Enter French executive Hubert Joly, who left travel company Carlson to steer Best Buy's sinking ship back to financial health. He cut costs and adapted the company's business model to the highly dynamic and competitive consumer electronics market. This raised profits, eventually bringing the company to a point where its share price (as of September) is three times what it was in December. By all measures, Joly has done an admirable job turning the company's fortunes around.
Best Buy's Current State
Barclays Capital PLC (NYSE:BCS) analysts currently rate Best Buy shares as "overweight." In a research note, Barclays raised its target price to $50 from $38. In contrast, Bank of America Corp. (NYSE:BAC) has reiterated its "hold" rating for the stock, with a price target of $38. Bank of America's price target indicates 2.29% potential downside from the company's current share price. Morgan Stanley & Co. LLC (MS) also reiterated its "equal weight" rating on the company's stocks, while BB&T Corp. (BBT) changed its rating to "buy," raising its price target to $45 from $42. Only three analysts have issued a "sell" rating on Best Buy stock, nine have assigned "hold" ratings and 18 have given it "buy" ratings, leading to a consensus rating of "buy" and a consensus price target of $38.78.
Insiders Have Been Selling Shares
Best Buy is the only consumer electronics retailer to have seen extensive insider selling, with the following insiders leading the pack: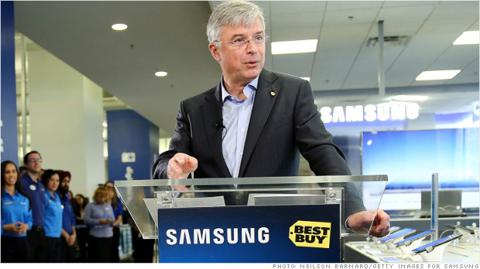 Hubert Joly sold 451,153 shares on September 6, leaving him with roughly 0.2% of the company. The official explanation for the sale is that short-term liquidity was needed in connection with Joly's marital dissolution. As a result, Joly's holdings decreased 35.3% in September.
Christopher Gould, the vice president and treasurer, has sold 7,225 shares, lowering his holdings to less than 0.1% of total company shares.
Keith Nelsen, executive vice president and general counsel, sold 12,748 shares on September 4.
Richard Schulze reduced his share of the company by 1.2% in September, selling 1.25 million shares.
Director Allen Lenzmeier has sold 60,000 shares, decreasing his holdings by 7.4%, and currently controls 0.2% of the company.
A snapshot of Best Buy's insider selling in 2013 follows:
| | | |
| --- | --- | --- |
| Month | Insiders Selling Shares | Insiders Buying Shares |
| September | 1,721,126 | 0 |
| August | 60,000 | 0 |
| July | 0 | 0 |
| June | 119,577 | 0 |
| May | 15,000 | 0 |
| April | 31,284 | 0 |
| March - January | 0 | 0 |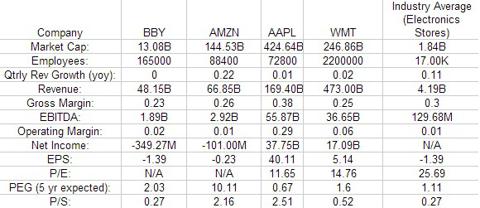 By all measures, Best Buy has seen extensive insider selling of shares during the past month, although there has not been any insider buying. This makes sense as Best Buy has witnessed a phenomenal 224% rise in share price, while profits and earnings have not risen in tandem. Joly (though he was perhaps forced to sell due to his divorce settlement) and others probably saw this as an excellent opportunity to lock in profit. It should be remembered, however, that Joly remains heavily invested in the company.
What Should You Do?
Following Best Buy's stunning share-price rise, it continues to script its turnaround story. With actual earnings not keeping pace with the increase in share price, the current state of the company's stock makes it a great time to lock in profit. This makes even more sense when one considers that with growing competition from online retailers, the space for physical retailing of electronics - something in which Best Buy specializes - is sure to decrease. I recommend exiting current positions and going short with Best Buy.
Disclosure: I am short BBY. I wrote this article myself, and it expresses my own opinions. I am not receiving compensation for it (other than from Seeking Alpha). I have no business relationship with any company whose stock is mentioned in this article.