In an earlier article, we discussed measures for identifying the cheapest oil companies and provided a ranked valuation list. Companies at the top of this list tend to eventually get bought out. Or they get analyst upgrades that send them soaring. Pinecrest, which was at the top of the list published three weeks ago, has jumped 40% since then. Twin Butte is up 12%, despite going ex-dividend.
Here are the current top five companies in the list:
Of the larger companies, one that remains obstinately near the top of the list is Lightstream . Lightstream trades at 40% of its book value and a whopping 13.4% yield.
We can see the market disconnect in analyst targets and ratings for Lightstream. One analyst's target implies a 54% upside, higher than any of its peers. But he only rates the stock "market perform" while rating several peers with much lower upsides, "outperform." Another analyst posits a 64% potential upside with only 5% possible downside, but still only rates Lightstream a "Sector Perform." It's worth examining this disconnect and why this stock is so unloved.
The Business
Lightstream's production is around 80% light oil from the northern Bakken area of Saskatchewan and Alberta's Cardium.
Lightstream's production features compelling metrics. Its netbacks, at $50/BOE, are among the highest in the sector. Its operating recycle ratio runs at 1.8 and it has managed to grow reserves at a 13% CAGR since 2009.
The really compelling value is in the company's reserves and land holdings. For example, the company's Bakken assets are only booked at a 5% recovery rate. Lightstream believes it can ultimately achieve 15%-25%. The company estimates it has over 2000 light oil drilling locations, or more than 10 years of drilling inventory. Only about half of these are included in booked reserves. It also has roughly 1 million acres of completely undeveloped land.
Problem #1: The Debt
The key negative for Lightstream is its high debt load. It currently has $1.2 billion drawn on a $1.4 billion revolver, which expires in 2016. Lightstream's debt to cash-flow ratio stands at a 3.3X, higher than most of its peers. Although this debt is balanced by the company's considerable assets (the debt to asset ratio is less than 25%), it represents a big overhang that must be resolved.
The debt problem has come up in many conference calls and presentations. Management proposes to reduce the Debt/CF ratio to about 2.0 with several measures. First, they expect to increase cash flow to lower the ratio. With WTI oil remaining solidly over $100 for the last 3 months, Lightstream's cash flow is growing quite nicely. Like most E&P companies, Lightstream's bases its internal projections on $90 WTI oil, so prices that are persistently above $100 are gravy. Second, the company may sell some non-core assets. Lastly, a dividend cut has not been ruled out.
Problem #2: Dividend Coverage & Sustainability
Lightstream projects annual funds from operations of $700 million and Capex of around $715 million. This implies a slight shortfall and begs the obvious question: where do you get the additional $188 million of dividends paid out? Combining Capex and dividends, the company is paying out 1.3X what it's taking in. The company's DRIP program does reduce the cash payout by about $80 million. But even with that, the cash payout ratio is 1.15X. It's only a little comforting that the company projects this ratio will drop to 1.0X in the second half of 2013.
Amazingly, the payout ratios of 1.3X and 1.15X are almost exactly average for Lightstream's peer group of dividend-paying E&P companies. That's the wacky world of Canadian dividend E&P companies. I'd rather not own a company that pays out 15% more than it takes in, even if it is "normal" for the sector.
The Solution
Lightstream has a spectacular inventory of light oil assets, which can be sold for premium prices. It also have has financial assets, including stock in several other E&P companies (for example, TriOil, which has a pending takeover offer).
Current Debt ($000s)
$2,323,000
Sale of TriOil Stake
$32,000
Sale of Arcan Stake
$10,000
Sale of 85,000 non-producing Duvernay acres
(based on Encana's recent sale to Petrochina)
$830,000
New Net Debt
$1,451,000
This would reduce Lightstream's Debt/CF ratio to a comfortable 2.07, without affecting production at all. That solves the debt problem.
To solve the coverage problem, suppose the company cuts the dividend in half (to 6.7%). That would decrease the payout ratio well below 1.0X. Here's how the numbers work out for the second half of 2013:
| | |
| --- | --- |
| Funds flow from operations ($000s) | $360,000 |
| Capital expenditures | $290,000 |
| Total dividends (including DRIP) | $47,000 |
| Cash dividends (net of DRIP) | $34,000 |
| Total payout ratio | .94X |
| Cash payout ratio | .90X |
With this, you're still getting a very substantial dividend with a vastly better coverage ratio than any of Lightstream's peers. More importantly, note that the Capex budget doesn't just maintain the current production, it actually increases it by 10% year over year. With that increase, the company quickly goes beyond comfortable sustainability into healthy dividend growth potential.
But wouldn't such a big dividend cut panic investors and hurt the stock? Probably not. In fact, a dividend cut has been so widely anticipated for so long, the stock is more likely to rally. Let's look at some of Lightstream's peers that have gone this route. The chart below show the results of Penn West's (NYSE:PWE) dividend cut: the stock rallied almost 27% over the next month.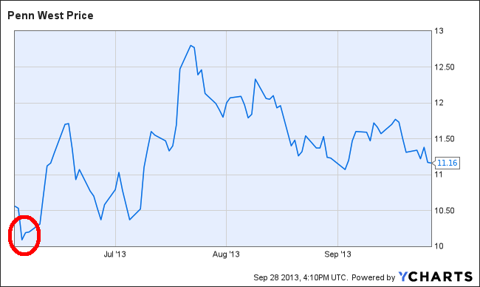 Enerplus (NYSE:ERF) cut its dividend, dipped for a while, but then rose 20%.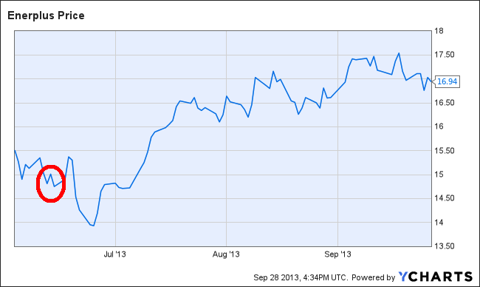 The More Likely Scenario: Buyout
Of course, this is just a thought experiment for how the company could continue and reward shareholders in its current form. I think a buyout is a much more likely outcome. The company is an extremely tempting target for a Crescent Point (CSCTF.PK), Chevron (NYSE:CVX), or Exxon (NYSE:XOM). With an Enterprise Value of about $3.5 billion, it's a bite size for larger integrated oil companies. According to a 3rd party estimate, the present value of Lighstream's booked reserves alone is significantly higher than that. And Lightstream has a huge inventory of unbooked locations and a million acres of completely undeveloped land.
Let's take a rough estimate what a buyer gets for Lightstream. I use a methodology similar to Devon Shire's outlined here:
| | |
| --- | --- |
| Enterprise Value ($1000s) | $3,550,000 |
| 206 Million BOE booked reserves - Net Present Value estimated by Sproule: | $4,014,000 |
| 274 Unbooked Cardium locations at $3 million each | $822,000 |
| 553 Unbooked Bakken locations at $2 million each | $1,106,000 |
| Other undeveloped Land at $1000/acre | $1,000,000 |
| Total Estimated Asset Value | $6,942,000 |
| Discount | 49% |
Note that the $4 Billion NPV estimated by Sproule works out to $20/BOE and is based on $94 WTI. That's pretty for conservative for Lightstream's light oil reserves. By contrast, the market currently values Crescent Point's at $27/BOE.
So in a nutshell, Lightstream is a big bargain based on its booked reserves alone. But we think those reserves may only constitute about half the company's total value.
Summary
We think both the market and analysts have narrowly fixated on Lightstream's excessive debt and payout ratios and are missing the forest for the trees. While the debt and payout ratio are problems, they are clearly more than factored into the current share price. Both problems can easily be fixed, leaving a residual value that is well above the current share price. The analysts' valuations and price targets reflect this even though they're not willing to acknowledge it with "buy" ratings.
Just about any way you slice it, Lightstream is trading at about half the value of its assets. We suspect that a savvy buyer will eventually take advantage of the wild mispricing and buy the company before the analysts get a chance to change their ratings.
Disclosure: I am long OTC:LSTMF. I wrote this article myself, and it expresses my own opinions. I am not receiving compensation for it (other than from Seeking Alpha). I have no business relationship with any company whose stock is mentioned in this article.
Additional disclosure: I also own Canadian listed shares of Lightstream - LTS.TO