*For the purpose of this article I am assuming that the Yen/USD conversion rate stays constant at approximately 0.010 US Dollar/1 Yen, as depicted below from Google on September 26, 2013.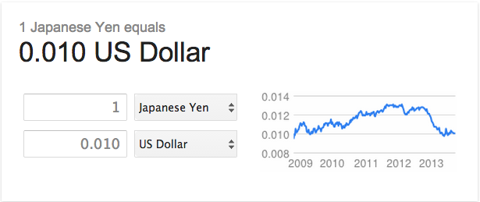 Sony (NYSE:SNE) has recently sparked investor interest, mainly due to its multiple segments and potential breakup value. Sony rejected Daniel Loeb's offer to spin off part of the music and entertainment segments, as the board unanimously decided that the segments could work and be worth more together.
In Q1 FY13, Sony generated roughly $17.3B in revenue, up 13% from the previous year. Sony also turned a $35M profit (EPS of .03) compared to a loss in the previous year, fueled by "an increase in smartphone unit sales, the strong performance of the Financial Services business and the favorable impact of exchange rates." (Sony FY13 Q1 Earnings Release).
The strong results were mostly derived from favorable exchange rates, making it unclear how the business as a whole is performing, as the yen has depreciated 20% from last year (making it hard to compare the results). Instead, I will break down Sony segment by segment, to gather the value as a whole and individually.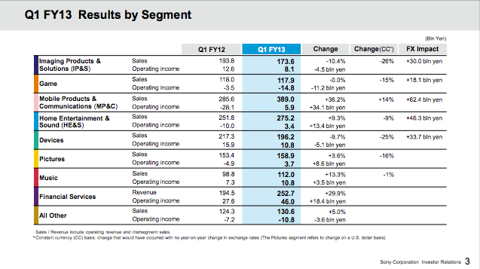 Throughout Sony's FY13 Q1 Conference Call it was made clear that some of the segments' sales (in units) would be down from the previous year, but because of the favorable exchange rates revenue and operating profit would actually be higher. In Q1 alone there was a 190 Billion yen ($1.93B) revenue gain from FX.
For the entire year, Sony is targeting 8.5T yen ($86.5B) in revenue with more than 5% in operating profit margins ($4.325B). Using its Q1 earnings report, Sony shareholders generate 10% of their operating income in net profit (after taxes). Using those numbers, Sony is set to make $500M this year -- a major improvement over the previous.
It is hard to value each segment on its own, as they are connected to Sony, which pays both taxes (nearly 50% in Q1), interest, "other" expenses, and roughly 80% (in Q1) of net income to noncontrolling interest. For the purpose of this article, I will assume a 40% tax rate, and use the balance sheet (which lists other holders under liabilities/equity) to calculate Sony's share of its subsidiaries.
Imaging Products & Solutions (IP&S)
This segment includes both consumer and professional video/still cameras, lenses, and accessories. Sony expects a downtrend in unit sales, but (because of exchange rates) an increase in sales and operating profit is expected.
Sales (FY2012): $7.3B
Operating profit (FY2012): $14M
Operating profit has already increased to $82M in Q1 FY13 (4.5% margins), and Sony continues to expect a 5% operating margin. On $7.5B in sales (a slight increase), shareholders can expect $375M in operating profit, and $225M in net profit. A fair value for the IP&S segment is around $2.7B (a forward P/E of 12).
Game
This segment includes the highly acclaimed PlayStation series (PS2, PS3, PSP), as well as the software and accessories.
Sales (FY2012): $7.1B
Operating profit (FY2012): $17M
Operating profit is supposed to decrease due to the negative impact on hardware costs (as much comes from the USA) in the upcoming quarters. The guidance was issued several months ago before the Chinese government lifed the console ban, or the acclaimed PS4 was predicted to outsell the Xbox One. Sony expects PS2/PS3 hardware sales to continue to decline in acceptance of the PS4, though this can be viewed as a positive. Consumers may be waiting for the PS4, with the shockingly low price of $399 -- it's already knocking out the competition (including the PS2/PS3). At the low price you can't expect high margins, but you can expect a major increase in sales (in the coming years) from just $7.1B in 2012. If we were to just follow Sony's guidance of 5% operational margins, we could expect $355M in operation profit and $210M in net income, conservatively valuing the segment at $2.55B.
Mobile Products & Communications (MP&C)
This segment includes both mobile communications, and personal/mobile products (including personal computers).
Sales (FY2012): $12.6B
Operating (loss) (FY2012): ($970M)
The mobile & communications segment took a large boost in revenue last year, but the operating margin is still lagging behind (the segment did make $60M in operating profit in the quarter but $71M is from a patent royalty reversal). Revenue is supposed to expand this year, helped by the highly acclaimed Xperia and Vaio brands, and there is supposed to be an operating profit. The value of MP&C does not necessarily come from this year, but from two to three years when it can earn $750M in operating profit and $450M in net income on $15B in sales. Considering the brand that Sony has created, MP&C could be worth $5.5B (even with sluggish PC sales).
Home Entertainment & Sound (HE&S)
This segment includes televisions, Blu-ray disc readers and players, and portable memory based audio devices.
Sales (FY2012): $9.95B
Operating (loss) (FY2012): ($843M)
Though revenues are dropping (by more than 20% last year), HE&S is working its way towards profitability narrowing its loss by nearly 60% last year. Sales are up 9.3% from last year in Q1, though on a constant currency basis they are down more than 9%. Thanks to the favorable currency conditions, an increase in sales and an operational profit are expected this year. In Q1 they generated $35M in operational profit -- $140M in operational profit in FY13 would translate to a net income of $84M, valuing the segment at slightly over $1B. Though profitability is expected to improve in coming years, the stiff competition in the home entertainment and audio markets should lead to a steep decline in revenue (and profit) on a constant currency basis, limiting its potential and value.
Devices
This segment includes the semiconductor and components categories.
Sales (FY2012): $8.5B
Operating profit (FY2012): $440M
Though sales are down from the previous year, the devices segment managed to turn a profit compared to a loss in the previous year. In Q1 sales were down 10% (more than 25% on a constant currency basis) while operating profit was down 32%. Even with a favorable currency exchange, the devices segment operating profit was still down 32% to $110M leaving us to assume around $350M in operating profit this year with $66M in net income -- even with declining sales we can value the devices segment at $800M.
Pictures
This segment, Sony Pictures Entertainment inc. (SPE), includes both television and motion picture production and distribution.
Sales (FY2012): $7.35B
Operating profit (FY2012): $480M
One of Sony's most valuable segments, SPE, can be highly volatile as depicted in their results. It's a hit driven business, with results benefiting from Men in Black last year, and being hurt by After Earth in early 2013. In Q1 it reported an operating profit of $38M compared to a loss in the previous year, and are expected to increase both sales and operating profit this year. It could be safe to assume upwards of $600M in operating profit, fueled by the future release of Elysium, Smurfs 2, and The Queen Latifah Show. Assuming $360M in net income, SPE is worth upwards of $4.3B.
Music
Is comprised of the Sony Music Entertainment brands and Sony/ATV Music Publishing.
Sales (FY2012): $4.42B
Operating profit (FY2012): $375M
In Q1 FY13, the music division's sales jumped by more than 13%, while operating income increased by nearly 50% from the previous year to $110M. The music segment, which boasts world wide phenomena like Justin Timberlake, Beyonce, Emili Sande, P!nk, and Daft Punk, is expecting a jump in both revenue and operating income this year (as evident in Q1). With $500M in operating income (33% increase), the music segment would earn $300M in net income and be conservatively valued at $3.6B.
Financial Services
The Financial Services segment includes Sony Financial Holdings, Sony Life Insurance, Sony Assurance, and Sony Bank.
Sales (FY2012): $10B
Operating profit (FY2012): $1.45B
The financial services segment earned more operating profit in FY2012 than any other segment -- and it's still going. In Q1, sales increased 30% while operating profit climbed a staggering 66.6% to $464M. According to the current forecasts, Sony expects an increase in operating profit (though it is hard to predict due to market fluctuations). Considering operating profits remain steady at $1.5B (taking into account market fluctuations and cycles), the Financial Services arm could be valued at $11B -- 12x net income of $900M.
As seen through the breakdown above, Sony's division holds tremendous value:
| | |
| --- | --- |
| Segment | Estimated Value |
| IP&S | $2.7B |
| Game | $2.55B |
| MP&C | $5.5B |
| HE&S | $1B |
| Devices | $800M |
| Pictures | $4.3B |
| Music | $3.6B |
| Financial Services | $11B |
Through my model, I estimate that Sony's segments are worth more than $31B. To value Sony as a whole, I have added the segment value to the balance sheet's:
| | |
| --- | --- |
| Cash & Equivalents | $8.093B |
| Accounts Receivable | $9.298B |
| Other Receivables | $2.074B |
| Prepaid Expenses | $5.198B |
| Land | $1.334B |
| Buildings | $7.952B |
| Machinery & Equipment | $19.463B |
| Other | $10.119B |
Sony has more than $63.5B in assets on top of the $31B that its segments could be valued at, leaving it with roughly $95B + $74B in investments and advances leaving Sony with $169B in total assets.
According to Sony's most recent earnings report, it had more than $121B in liabilities, leaving Sony with roughly $48B in equity. With $5B in noncontrolling interest, Sony has $43B in shareholder equity, roughly double its market cap.
Sony is expecting more than $2.1B in net income this year, which will help increase equity and pay down debt, but equity can increase in several ways. The board might want to consider buying back shares from noncontrolling interests or spinning off some of its segments to help unlock the potential equity.
A lot has changed in the last few years, from profitability, to a new PlayStation, and a very successful cell phone and personal computer line. Sony has generated substantial equity, and is now in a position to grow it through profitability (at a forward P/E of around 10) and expanding/offering their segments (through an IPO). Sony is well on track back to its glory days.
Disclosure: I have no positions in any stocks mentioned, and no plans to initiate any positions within the next 72 hours. I wrote this article myself, and it expresses my own opinions. I am not receiving compensation for it (other than from Seeking Alpha). I have no business relationship with any company whose stock is mentioned in this article.