One of the most interesting names in our market today is Amazon (NASDAQ:AMZN). The online retail giant has continued to defy critics, reaching new high after new high, despite slowing revenue growth, revenue and earnings misses, and profitability that's thinner than a piece of paper. A couple of months ago, I detailed my then short case on Amazon, encouraging investors to take advantage of an overvalued stock that I thought could decline. Amazon did decline that 5% plus to my fair value level, at which point I encouraged shorts to not be greedy.
Well, since Amazon hit that $285 fair value mark, the stock has rallied again. Amazon closed Friday at $316.01, about $5 off its 52-week high. The stock continues to be pushed higher despite a lack of catalysts, and in fact, most potential catalysts are negative. Today, I'll detail a few reasons why I believe the short case is returning, and why Amazon could be in trouble when the music stops.
Third quarter trouble ahead?
Amazon could be in line for a quarterly miss when they report earnings in a couple of weeks. That doesn't seem like a surprise, as this company hasn't been the greatest when it comes to earnings. Amazon's recent earnings history shows a lot of misses on both the top and bottom line, and we all know guidance has usually disappointed. Let's look at some numbers. First, this was the guidance section I had in my prior Amazon article, linked above in the introduction:
Amazon provided the following guidance for Q3:

Net sales are expected to be between $15.45 billion and $17.15 billion, or to grow between 12% and 24% compared with third quarter 2012.
Operating loss is expected to be between $440 million and $65 million, compared to $28 million in third quarter 2012.

Like many of Amazon's recent reports, guidance was very light. Analysts were looking for $16.98 billion in revenues, or 23% growth. Analysts were looking for a $0.09 profit, meaning this forecast is also light.
Analyst estimates have obviously come down since then, but are they low enough? Current estimates call for $16.76 billion in revenues and a loss of 9 cents per share. That means that analysts are about $450 million ahead of Amazon's midpoint, which may be fine. Amazon has given conservative estimates at times. However, I really want to focus on the earnings per share number. Let me post the following table showing selected Q3 numbers the past two years, along with some information we think we have for this year.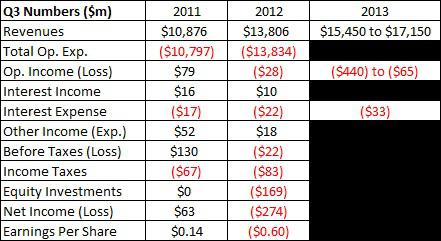 Analysts are expecting a lot of improvement from the $0.60 loss a year ago, and that is possible given the huge equity investment loss in Q3 last year. But let's look at some numbers. Amazon is guiding to a much larger operating loss this year than last. Again, their operating income forecast has been conservative at times, but even at last year's $28 million, you're talking about an operating loss of 6 cents per share. That seems tough, given how Amazon's operating expenses outgrew revenues in Q3 last year, as well as the first 6 months of 2013. Even if we give them the benefit of the doubt, look at the next few categories. We know that interest expenses have been $33 million in each of the first two quarters of 2013, thanks to Amazon taking on debt last year. That's an extra $11 million of expenses, which doesn't seem like much, but it really is when you get this far down the income statement. So that right there puts you around a 9 cent loss. That means that Amazon's entire quarter comes down to interest income, other income, taxes, and equity investments. Is that a gamble you really want to take, looking at the history above? Amazon has missed earnings estimates in three of the past four quarters, and they seem likely to miss again here. While I do expect some improvement over last year's period, that's not saying much after a $274 million loss. Even if Amazon only loses half that amount, it still would be about a 20 cent miss compared to analyst estimates.
Are we penny pinching?
Fellow SA contributor Paulo Santos started an interesting debate the other day. Is Amazon penny pinching? Everyone knows that Apple (NASDAQ:AAPL) always has a huge gathering for the launch of a new product, like the iPhone or iPad. Amazon had an event for prior launches of its Kindle Fire. This year, no event. Paulo thinks that Amazon's earnings will be very bad, so the company is trying to save a few bucks by not hosting an event. A simple press release will do it seems, but Amazon is losing the media coverage for its launch. Maybe that's a good thing. Unlike Apple, which sells its products at a nice profit, then makes more money off content, Amazon sells the Kindle at, near, or below cost. We don't exactly know what the math really is, and we don't even know the number of units sold. However, Amazon's earnings have come down a lot in recent years, so their strategy isn't working too well it seems.
But this isn't the only area where Amazon seems to be penny pinching. In May of this year, I detailed how Amazon's Prime Instant Video service hit a new milestone, 40,000 titles. That's strong growth for a unit that started with about 5,000 titles in February 2011. Amazon has added some titles since then, and I put together the chart below to show the Prime library growth.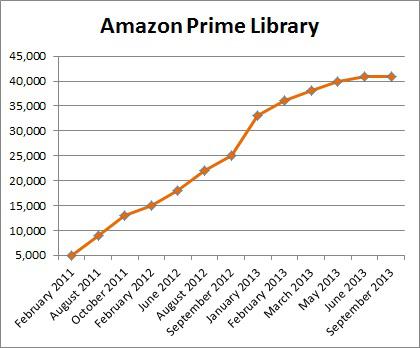 Now you may have noticed that the library's growth has stalled out. A visit to the Prime website shows that the unit is still above 41,000 titles. They were over 41,000 in June of this year, and 40,000 was reached in May. So while they may still be adding titles, it's not on the large scale basis that we've seen, especially for this part of the year. In 2011, they went from >9,000 to >13,000 from August to October. In 2012, they went from >18,000 in June to >22,000 in August to >25,000 in September. While it seems logical that their content additions would be larger in the first two years, we haven't seen too many content deals lately. Netflix (NASDAQ:NFLX) is certainly adding content to its platform, as they signed a couple of deals last month. Amazon may be penny pinching here as well, and it probably doesn't help that Hulu got an injection of capital recently.
More states collecting sales tax:
This is another area that can't be measured precisely, but the number of states in which Amazon is collecting sales taxes jumped in the third quarter. On July 1, New Jersey started collecting sales taxes. New Jersey was the 11th most populated state in 2012, according to estimates. The state's nearly 9 million people represented more than 2.8% of the US population. The state right behind New Jersey was Virginia, which started collecting sales taxes at the beginning of September. Virginia has over 8 million people (estimated), which is more than 2.6% of the country's population. Virginia wasn't the only state to start on September 1, as Georgia did too. Georgia is the 8th most populated state in the country according to estimates, coming in with just under 10 million people. That's almost 3.2% of the US total.
(See all population statistics for this section on this page).
Will this have an impact on Amazon's sales? That remains to be seen. But during the third quarter of 2013, three states with an estimated population of 27 million in 2012 became sales tax collection states. That's more than 8.6% of the US population, meaning that more than 1 in every 12 people would now be subject to sales taxes on Amazon. More states will join the list in the next year.
A stretched valuation?
Trying to value Amazon, and even Netflix, on a price to earnings basis is unrealistic. The way these two companies operate, with razor thin margins, P/E values are going to be sky high. However, I do believe Netflix has an advantage. I do think that Netflix could end up as a much higher margin business than Amazon, even if those margins are still very low. In fact, I believe that Netflix could substantially raise margins in one second if they were to raise prices. If the company raised domestic streaming prices by just $2 a month, Netflix could add several hundred million dollars to its bottom line. That would make the company decently profitable in an instant. I don't think Amazon could really do that. In fact, I wouldn't be surprised if Apple produced more net income from its recent opening weekend blowout of iPhone sales than Amazon generates from its whole business in 2011, 2012, and 2013. Oh, and Apple also has a very good dividend and the largest corporate buyback in history.
For those that have read my past Amazon articles, you know that I like to value Amazon on a price to sales basis. With this name being more of a retailer and having no (or negative) earnings, this metric just seems better. Here is a price to sales comparison for Amazon, compared to Apple, Netflix, Best Buy (NYSE:BBY), and Wal-Mart (NYSE:WMT). These numbers are based on their current fiscal year and next one.

*For Apple, the 2013 year above is the fiscal year that ends in September 2013. For Wal-Mart and Best-Buy, the 2013 year is the one that ends in January 2014.
The four ex-Amazon names average 1.91 for the "2013" period and 1.71 for the "2014" one. So Amazon seems equally valued to the average for this year, but seems undervalued for its next year. There are a couple of reasons why I think you have to adjust these numbers:
I believe Apple will surprise to the upside in its fiscal 2014. A cheaper iPhone will bring in new revenues, and a China Mobile (NYSE:CHL) deal could provide a tremendous opportunity for Apple.
I believe Netflix will surprise to the upside for revenues. I mentioned above a potential price raise, and I believe a new international market next year will push sales higher.
I don't believe Amazon will meet its $90.33 billion revenue estimate for 2014 without a major acquisition or some new large revenue driver. Amazon's revenue and earnings estimates continue to go lower over time, so if Amazon disappoints on the Q3 numbers or Q4 guidance front (or both), estimates will take another hit. It seems unlikely that Amazon will meet every current estimate for six straight quarters (2 in 2013, 4 in 2014).
In my last Amazon article, I argued a fair value for Amazon was 1.75 times this year's sales, which gave a value of $285 per share. Amazon's estimates have not changed since then. You would think that a Q3 miss or bad Q4 guidance would lead me to take down Amazon's valuation. Well, I'm actually raising my valuation metric, while taking down what I think Amazon will do for revenues. Why am I raising my value? Well, the fact that the Federal Reserve has not started the taper process for QE means more money flowing into the markets. The momentum names have been the primary beneficiary of that, and I think Amazon will benefit from that. Therefore, I am adjusting my fair value for Amazon to 1.8 times this year's expected sales, which I put at approximately $73.5 billion. This gives me a fair value of $290 for Amazon. That's $5 more than my prior value, but given Amazon has rallied since, my fair value point is $26 below where Amazon is now.
Final thoughts:
Amazon has raced to new highs again, yet a number of items show the company is not in great shape. A company with almost $75 billion in annual sales can barely produce a profit, and now they seem to be pinching pennies. More states are now requiring Amazon to collect sales taxes, which could have a negative impact on sales. Amazon seems a little inflated again, and I do think we go lower from here. I wouldn't be surprised if this Fed induced high pushes this stock to $325 first, but I don't see how this stock stays elevated if they continue to struggle.
Disclosure: I have no positions in any stocks mentioned, and no plans to initiate any positions within the next 72 hours. I wrote this article myself, and it expresses my own opinions. I am not receiving compensation for it (other than from Seeking Alpha). I have no business relationship with any company whose stock is mentioned in this article.
Additional disclosure: Investors are always reminded that before making any investment, you should do your own proper due diligence on any name directly or indirectly mentioned in this article. Investors should also consider seeking advice from a broker or financial adviser before making any investment decisions. Any material in this article should be considered general information, and not relied on as a formal investment recommendation.