One REIT that is often overlooked in my SWAN (sleep well at night) portfolio is Kimco Realty (NYSE:KIM). I have written numerous articles on the company, yet I have not yet initiated a buy on the stock. Kimco shares are trading at $20.37, around the same price as when I wrote an article in October 2012.
In fact, I have written numerous articles on Kimco and, although I admire the company's fortress balance sheet, I wanted to see simplification unfolding before I dipped my toe in the water - even more so now, since the REIT waters are becoming more turbulent. In a recent article I explained the importance of investing in blue-chip REITs:
After a turbulent few months, REIT investors are now beginning to see prices stabilize. The fear of rising interest rates has overshadowed the recovery that we are seeing in commercial real estate and that has muted the appetite for some. However, for others, the sell-off has created a window of opportunity as REIT valuations have moved from a "moderately expensive" range into a "fair value" range.
In the same article, Brad Case, Ph.D., CFA, CAIA with NAREIT added that he believed that the "announcements about interest rates (rising) are less important than the longer-term macro outlook, which is still one of steady-though slow- improvement in office employment, domestic and international trade, consumer spending, household formation, all the drivers of demand for commercial space. That steady improvement in the macro economy is always good news for REITs."
In this article, I plan to examine Kimco Realty more closely to determine whether or not to initiate a BUY, and also look at the longer-term forecast and demand for retail space. It's important to continue to emphasize quality and be prepared to purchase shares when I believe there is a reasonable "margin of safety."
Why Own Shopping Center REITs?
In a period of rising interest rates, I believe that it is better to own companies with above-average growth in both Funds from Operations (FFO) and dividends, attractive valuations, and relatively low execution risk. Shopping center REITs offer top-tier organic growth, historically low supply, above average occupancy and improving rent spreads.
The demand for retail space, increasingly driven by new store growth, boosts both occupancy and rental rates, and makes retail REITs attractive. However, demand levels have not pushed rents to a level that would spur much new construction, which will constrain retail capacity in the near term.
In my view, the number of announced store openings suggests that retail recovery is attractive. As we approach the last quarter of 2013, REIT portfolios should continue to improve in a market where retail supply remains low, bolstered by higher consumer confidence and improving sales of durable goods (source: CoStar Retail Report). Here is a snapshot that illustrates the low new construction inventory: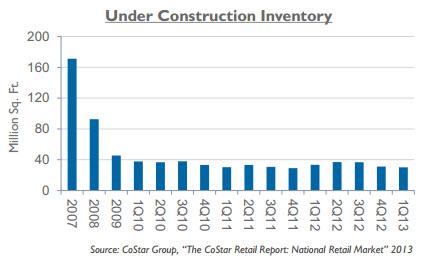 According to RBC Capital Markets, there will be more than 84,000 store openings scheduled in the next two years, at a time when many discounters and drug stores are increasing both square footage and store counts. Here is a snapshot that illustrates stable occupancy trends and Kimco's growth in overall occupancy:
Kimco: Focus on Keeping It Simple, Stupid
KISS is an acronym for "Keep it simple, stupid." Originally conceived by the U.S. Navy in 1960, the KISS principle is rooted in simplicity by design. Although I have no knowledge as to whether Warren Buffett used the KISS acronym, he is famous for explaining the circle of competence theory -- that one should choose a particular area of focus for his or her efforts. As Buffett explains:
If we can't find things within our circle of competence, we don't expand the circle. We'll wait.
Over the last few years (and since the end of the Great Recession), I have been watching Kimco get "back to the basics of execution." Previously, Kimco was not focused on strictly retail investments, but over the last two years, the company has been executing on a strategic initiative to divest both non-retail and non-core retail assets, and also to focus on investing in "key" markets.
Kimco recently closed the sale of the InTown Suites to Starwood Capital Group, a leading global real estate firm. The gross price was $735 million and included $609 million of existing mortgage debt. The company's share of proceeds was around $103 million. In a recent phone interview I asked Kimco CEO Dave Henry about the InTown disposition and he explained:
Well, it's all about returning to our core competence and expertise in community shopping centers, which has been our basic business for more than 50 years. While we have made opportunistic investments in other sectors from time to time, our primary business and 90% of our assets have always been in shopping centers. In the case of InTown, the FFO returns were good, but property leverage was high and extended stay apartments/rooms are far afield from our core business. After the recession, the investment community clearly prefers a clear focus on our neighborhood and community shopping center portfolio and our retail operating experience/skills. The cash we received will be used to pay down debt and (make) new investments in high-quality community centers.
In addition to the InTown deal, Kimco has also decided to exit the Latin America market. Glenn Cohen, Kimco's CFO, explained during the recent earnings call:
With regard to capital recycling, we sold 20 shopping center assets, of which nine were in Mexico, generating proceeds to the company of approximately $125 million. We recognized $39 million of non-FFO gains on the sale, offset by impairments of $16 million. Subsequent to quarter-end, we sold nine assets in Chile, leaving us just seven assets remaining in South America. As for the monetization of nonretail assets, we are just about done. With the sale of InTown Suites and other nonretail investments during the second quarter providing proceeds of $177 million, and the sale of two urban assets and certain nonretail-preferred equity investments after quarter-end for additional proceeds of $40 million, the remaining nonretail book value is down to approximately $180 million. We recognized approximately $36 million of impairments on the sale of the urban office properties. We are working on the sale of another $100 million of nonretail assets by the end of the year.
Here is a snapshot illustrating the significant strides that Kimco has made in "getting back to basics."

Click to enlarge
Kimco Still a Dominant Shopping Center Force
Although Kimco has remained active in asset recycling, the company remains focused on being a dominant shopping center landlord. As of the latest quarter, Kimco owns 874 properties (128 million square feet) in 43 states, Puerto Rico, Canada, and Latin America. With a market cap of around $8.34 billion, Kimco is the largest shopping center REIT in the nation.

Click to enlarge
Kimco's geographic footprint is still large, and on the latest earnings call, Co-founder and Executive Chairman Milton Cooper explained that "over the past three years, we have kicked the habit and our strategy has been much more refined. We have been selling where we perceive risk, and we buy higher-quality properties with growing cash flows. And we've started to see the benefits of this strategy in our metrics."
Cooper went on to add:
From my perspective, a nationally, geographically diversified portfolio mitigates tenant risk. In my mind, it gives to me a measure of safety from a point of view of what may happen in a particular month. But most importantly, the national platform helps our business in this sense. If a retailer wants to -- if a foreign retailer wants to come to the United States, interested in non-mall locations, what better place to start than Kimco?
Click to enlarge
Kimco has the largest shopping center concentration in the U.S. with 745 centers and around 105 million square feet. The U.S. economic outlook is stable, as evidenced by these metrics: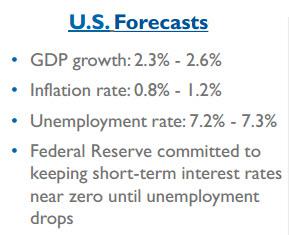 Kimco has 67 centers in Canada and around 12.7 million square feet. Canada has been an explosive market for Kimco and the economic indicators are also stable (as illustrated below):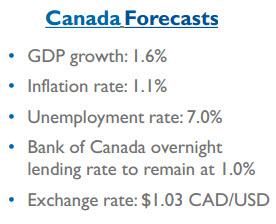 Kimco has 47 centers in Mexico and around 9.4 million square feet. Kimco is clearly bullish on investments made "south of the border" and the economy remains attractive as evidenced by the 4.5% unemployment and other favorable indicators.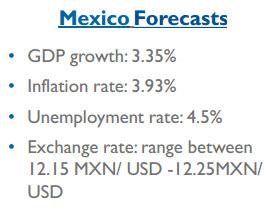 As noted above, U.S. retailers are continuing to expand and, as the largest shopping center landlord in nation, Kimco should continue to benefit from increased store growth demand.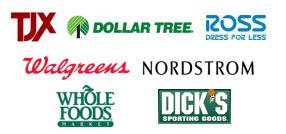 Canada is also an attractive market for U.S. retailers and many are entering the Canadian market for the first time. Kimco should continue to benefit from its broad scale and strong retail relationships.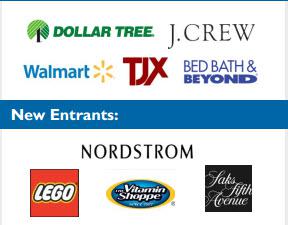 Mexico has been fertile ground for retailers and, as evidenced below, many are increasing stores in that market.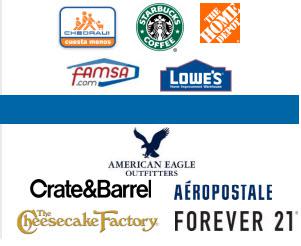 In the U.S., Kimco has been focusing on investing in growth markets where median household incomes are 14% higher than the U.S. average. Here is a snapshot of Kimco's primary growth markets: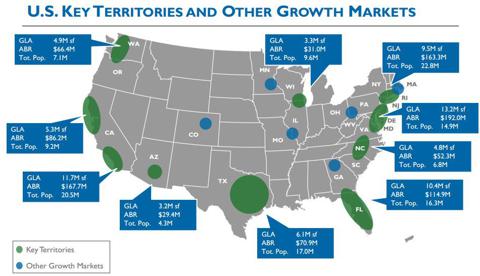 Click to enlarge
Kimco Still Intelligently Diversified
As another part of Kimco's "wide moat" strategy, the company has a highly diversified portfolio that consists of 14,600 leases and over 8,100 tenants. No one tenant has more than a 3% concentration. Furthermore, the top tenants include many "best in class" retailers such as TJX (3%), Wal-Mart (2.5%), K-Mart/Sears (1.8%), Bed Bath & Beyond (1.8%), and Ahold (1.7%). In addition, seven of Kimco's top 10 tenants are investment grade.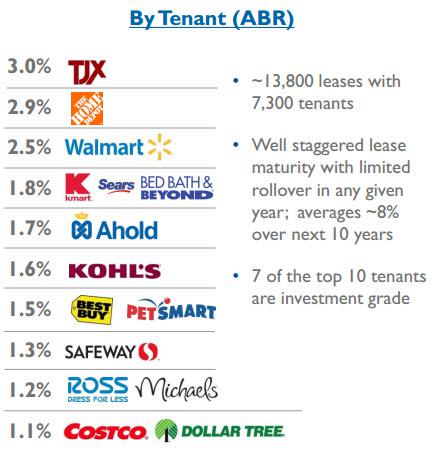 In addition to a strong tenant mix with high-quality retailers, Kimco has one of the most diversified geographic platforms in REIT-dom. Here is a snapshot of Kimco's geographic diversification: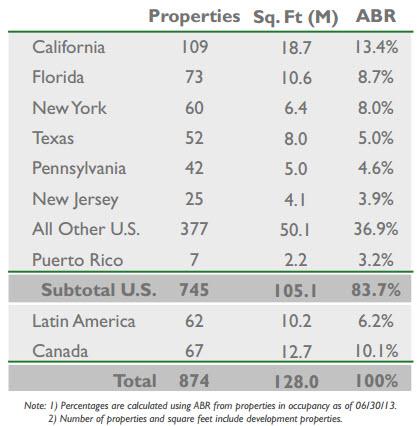 Another key differentiator for Kimco is the company's focus on high-quality-anchored shopping centers. Over 78% of Kimco's portfolio is anchored by stable, best-in-class retailers, and the smaller tenants provide higher growth in the form of shorter lease terms with higher rent increases.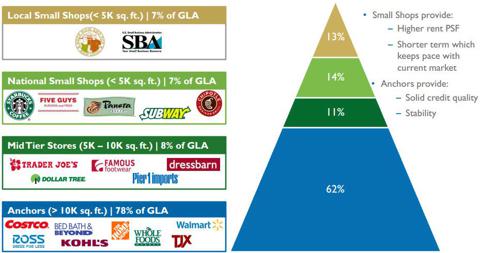 Click to enlarge
Kimco has minimal exposure to the internet. Approximately 8% of ABR (average base rent) is comprised of vulnerable retailers like Barnes & Noble (NYSE:BKS), Best Buy (NYSE:BBY), and OfficeMax (NYSE:OMX). Alternatively, Kimco has been focusing on necessity-brand and discount retailers that should succeed by capitalizing on multi-channel strategies.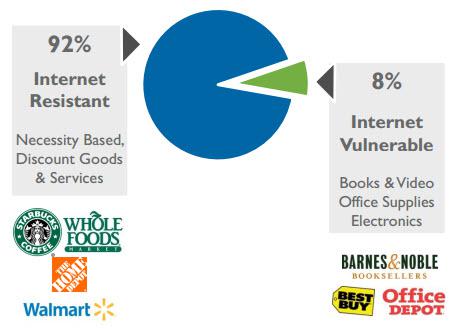 Kimco Is Now Laser-Focused on Execution
As noted above, Kimco has been laser-focused on building a circle of competence. The result: a continued portfolio strengthening. For example, take a look at the improved occupancy metrics for Q2-12 vs. Q2-13.

Combined occupancy has also increased, as evidenced by the snapshot below (increased by 80 basis points since Q1-12):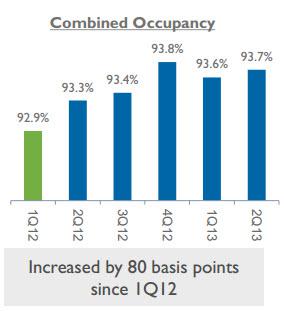 Combined same property NOI has also risen 13 quarters in a row.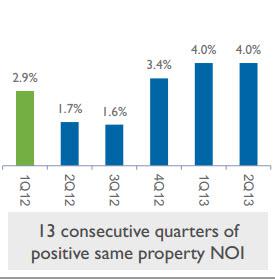 Kimco also had 10 consecutive quarters of positive leasing spreads: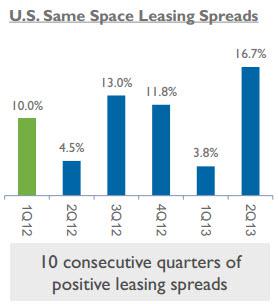 The snapshot below demonstrates Kimco's U.S. evolution and focused "circle of confidence":

Click to enlarge
By "keeping it simple, stupid," Kimco has improved occupancy by 170 basis points by strategically adding higher-quality centers and divesting non-core properties.

Click to enlarge
Kimco has also aggressively pursued redevelopment opportunities that generate higher risk-adjusted returns. Kimco has around $800 million of redevelopment deals in its pipeline. Here is a snapshot of Kimco's "before and after" photos of Cottman & Bustleton in Philadelphia.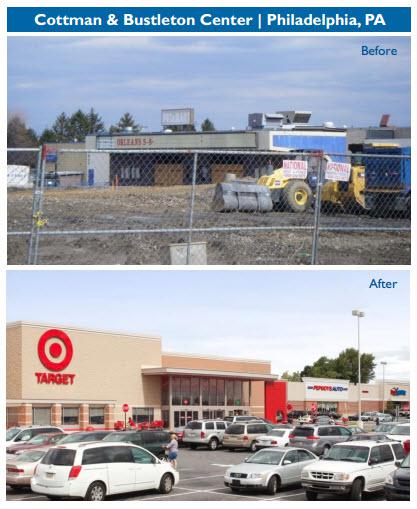 Here is a snapshot of Kimco's pipeline of redevelopment projects by year of completion: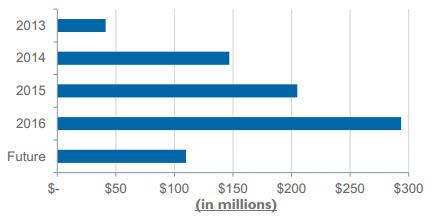 Here is a snapshot of the various stages of Kimco's redevelopment pipeline: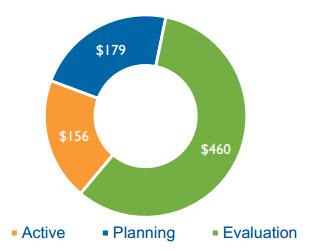 The 2013 redevelopment list:

Click to enlarge
The 2014 and beyond redevelopment list: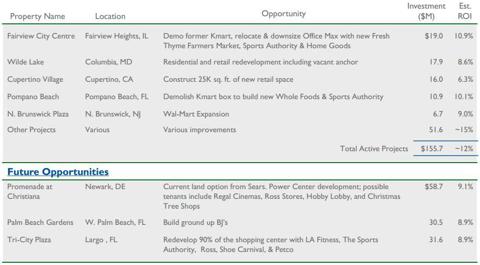 Click to enlarge
This is a KISS REIT Flush with Credit Capacity
Kimco's liquidity position remains in excellent shape, with over $1.6 billion of immediate liquidity available and less than $150 million of debt maturing in the balance of the year. Kimco is one of a handful of REITs with a BBB+, Baa1 investment-grade rating, and the company expects to continue to operate with a consolidated net debt to recurring EBITDA level between 5.5x and 6x, currently at 5.8x, and a fixed charge coverage of at least 2.5x, currently 2.9x. Here is a snapshot illustrating Kimco's flush credit capacity (and other dominant peers):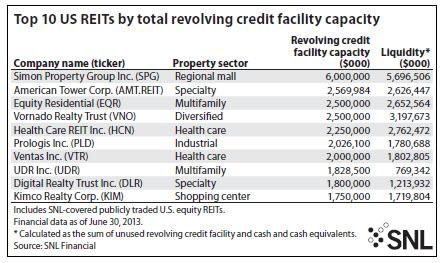 Here is a snapshot of Kimco's well-staggered debt maturities:

Click to enlarge
Here is a snapshot of Kimco's recurring retail earnings growth (Notice the clear focus on retail now at 97%):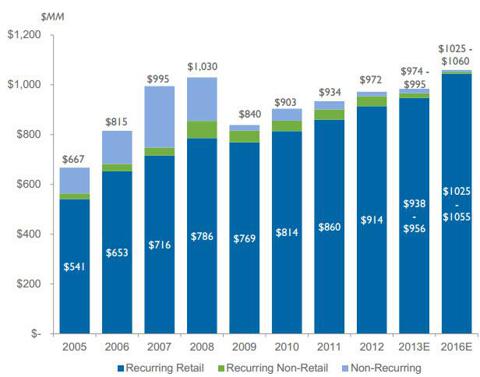 Click to enlarge
Here is a snapshot of Kimco's capital structure that consists of 61% common equity, 23% unsecured debt, 8% mortgage debt, 7% preferred stock, and 1% non-controlling ownership interests: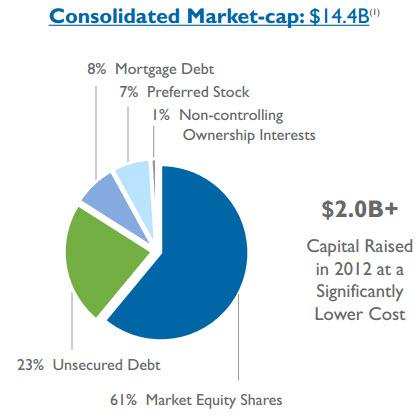 Key metrics showing Kimco's access to capital and focus on core retail investing have improved (as illustrated below):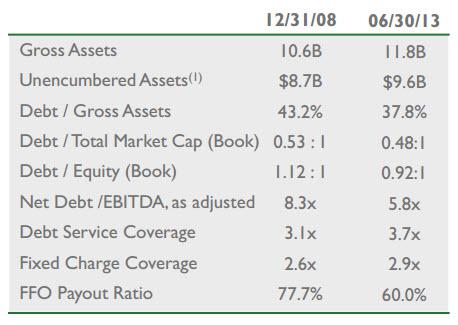 FFO as Adjusted has improved considerably: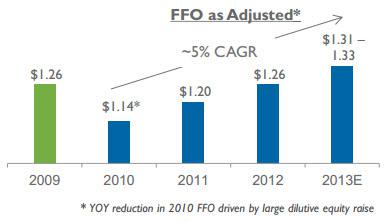 Here is a snapshot comparing Kimco's 2012 and 2013 FFO guidance: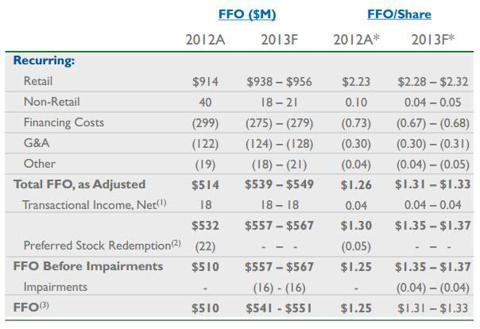 Click to enlarge
Why Doesn't Mr. Market Acknowledge Kimco's KISS Strategy?
Kimco is trading at $20.37 with a dividend yield of 4.12%. In the last 90 days, Mr. Market has not given Kimco much credit for the company's "keep it simple, stupid" strategy. Kimco has returned -4.89%.

Click to enlarge
Even over the last 12 months, Mr. Market has not given Kimco much love for its KISS; Kimco returned just 3.18%.

Click to enlarge
So let's go back and see when Mr. Market fell out of love with Kimco. By utilizing FAST Graphs (below), we can see that Kimco grew at an incredible rate up until the Great Recession. However, in 2009 Kimco issued too many shares; the result was a collapse in share price. It was then that Kimco attempted to be proactive and access more capital. In hindsight, it's quite clear that the company was overly cautious and its access to capital was excessive. As the FAST Graph below illustrates, Kimco shares plunged 90% from the high-point in early 2007, after having risen 150% from the company's 1991 IPO (November 22, 1991).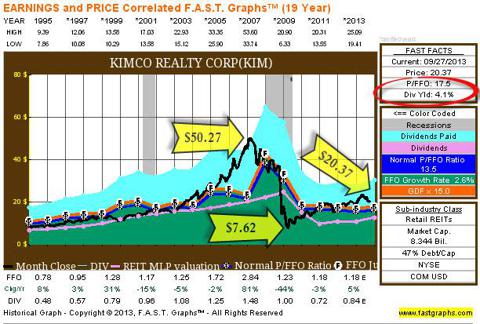 Click to enlarge
As a result, Kimco was forced to cut dividends. Here is a snapshot of Kimco's dividend history:

Click to enlarge
So in 2010 as Kimco started to begin "keeping it simple," the company also started to rebuild its dividend. Here's a snapshot of the dividend growth (since 2010):

Click to enlarge
By examining the chart below (FAST Graphs), you can see that Kimco has maintained a relatively stable valuation of around 15.3x (FAST Graph states it is 17.3x and SNL is 15.3x). The share price has not moved much and that tells me that the market does not place as much value on Kimco's improved "circle of competence" and revamped balance sheet.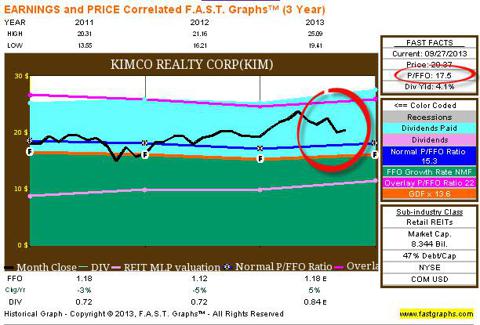 Click to enlarge
Kimco shares trade at 15.3x, a discount to the 16.5x shopping center peer average. Based upon that metric, I believe Kimco is trading at "sound" value and possibly at or near my target BUY price.

Click to enlarge
However, Kimco's dividend yield is 4.12%, below the peer average yield of 4.62%.

Click to enlarge
Now remember that I consider Kimco to have a "fortress balance sheet" and to be one of the few blue-chip shopping center REITs that I would like to own. In other words, on a risk-adjusted basis, I believe that Kimco's 4.12% dividend yield is attractive and, given the potential for future dividend increases, I wouldn't be surprised to see Kimco pay a higher dividend soon. Why?
Kimco's portfolio should continue to benefit from the increased demand for retail space. More importantly, Kimco's exit from non-core markets and non-core assets, combined with substantial liquidity, should result in outsized growth. At the end of the day, I find Kimco to be the right REIT at the right place at the right time.
I believe that Kimco has strong upside and that dividends will move up the curve in 2014 and 2015. I am initiating a BUY at $20. At some point, I believe that Mr. Market will begin to comprehend the fine job that management has done. For Kimco, there should be little room for distractions (non-core deals) and, in my view, the financial crisis has helped teach lessons about deleveraging balance sheets and improving portfolio quality.
In closing, I thought Milton Cooper nicely summed up the valuation of Kimco during the second quarter of 2013 earnings call:
When a common stock or any security is bought, its multiple depends to a great extent on future growth from the business. When a property is acquired, there is an Argus run for five or 10 years, and the cap rate depends upon the growth and future rental streams. And it follows that a portfolio should be similarly valued. Our portfolio has had 13 straight quarters of increases in same-store growth, and so far this year, our same-store growth has been outstanding. And we believe we can continue to deliver strong recurring growth into the foreseeable future, and hence, an increased valuation.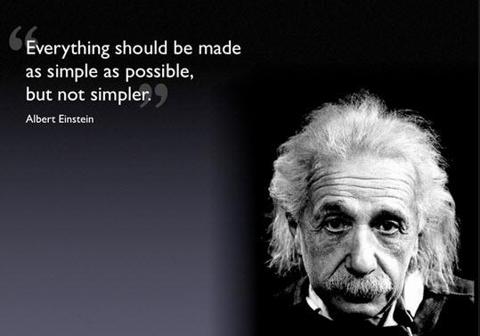 Click to enlarge
Other REITs Mentioned: (NYSE:WRI), (NYSE:REG), (NYSE:FRT), (NASDAQ:ROIC), (NYSE:EXL), (NYSEMKT:WSR), (NYSE:AMRE), (NYSE:UBA), (NYSE:IRC), (NYSE:EQY), (NYSE:DDR), and (NYSE:RPAI).
Newsletter: For more information, check out my REIT newsletter HERE.
Source: SNL Financial, FAST Graphs, and Kimco Investor Presentation.
Disclaimer: This article is intended to provide information to interested parties. As I have no knowledge of individual investor circumstances, goals, and/or portfolio concentration or diversification, readers are expected to complete their own due diligence before purchasing any stocks mentioned or recommended.
Disclosure: I am long O, ARCP, CSG, HTA, VTR, HCP, DLR, UMH, STAG. I wrote this article myself, and it expresses my own opinions. I am not receiving compensation for it (other than from Seeking Alpha). I have no business relationship with any company whose stock is mentioned in this article.