Happy new year, Apple (NASDAQ:AAPL). For those that missed the ball drop, Apple's fiscal year ended on Saturday, September 28th. Their fourth quarter is now over, and that means we are officially in the fiscal first quarter of fiscal 2014. Apple's fiscal 2013 started off with a bang, containing the largest product launch in Apple's history. The year finished off strong with the largest iPhone opening weekend in Apple's history. However, a lack of launches during the year led to concerns over Apple's innovation, sending shares down 27.6% on the year, before adjusting for dividends. Even though Apple will set a yearly record for revenues when it reports in a few weeks, those sales were based on lower margin products that will hurt Apple's bottom line.
But the past is the past. Apple's fiscal year is over, and that means it is time to start looking forward. Today, I'll preview Apple's fiscal 2014, discussing potential new products, financial projections for the company, and what it all means for Apple's stock. Apple's new year has begun, and investors should be ready to jump on board.
What will Apple launch?
Obviously, the recently launched iPhone 5S and 5C will contribute a large amount to Apple's top and bottom line. Even though Apple has already sold several million phones, a majority of 5S and 5C sales will come during fiscal 2014. Perhaps the biggest question in terms of the iPhone will be if a deal is signed with China Mobile (NYSE:CHL), which would provide a tremendous opportunity for both names.
The next important launch investors will be looking for will be the iPad line. Apple has not refreshed the iPad since the launch of the fourth generation version and the iPad mini last October. It was the lack of a launch in March that led to a few quarters of very sluggish revenue growth. The 5th generation iPad is expected to be launched in the next couple of weeks, but a retina version of the iPad mini may not be available until calendar 2014. While the lack of an iPad mini refresh would hurt fiscal Q1 sales for Apple, it would help sales in other quarters, and would make fiscal 2014 a little less seasonal for Apple. In fiscal 2013, Apple's large Q1 was Apple's largest quarter (in terms of percentage of that year's revenues) in a number of years. A later launch of the mini would smooth out Apple's revenue cycle a bit as well as keep Apple in focus during the winter months.
The third major item to track will be iTunes Radio. Apple stated after the opening weekend of the iPhone that more than 11 million unique listeners have already tuned in. This service will be something to watch, and I think it will have a major impact on this space. I'll have more on this later in my winners and losers segment.
What else could be on Apple's plate? Well, everyone is looking for some sort of smart watch, and potentially something regarding Apple TV. Apple did say on the Q3 earnings report that they had plenty of new and exciting products lined up for the rest of this year and during 2014. Whether or not Apple launches anything really new during the fiscal year remains to be seen. Apple could launch a watch in October 2014, which would be during the calendar year, but not the fiscal one.
What does this mean financially?
In the end, it comes down to dollars and cents. What do these products mean for Apple's top and bottom line? Well, let me first discuss Apple's fiscal Q4 of 2013, because that earnings report will come in a couple of weeks. I mentioned in my latest Apple article that we should see analysts raising their estimates into the report thanks to the blowout iPhone weekend. In a number of past quarters, analysts have been cutting estimates into the quarter. In my latest article, analysts were looking for $36.10 billion in revenues and $7.66 in earnings per share. Current estimates call for $36.72 billion and $7.86. As I said in that article, it will be interesting to see if estimates get to $37 billion and $8 by the time we get to the day of the actual report.
So let's move to the more important period, and that is fiscal 2014. Current estimates call for a 6.6% increase in revenues to $181.46 billion, an increase of about $11.4 billion or so. That would represent the first single digit percentage increase in revenues in a number of years, after a number of years of double digit growth. Now, fiscal 2013 will probably show a single digit increase, however, if you factor out the extra week from the prior fiscal year, the adjusted figure should be in the low teens. Current analyst estimates, factoring out the extra week, show an 11% gain.
One of the most interesting items will be gross margins. As you can see from the chart below, gross margins have been coming down. The redesign of the iPhone 5 hurt a little, but the biggest impact was from the much lower margin iPad mini.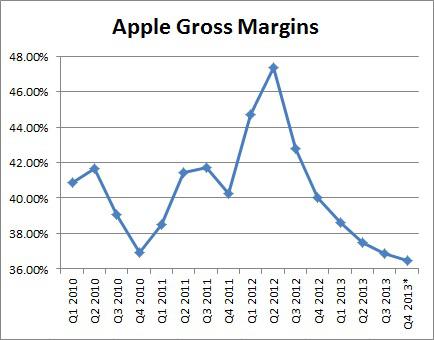 *Q4 number based on midpoint of original guidance for 36% to 37%. Apple says that number should now be at the high end of that range thanks to the great opening weekend of the iPhone.
Based on current estimates and Apple's first three quarters, Apple's gross margins for fiscal 2013 should be around 37.55%, with the actual number probably being within about 15 basis points in either direction. If Apple's launch of the iPhone 5C was to help out margins, maybe Apple can get back to the 38% level in fiscal 2014. Roughly speaking, every 50 basis points in gross margins will translate to about $0.75 in earnings per share for the year. I'll have a discussion about Apple's bottom line (earnings per share) in the next section.
Capital return plans:
Financially speaking, Apple has a lot of money, and investors have been demanding some of it for themselves. The following table shows Apple's cash pile statistics in recent years, and I've broken out the domestic versus foreign held funds. Remember, Apple can only use domestic funds for the dividend and buyback. The dollar values below are in millions.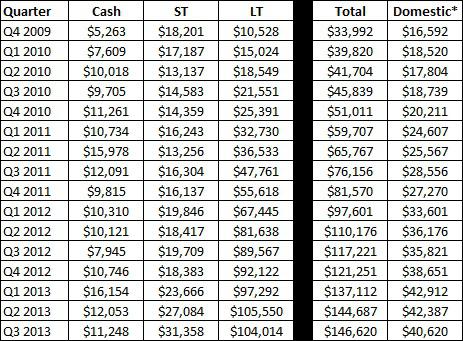 With the growing cash pile and demands for Apple to return some funds, Apple restarted its dividend last year with a $2.65 quarterly payout, which was raised by 15% to $3.05 this year. Apple will payout $12.20 in annual dividends at that rate, which equates to a yield of 2.53% as of Friday's close. During fiscal 2014, another raise will be expected. A raise of 10% to 15% would put the dividend in the $13.42 to $14.03 annual range.
But the more important item probably for shareholders is the stock buyback. Apple initially had a $10 billion plan which was to stop the share count from rising further, not to reduce it. However, Apple expanded that plan to $60 billion, and so far, they've bought back about $18 billion. That is starting to get the share count down, and it did quite significantly in fiscal Q3.
On Monday, Apple CEO Tim Cook will have his much anticipated meeting with Carl Icahn. Icahn is a large shareholder in Apple, and added to his position when Apple shares declined post iPhone launch. Icahn will be looking for Apple to expand its buyback program, thanks to the above mentioned cash pile values. It is possible that Apple could use more debt for buybacks, although rates have increased since their last debt sale. I recently analyzed the Icahn buyback potential.
So what does this all mean for earnings per share? Well, Apple is currently expected to post $39.37 in fiscal 2013. That would be down from $44.15 ($43.16 adjusted) in fiscal 2012. As I mentioned above, that was due to the decline in gross margins. For fiscal 2014, analysts are currently looking for $42.89. A lot of that will have to do with how many shares Apple buys back. Generally speaking, for every 5 million shares Apple reduces its yearly diluted share count by, it would improve earnings per share by 20 to 25 cents. As Apple gets the share count down even further, each 5 million shares reduced will have an even larger impact on earnings per share.
Apple compared to other names:
I wanted to show a brief comparison between Apple and other names that could be considered competitors. While there is no one true competitor, like a Coca-Cola (NYSE:KO) to Pepsi (NYSE:PEP), there are a few names that do compete with Apple. The following table shows an as-is comparison between Apple, Google (NASDAQ:GOOG), Microsoft (NASDAQ:MSFT), Amazon (NASDAQ:AMZN), and Facebook (NASDAQ:FB). What does an as-is comparison mean? Well, these are the numbers you would see on a Yahoo! Finance page, based on a company's current analyst estimates, market cap, current dividend, etc. These numbers are presented as is, which does not go into the actual detail of the number. For instance, Google and Facebook earnings estimates are non-GAAP, as they take out certain expenses. Were GAAP estimates to be given, these names would have much higher P/E values. Also, these numbers are based on each company's respective 2014 fiscal year. Amazon, Google, and Facebook use calendar years, Microsoft uses a June end year, and Apple's obviously ends in September.

Sure, Apple is no longer the fastest growing company out there. However, Apple's revenues in the 2014 fiscal year are expected to be double that of the 2nd highest revenue generating name on this list, Amazon. The law of large numbers does come into play here. Also, for the extra growth you are getting from Google, is the extreme premium (especially if you were to move EPS to GAAP) worth it? Google doesn't pay a dividend, and its share count is rising each quarter. Apple has the largest buyback in corporate history. Apple provides more growth than Microsoft, and trades at a discount to Microsoft. Amazon's earnings growth is misleading in a sense because the company is barely profitable, and analysts always have high expectations until Amazon starts reporting. Amazon actually lost money last year, and Apple will most likely make more money each week than Amazon does in an entire year or two. I threw in Facebook to show what a "new-era" tech company looks like. Obviously, Facebook is growing very fast, but the valuation is completely ridiculous.
In the end, comparisons can be twisted in any way you like. One investor might only look at these names for dividends and buybacks. Another investor might purely look at growth and valuations. I provided these numbers for a high-level analysis, not to make a specific point about any one Apple competitor. Right now, even though Apple doesn't provide the most growth, it still provides some growth at a reasonable valuation, especially when you consider the dividend and buyback.
Building out a valuation:
For those that have followed my extensive Apple coverage, you know that I build a valuation table / price target table. I provide a range of earnings for Apple, and then assign a P/E multiple given on that level of earnings and its associated growth/decline. If you want to know what my specific price target for Apple is on any given day, you can take the current analyst average estimate for earnings per share, and multiply it by the P/E multiple. Here is my current P/E table for Apple in regards to fiscal 2014.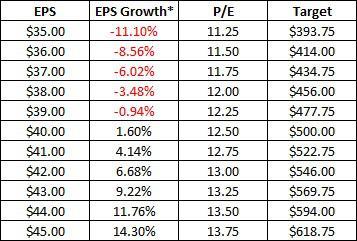 *Growth/decline based on currently expected $39.37 for fiscal 2013. Once we have the actual number for the fiscal year, I will update the growth/decline number and use that one going forward.
The current analyst estimate for fiscal 2014 earnings is $42.89, which means my price target is approximately $567. That's about $25 above the average/median price target currently for Apple. Again, this is where I see things as of today. There are a lot of numbers, many of which I discussed above, that could easily change this table, and I will update this table as the year progresses. Apple getting the China Mobile deal could certainly impact revenues/earnings, and if Icahn gets a bigger buyback put in place, that will certainly boost Apple's EPS number. My next update in regards to this table should be in late October or early November.
3 winners:
This is something new I'm going to do for Apple. Since it would be unwise to have your entire portfolio in Apple, I'm looking at other names that could benefit from or be hurt by Apple this year. I've found three winners and three losers I'd like to briefly discuss. I will start with the winners, those I think could benefit from Apple in this fiscal year or perhaps even beyond it. For this section, I am not going to include any of the "competitors" I mentioned above. Those names will obviously be impacted by Apple's strength or weakness, but they are rather obvious. This section will focus on other impacted names.
One potential winner is a company that relies heavily on sales of Apple's iPhone and iPad, and that is integrated circuit maker Circus Logic (NASDAQ:CRUS). The performance of Cirrus' shares has been largely tied to Apple at times, and while Cirrus' revenues are expected to fall in its current year, there is a lot of potential here. A China Mobile deal could provide a tremendous benefit to Apple, which would be passed down to Cirrus Logic. If the iPhone and iPad do well, Cirrus should too.
The second beneficiary is not a company. It's an exchange traded fund, and I'm not looking at your generic tech sector one. In August, I discussed how Apple could gain inclusion into the PowerShares Buyback Achievers Portfolio (NASDAQ:PKW). This ETF invests in companies that buy back a significant amount of shares. Apple is not eligible for this ETF yet because it doesn't meet all of the requirements, but it could be eligible soon. This ETF has been very popular, with a massive amount of funds flowing into it. When I covered it in August, it was up to more than $1.2 billion in market value. The current page shows more than $1.6 billion. Should Apple gain inclusion into the ETF, look for a lot of money to flow into the fund.
The third name I will discuss is Intel (NASDAQ:INTC). Intel and Apple have always had a very complex relationship, and SA contributor Ashraf Eassa did a great job recently of showing how they co-exist. Ashraf concludes that Intel is not headed for the iPad/iPhone anytime soon, as Intel doesn't have anything so incredible Apple will want to switch. I agree that currently, that is the case. However, as I've been detailing lately, Intel is catching up to the mobile revolution. Intel may have fallen behind, but the chip giant should not be counted out. While I don't see Intel getting into the iPhone or iPad in the next year or so, I do think that over the next year, Intel will start to plant some large seeds in this space. I think this will be a key year for Intel, and if the chip giant can hit its marks, I do think they will get something major into the iPhone or iPad two or three years down the road. Intel has to prove itself first, which is why this year is so important.
3 losers:
The first two losers really can be mentioned together, and they are Pandora (NYSE:P) and Sirius XM (NASDAQ:SIRI). Apple's iTunes Radio will be a major force in this space, and the above mentioned names will feel an impact. Pandora shares recently sold off after the 11 million unique users note was released. Sirius might be a little worried as well, now that Nissan is partnering with iTunes Radio. While iTunes Radio won't go into the new line of cars right away, it seems as if it is only a matter of time. Once Nissan throws it in, don't you think other car manufacturers will follow? Everyone wants to benefit from Apple's success, and all it will take is one major announcement on iTunes Radio in some actual vehicles, and Sirius will sell off.
The final loser is AT&T (NYSE:T), and let me first say that the telecom giant will do extremely well in terms of the iPhone. AT&T was the first major US carrier to get the iPhone, and thus it has always been the leader in iPhone sales. However, being the biggest seller also means you have the most to lose. Verizon's (NYSE:VZ) purchase of its Verizon Wireless stake, in my opinion, will mean Verizon focuses more on the wireless segment, taking on AT&T in a larger battle. Also, Sprint (NYSE:S) is getting much needed capital from Softbank that will allow Sprint to upgrade its network and finish off its Clearwire purchase. Sprint already has the best unlimited plan, and if the network improves, more will switch. AT&T will still sell a tremendous amount of phones, but I think that increased competition will hurt Ma Bell a bit, making it a potential loser.
Final thoughts:
Apple's new fiscal year is here, and it is going to be a big one. The iPhone has gotten off to a tremendous start, and a potential China Mobile deal could change the future of Apple as we know it. New products and services like iTunes Radio are here, with more on the way, and that should spark Apple to a new yearly revenue record. Apple's earnings should rebound as margins improve and the buyback really lowers the share count. Apple's dividend and buyback, along with a low valuation make this stock attractive. I don't think Apple will go back to $705 this year, but I don't think we'll see it at $380 either. Apple is back in the top spot where it belongs, and that is why you have a stock that has rebounded well off its yearly lows, as you can see from the chart below.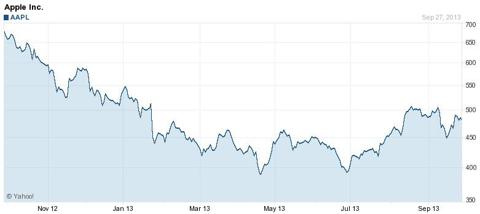 (Source: Yahoo! Finance)
Disclosure: I have no positions in any stocks mentioned, and no plans to initiate any positions within the next 72 hours. I wrote this article myself, and it expresses my own opinions. I am not receiving compensation for it (other than from Seeking Alpha). I have no business relationship with any company whose stock is mentioned in this article.
Additional disclosure: Investors are always reminded that before making any investment, you should do your own proper due diligence on any name directly or indirectly mentioned in this article. Investors should also consider seeking advice from a broker or financial adviser before making any investment decisions. Any material in this article should be considered general information, and not relied on as a formal investment recommendation.