There was news on September 27 that China will end a 13-year ban on sales of video game consoles.
In a statement issued on Friday, the State Council of China said it will open up the market to foreign companies that have established production and sales operations within the free trade zone. The Shanghai free-trade zone is expected to officially open on October 1.
Sales of video games and consoles were banned in 2000 over fears that they are harmful for the mental and physical development of children.
John Sheehy, private investor, asked the following question during the China TechFaith (NASDAQ:CNTF) second quarter earnings call on August 20:
I would also like to ask about the patent portfolio you have in the gaming business. There's been some news that up until now sale of game consoles like Xbox, Wii and PlayStation has been banned in China, but that sales will be permitted if the consoles are constructed in the new free trade area in Shanghai? And I was wondering can those products be sold in China without accessing some of the patents that you have.
Jay Ji, Senior Vice President at TechFaith, gave the following answer:
First, we heard this news back a couple of days ago. So this kind of information we are not sure when it's going to happen. In case if it is going to happen, we have our own patents. We are going to protect us. We are going to use our patent to -- as a weapon to protect us as well in future. We keep that in mind.
This free trade zone has now been officially announced by the State Council of China and is expected to officially open on October 1. China TechFaith owns the patents that are needed to sell the video games consoles in China.
The news boosted shares of Microsoft (NASDAQ:MSFT), the maker of Xbox, by 1.5% on Friday. Sony (NYSE:SNE), the maker of PlayStation, and Nintendo (OTCPK:NTDOY) were flat on Friday. The big winner was China TechFaith that saw its shares rise by 12.80% on Friday.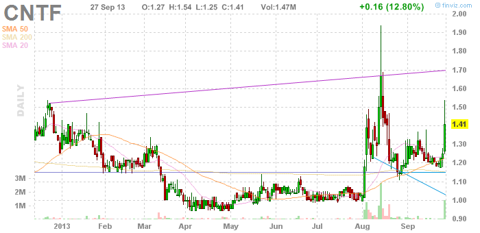 Click to enlarge
Financials
TechFaith reported the second-quarter financial results on August 20 with the following highlights:
| | |
| --- | --- |
| Revenue | $30.2 million |
| Net loss | $1.0 million |
| Cash | $257.7 million |
| Debt | $15.6 million |
| Net cash | $242.1 million |
| Net cash per share | $4.57 |
Outlook
TechFaith currently expects total revenues for the third quarter of 2013 to be in the range of $29.0 million to $33.0 million.
Conclusion
The Friday's news concerning the new free trade zone could be a game changer for TechFaith. It means that Microsoft, Sony and Nintendo would be forced into a licensing deal with TechFaith before they can start selling their consoles in China. The licensing deal could be worth hundreds of millions for TechFaith based on the size of the Chinese gaming market of more than $9 billion in 2012.
TechFaith's directors and executive officers as a group beneficially own 32.1% ordinary shares of the company, of which Mr. Defu Dong, TechFaith's Chairman and Chief Executive Officer, beneficially owns 254,695,000 ordinary shares constituting approximately 32.1% of total issued and outstanding shares.
TechFaith has a book value of $5.87 per share and the company has a net cash position of $4.57 per share. I believe the stock could be a good pick below the net cash position of $4.57 per share.
Disclosure: I am long CNTF. I wrote this article myself, and it expresses my own opinions. I am not receiving compensation for it (other than from Seeking Alpha). I have no business relationship with any company whose stock is mentioned in this article.