In October, REIT investors will have a new option for investing in New York City skyscrapers. As reported in The Wall Street Journal, Empire State Realty Trust (NYSE:ESRT) is expected to price shares "as early as the first week in October" for the 18 building portfolio that consists of the iconic 102-story tower known as the Empire State Building.
The proposed new REIT consists of twelve office properties encompassing 7.7 million square feet (around 83.5% leased) and six retail properties, consisting of four free-standing buildings that are 100% leased. The combined portfolio, encompassing around 8.4 million rentable square feet is located in midtown Manhattan, Fairfield County (CN), and Westchester County (NY).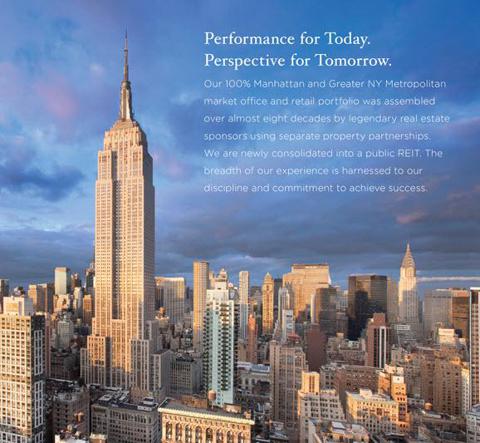 Click to enlarge
The major stakeholder, Malkin Holdings, has owned the Empire State Building for over five decades and by combining other Malkin Holding properties, the new REIT is aiming to create broader diversification and a substantially lower overall cost of capital.
The IPO for Empire State Realty Trust will end a decade or so of protest as many of the legacy investors of the Empire State Building were undecided in whether to participate in the liquid securities arena. It took a court approval in May of this year to convince the majority of the building investors to trade in the archaic shares in one building for more liquid shares in 18 buildings. Now by allowing investors to hold interests listed on the New York Stock exchange, the IPO will provide new found liquidity, so an investor can sell at an efficient market price.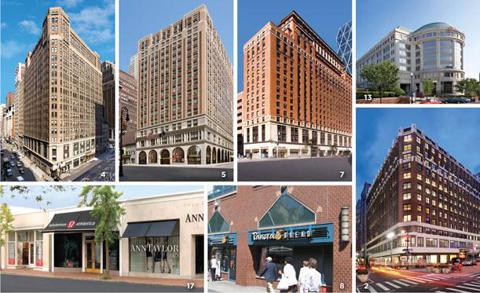 Click to enlarge
For new investors, however, the IPO will provide a new alternative for investing in a "pure play" New York area office REIT. Although, the unlocking of legacy investor shares (in the new REIT) will likely pose volatility risk, the market price for the shares may not offer a compelling discount on the first day of trading. I typically encourage investors to stay away and wait for a "hiccup" that could lead to a wider margin of safety.
The other office REITs that invest in New York area real estate are Vornado Realty (NYSE:VNO), SL Green (NYSE:SLG), and Boston Properties (NYSE:BXP). I'm not excited about any of these REITs since they payout modest dividends and I consider them all fairly valued based on P/FFO (Price to Funds from Operations) metrics.

Based on reliable sources (The Wall Street Journal), Empire State Realty Trust management plans to "roll up" the 18 property portfolio with a going in cap rate of around 5% to 5.5%. According to The Wall Street Journal, "that rate is roughly equivalent to the current cap rates of the major office building real-estate investment trusts". In the same WSJ article, Michael Knott, an analyst with Green Street Advisors, Inc., adds:
There should be more upside…and it seems reasonable from a real-estate standpoint.
Although the management team is not tested in public markets, the Malkin family and associates at Malkin are most knowledgeable in building value, especially since they have been involved in the assets for a long time. Last year, I interviewed Peter Malkin, Chairman and Co-Founder, on Forbes.com and he explained:
The same team that has shepherded these investments and turned around all the properties will be running the publicly traded REIT. The bulk of my team has worked on these assets for two decades. I will be the CEO of the REIT. I have been here more than 23 years and have worked diligently to build the management and marketing team which has renovated and repositioned these pre-war buildings to create award winning, trophy properties that attract the best tenants and the best brokers. In fact, the only recent addition to our senior management team is our Chief Financial Officer who has the necessary public company experience, and he has been with us for over a year. The management team will report to an independent Board of Directors made up of both industry experts and proven business people.
According to the SEC filing, the average vacancy rate for the office portfolio is 83.5% and the iconic Empire State Building's occupancy is 77.8% occupied. Compared with the other office REITs (mentioned in the article), the new REIT could possibly grow its Funds from Operations (or FFO) and create more growth and possibly an argument that the shares could trade at an early discount.
I recently toured the Empire State Building and interviewed one of the tenants, Skanska Group (SKA) (see my article in The Street here). I was impressed with the renovations underway and the revenue enhancement (20 floors have been renovated and 50 or so floors or being renovated now). The potential for growth is promising and the management team should be able to generate a sustainable record for dividend performance.
I look forward to following this new REIT and although I'm not planning to step outside my rule of waiting patiently for "storms to subside," I may buy a few shares for my kids' college fund so that I can explain the benefits of being a landlord when I take them to New York City for the first time. Better yet, a few shares in Empire State Realty Trust could teach the kids that "it must never be forgotten, that a stockholder is an owner of the business and an employer of its officers" and that's why I sleep well at night (source of quote: Security Analysis). One day, however, my kids will know the meaning of sleeping well at night (and not just a T-shirt that reads "I Love NYC") when they fully grasp the meaning of these words: Protect Your Principal at All Costs.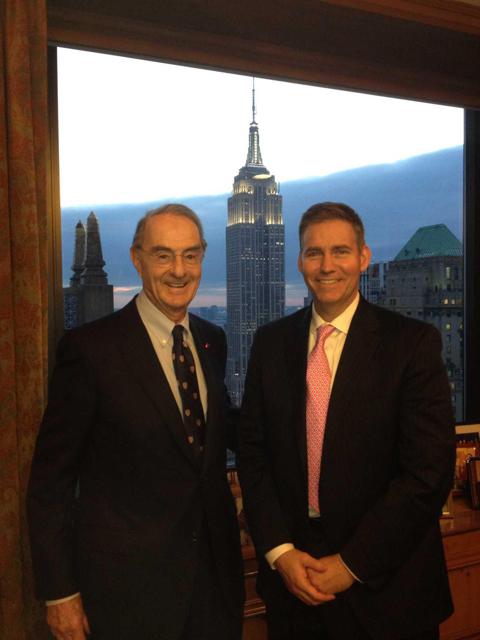 Click to enlarge
For more my previous article on the Empire State Realty Trust click HERE.
Newsletter: For more information, check out my REIT newsletter HERE.
Source: SEC Form S-11 and SNL Financial
Disclaimer: This article is intended to provide information to interested parties. As I have no knowledge of individual investor circumstances, goals, and/or portfolio concentration or diversification, readers are expected to complete their own due diligence before purchasing any stocks mentioned or recommended.
Disclosure: I am long O, ARCP, CSG, VTR, HTA, STAG, GPT, DLR, UMH. I wrote this article myself, and it expresses my own opinions. I am not receiving compensation for it (other than from Seeking Alpha). I have no business relationship with any company whose stock is mentioned in this article.