BP plc (NYSE:BP) is in the news again as the second phase of its trial for the Macondo disaster began in New Orleans. BP share price has been decimated since the accident, as we can see from the chart below. In the following article I will detail the reasons behind my purchase of BP.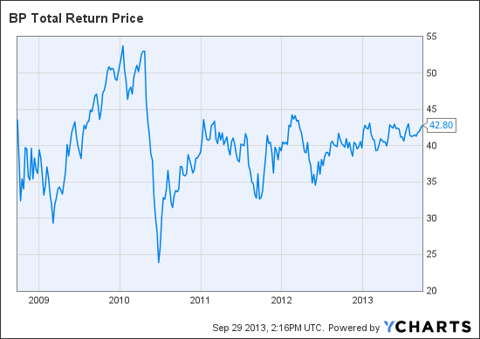 BP Total Return Price data by YCharts
The primary reason behind an investment in BP revolves around its generous dividend. At a current share price of $42.80, BP offers a yield slightly north of 5%. This is an impressive number indeed, in a world where the U.S. 10 year treasury yields less than 3%. The yield is impressive, however, we need to further examine how sustainable it is. As we can see from the table below, the dividend yield falls below 50% of net profits and well within its historical range. I was especially interested in the time frame pre-accident, to get a feel for how the company operates with respect to shareholder payout. As a side note, I would like to remind investors that high yield equity such as BP is best held in a non-taxable investment vehicle, such as a Roth IRA.
| | | | | | | | | | |
| --- | --- | --- | --- | --- | --- | --- | --- | --- | --- |
| Year | 2004 | 2005 | 2006 | 2007 | 2008 | 2009 | 2010 | 2011 | 2012 |
| Dividend per share | 1.66 | 2.09 | 2.30 | 2.54 | 3.30 | 3.36 | .84 | 1.68 | 1.98 |
| Dividend as a % of profit | 38% | 41% | 38% | 48% | 42% | 78% | Loss | 17% | 30% |
| Book value per share | 23.71 | 24.82 | 26.60 | 29.71 | 29.27 | 32.51 | 30.32 | 35.24 | 37.16 |
| Cash flow per share | 7.55 | 8.40 | 9.30 | 8.84 | 11.73 | 8.34 | 2.38 | 11.65 | 9.45 |
The second reason revolves around the depressed level at which the shares are trading. I use book value to gauge the value of industrial companies' assets. As we can see from the table above, BP is currently trading for a slight premium to its 2012 book value. I interpret this to mean that the company isn't being valued as an ongoing concern. The Street has a pessimistic view of the company going forward and isn't willing to assign a value any greater than its liquidation level. Exxon Mobil (NYSE:XOM) and Chevron (NYSE:CVX) both trade at a premium to their book value of 2.36 and 1.67 respectively. Pre-accident BP would also trade at a similar premium to book value as well. I anticipate as the litigation winds down, the shares will once again trade at a premium to its book value generating a significant capital gain.
The final reason for an investment in BP revolves around who is purchasing a large stake. In this case, the noted deep value investor Seth Klarman has accumulated a large position in the shares. BP is currently the second largest holding in his hedge fund. The Baupost group has an average purchase price of $42.56, roughly where the shares are currently changing hands. The Baupost group is known to take a large position in deeply undervalued companies and wait for the turnaround.
I anticipate that the litigation concerning the Macondo accident will be resolved in the next five years. I estimate that book value will grow at a 5.29% rate. The compounded annual growth rate should net out a book value of $55. Putting a multiple of 1.5 times on that number will net out a share price of $82.5. In the interim, by allowing the dividend to reinvest at a consistent rate, total overall returns will be north of 10% compounded. I didn't include an approximate figure due to the unknown nature of when the litigation will end. I am reasonably certain it will end in the next 5 years, yet find it impossible to pinpoint an exact timeframe.
I would also like to mention that the company has an $8 billion dollar share buyback program currently in effect. Future buyback programs will help accelerate gains in book value. Management has indicated it is open to further share reduction programs as the opportunity arises. Again, the length of the litigation process is the great unknown that is depressing the share price. An investor has to be comfortable waiting out the process for any sort of gains to materialize.
In summary, I believe BP currently offers a compelling risk reward ratio. I believe the litigation process will be resolved amicably, removing the uncertainty that has foreshadowed the share price. By simply being patient and allowing the dividend to reinvest, outsized gains will materialize once the litigation process begins to exhaust itself. Thanks for reading and I look forward to your comments.
Disclosure: I am long BP, XOM. I wrote this article myself, and it expresses my own opinions. I am not receiving compensation for it (other than from Seeking Alpha). I have no business relationship with any company whose stock is mentioned in this article.
Additional disclosure: Investors are always reminded that before making any investment, you should do your own proper due diligence on any name directly or indirectly mentioned in this article. Investors should also consider seeking advice from a broker or financial adviser before making any investment decisions. Any material in this article should be considered general information, and not relied on as a formal investment recommendation.