Investors in Blue Nile Inc. (NASDAQ:NILE) are cheering the third quarter earnings release. For the period ending September 30, the company grew revenue by 2.4% and turned in earnings of $0.17 per share. The profit represented 13% growth over the same period last year as the company noted specific strength in bridal jewelry and international sales.
Any consumer discretionary company growing sales and earnings in this environment deserves a certain degree of respect. While the third quarter of 2008 was no picnic, retail companies are finding it difficult to convince penny pinching consumers to open their wallets. Blue Nile is capturing market share from competitors during the difficult economic period with the expectation that the recovery will bring substantial revenue and earnings growth.
The Blue Nile brand is resonating with consumers in the current environment, and we are gaining market share. As we look toward the important holiday season, we are well positioned with a broad selection of diamond engagement rings and fine jewelry and a newly redesigned website to showcase these products.

~Diane Irvine, CEO
The most impressive part of the quarterly report was the fact that the company grew international sales by 27.5%. While the percentage gain is quite a large number, NILE only received 8.8 million from international customers (roughly 13% of total sales). In order for international growth to make a significant difference in the company's growth, it will have to represent a larger portion of the total business. Volatility in currency rates could cause these numbers to fluctuate, but a generally weaker dollar could be a benefit as it makes merchandise generally cheaper to offshore purchasers.
While I continue to be impressed by the company's growth, I am very concerned that investors could find themselves trapped in an inflated stock over the next several months. NILE commands a hefty multiple of 60 times expected earnings for 2010. Even if the company is able to grow by 26% next year (which is the consensus estimate), the stock still appears to be overvalued at a price that is potentially double an aggressive analytical price.
There are plenty of examples of stocks which have traded at exorbitant multiples for several months, only to disappoint investors with a sharp reversal lower. In fact, Blue Nile itself lost more than 80% of its value between late 2007 and the beginning of this year. After making up about half of those losses, it appears the stock could once again be setting up for disappointment.
Currently, I don't have a short position in the stock due to its strong momentum. However, some technical chinks are showing up in the armor as NILE recently traded below the 50 day in strong volume as the overall market began to deteriorate. Friday's earnings announcement and subsequent stock rally will be a good test as to the resolve of investors picking up new shares.
If the stock is able to maintain a price above $60 for the next week, then I would steer clear of committing capital on the short side. Momentum could certainly carry the stock higher as investors are more excited about the solid company story than they are concerned with valuation.
However, if the stock gives up its gains from this morning and breaks back below the 50 day average, that would be a good short-term indicator that the picture is deteriorating and investors are ready to bail. Once the positive momentum is broken, analysts could quickly begin calling for a multiple of 25 to 30 which would represent a 50% decline in the stock.
So tread carefully in this over-hyped retail stock. Using your capital to buy actual gold or a diamond ring will likely be a much better investment than purchasing the shares of this high value growth stock.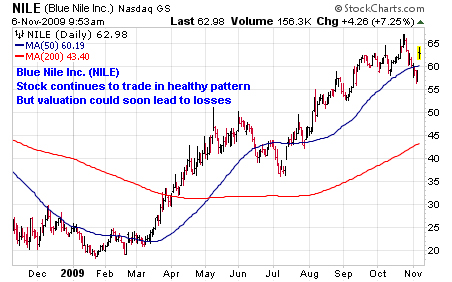 Disclosure: Author does not have a position in NILE