While major equity markets gyrate in mixed trading after the payroll report, investors in The Blackstone Group LP (NYSE:BX) are pushing the stock decidedly higher. Blackstone reported earnings Friday morning and while the official numbers showed a loss for the quarter, it appears that trends are turning higher for the private equity firm. Revenue and earnings figures for this company are particularly difficult to analyze because of the partnership accounting surrounding many of the firm's managed alternative investments, but the statistics from the earnings release were certainly encouraging.
Many of the firms hedge funds have seen significant increases over the past two quarters as asset prices have become more liquid and risk premiums have increased. Unfortunately, quite a few of these funds have "high water marks" which have yet to be eclipsed. A high water mark simply means that the fund must make up losses for investors before Blackstone as a management company can collect the rich incentive allocations as part of its compensation. As these high water marks are reached, the profitability of Blackstone will likely increase geometrically as the firm is able to participate in the profits funded by its investors.
The environment for private equity firms is decidedly more appealing than it was a year ago. Large deals are now coming to market and investors appear more than willing to invest capital in newly issued stock. For instance, Hyatt (NYSE:H) was able to issue the second largest IPO this year selling 38 million shares at a price of $25 (above the expected range). The stock was well received by investors and is currently showing initial investors a 12% gain. This type of liquid environment will lead to exceptional opportunities for Blackstone to sell portions of its private holdings to the market, while the company still has significant available cash to make opportunistic investments.
We see many opportunities to deploy our substantial available capital across each of our asset management businesses with attractive potential risk-return for our fund investors.

~Stephen Schwarzman, CEO
The beauty of Blackstone as an investment is that the company essentially offers a "heads I win, tails we break even" opportunity. Investors in Blackstone's private funds, put up capital to participate in a particular fund run by the company. For instance, Blackstone is currently raising 5 billion Yuan ($732.5 million) for a new fund investing in mainland China. If these funds perform well, Blackstone (and by extension, investors in BX) typically receives an attractive management fee and a very lucrative incentive allocation. This allocation allows Blackstone to keep a percentage of the profits from the funds managed for investors.
If these private funds turn out to be unprofitable, Blackstone is usually still able to collect its management fee and while the firm may have some capital tied up int he fund, the majority of the risk is borne by investors in the fund, not by the parent company. The result is that each of the many funds run by the parent company has the potential to generate millions in incentive allocations which are direct profits for investors in BX.
Blackstone announced that they will continue to pay their dividend (or partner allocation) of $0.30 for the current quarter. Currently, the stock has a dividend yield of 8% while still offering investors one of the most attractive long-term growth opportunities in the market today. I think the dividend should be very stable because institutional investors (including the China government) will require the company to continue to pay. There is certainly a great case to be made for this investment and I look forward to seeing what the company will do in the coming months.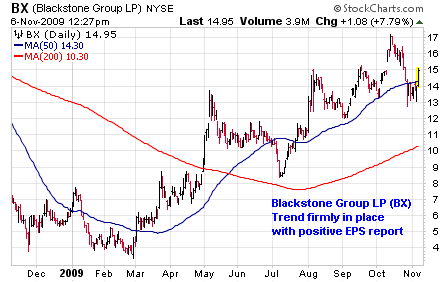 Disclosure: Author has a long position personally and in the ZachStocks Growth Model