The Intellectual Property [IP] space has become a hot spot for investors lately as many want to capitalize on the opportunities of Vringo (VRNG), VirnetX (NYSEMKT:VHC) and ParkerVision (NASDAQ:PRKR) just to name a few. With cases against Apple (NASDAQ:AAPL), Google (NASDAQ:GOOG), ZTE, and Qualcomm (NASDAQ:QCOM), billions of dollars are at stake for these smaller companies.
However, one company that is not as heavily recognized as the others is Document Security Systems (NYSEMKT:DSS). For those of you that do not already know, DSS operates as a leading developer of anti-counterfeiting, anti-fraud and authentication technologies for governments, corporations and financial institutions.
Shares of Document Security Systems have taken quite a ride this year as the company has undergone major changes. One of the biggest changes that took place was on July 1, 2013, when DSS finalized its merger agreement with Lexington Technology Group (LTG). Although DSS has owned a fair amount of patents pre-merger, they have not done the best job at monetizing them.
This is where LTG comes into play, as they seek to maximize the value of intellectual property and technology assets. LTG's team has collectively generated over $1 billion in licenses, settlements and damages awards to date and growing.
I find this to be quite impressive as they continue to demonstrate success. Don't forget either that just two months ago DSS reached a settlement with Novell, Inc. (NASDAQ:NOVL). This confirms that DSS has now settled with three of the five defendants in the Bascom case, in BroadVision (NASDAQ:BVSN), Jive (NASDAQ:JIVE) and now Novell. Only tech giants Facebook (NASDAQ:FB) and LinkedIn (NYSE:LNKD) are left with a rescheduled Markman hearing set for February 26, 2014.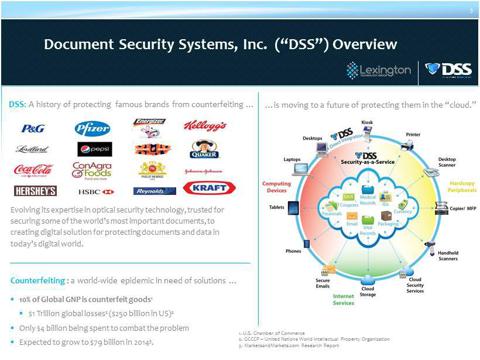 Averaging Down: Yes or No?
With shares of DSS down nearly 50% on the year, some investors have asked me if they should be averaging down. I believe it all depends on the situation of course. Sometimes it's a really good thing and sometimes it's a really bad thing. So where does DSS fit in all of this? Let's find out.
First, the strategy of "averaging down" involves investing additional amounts of money into an asset that you already own. Averaging down lowers your overall cost in a stock that has dropped in price. Some people say that it can be a good thing while others say that it is a recipe for disaster. So who is right? Quite frankly they both are. It all comes down to your due diligence and time frame.
Second, averaging down is often favored by long-term investors who have a longer horizon than others. For example, suppose a long-term investor has a very positive outlook for XYZ company. This investor may be inclined to view a sharp decline in a stock price as an early Christmas present and buying opportunity. Such investors view a stock as being on sale. If you loved the stock at $100, you should be head over heels when it's at $85.
Lastly, on the opposite side of things, investors and traders who have a short-term horizon view a stock decline as a sign of bad things to come. These investors instead like to ride stocks that have a lot of positive momentum. They view averaging down as trying to "catch a falling knife." These investors will cut their losses and move on to another stock. Short-term investors see averaging down as throwing good money down the drain.
The Advantages
There are many advantages to averaging down. Investors are able to bring down the average cost of a stock substantially down. If a stock does turn around, this ensures a lower breakeven point for the investor and magnifies profits.
For example, let's say that an investor buys 200 shares @ $100. If shares were to drop to $80, the investor could buy an additional 200 shares at $80 bringing the total cost down to $90. If the stock climbs back up to $100, the investor that averages down would have a profit of $4,000. The investor that did not average down would sit at a breakeven point.
| | | |
| --- | --- | --- |
| | Investor 1 | Investor 2 (Avg's Down) |
| 1st Purchase: | 200 @ $100 | 200 @ $100 |
| 2nd Purchase: | -----N/A----- | 200 @ 80 |
| Breakeven Point: | $100 a share | $90 a share |
| Stock Returns To $100: | | |
| Profit = | $0 | $4,000 |
Last year, a friend of mine bought some stock in XYZ company for around $8 a share. Over a month or so the stock fell all the way down to $6 a share. After doing a good amount of due diligence and feeling confident in the company he "doubled down" on his investment. Doing this lowered his cost average to around $7 a share. So where does the stock sit now after a full year? The stock sits currently around $22 a share, which makes his return on his investment over 200%.
The Disadvantages
Averaging down works well when stocks eventually rebound. However, if the stock continues to decline, losses are also increased. In such cases, investors will regret the decision to average down when they could have exited the position earlier. Investors must therefore take the utmost care to correctly evaluate the risk profile of a stock when averaging down.
Another disadvantage of averaging down is that it results in a higher-than-desired weighting of a stock in an investment portfolio. Let's suppose that an investor had a 25% weighting of certain stock in his or her portfolio. If the investor averaged down, his or her holdings of that stock would cause the weight to change. This increased percentage would result in a higher degree of exposure than desired and puts the investor at a higher risk.
Using Caution
Investors big or small have used the strategy of averaging down over the years. While the pocketbooks of smaller investors are nowhere near as big as institutions, averaging down is still a feasible strategy for investors. However, it does come with a few warning signs:
All factors need to be assessed about a company and its long-term outlook.
Averaging down should mostly be done on a few choice stocks. If you are doing this for every stock in your portfolio, then it's time to choose some new stocks in your portfolio.
Because averaging down comes with some risks, it's best to invest in stocks that are less risky than others. Make sure the company has a good track record, good management with solid fundamentals.
Before averaging down on a position, make sure you are doing your due diligence and keeping up on the company. Never invest in a "hot stock" because somebody told you it was a good investment. This will help you to know that a decline in a stock is probably only temporary rather than a deeper problem.
Conclusion
Let's be honest, if you're trading stocks frequently, then averaging down isn't the best option for you. If you're a long-term investor, averaging down makes sense in that you are able to accumulate more shares, thus profiting when shares rebound. However, before doing this you should be absolutely convinced that the company is fundamentally sound.
When DSS announced the merger on October 2, 2012, DSS shares were sitting just over the $4.00 range. With over 21 million shares outstanding at that time, DSS was valued around $88 million pre-merger. Right now the market values DSS and LTG at 52.7 million ($1.15 X 45.9 million shares outstanding). Does this sound right to you? Think about it.
LTG brought close to $7 million in cash, as well as many other assets (patents) to the merger. As such, I feel that the market is significantly undervaluing DSS and is not giving the company the right valuation that it deserves. At the same time, this presents an opportunity for investors to get in, as shares of DSS present investors with a very attractive risk-reward ratio.
While most of the focus has been on the merger with LTG and its assets, DSS has many IP assets as well. According to ipCapital Group, DSS's security printing and cloud security services are valued around $245 million.
The combination of these companies provides a good base of IP assets. The assets provide not only the ability to expand markets, but they also provide a platform for adding to current patent portfolios in the future.
Insiders buying shares
If you do not already know, by now insiders of DSS have been busy buying shares over the last couple of weeks. We all know Wall Street's saying about insiders buying shares. While there are numerous reasons for insiders to sell, there is only one reason to buy. While you shouldn't base your entire investment strategy on what insiders are doing, it's certainly something that should be taken into consideration.
Averaging down on an investment comes with many risks and rewards like I've talked about. However, I personally feel that DSS is one particular stock to take a serious look at. It's no secret that I am long DSS and like the company's future prospects. I'm actually looking to start another position in DSS over the coming weeks to not only bring my cost basis lower, but to capitalize on the market's inability to correctly evaluate DSS.
For those wondering about my track record and other particular stocks that I like, click on the link provided.
Disclaimer: Investors are always reminded that before making any investment, you should do your own proper diligence on any stock mentioned in this article and to make sure you are comfortable with your investment strategy. Have a great day and as always, I look forward to hearing your thoughts or questions that you might have.
Disclosure: I am long VRNG, DSS. I wrote this article myself, and it expresses my own opinions. I am not receiving compensation for it (other than from Seeking Alpha). I have no business relationship with any company whose stock is mentioned in this article.