By Sarfaraz A. Khan and Mehreen Tanveer
General Motors (NYSE:GM) is one of the leading global vehicle manufacturers that not only dominates North America but also the emerging markets, particularly the BRIC nations where it is one of the leading foreign players with significant market share. In its previous quarterly results, GM earned more than 60% of its revenues from North America while the rest came from Europe, South America and other international operations (including China).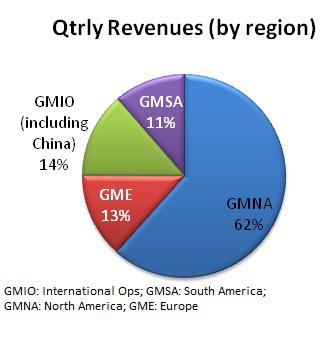 August Growth: GM and China
In the previous month (August), GM reported its best monthly sales numbers since the global financial crisis of 2008. On an year-over-year basis, total vehicle sales in the U.S rose by 14.7% to 275,847 vehicles while retail sales rose 22.1% to 220,958 vehicles. The sales of crossover, full-size pickups and large SUVs rose 34%, 15% and 29% respectively. Moreover, new product launches and modifications after 2010 of Chevrolet Volt, Chevrolet Spark, Chevrolet Sonic, Cadillac XTS, and Buick Verano have strengthened the company's position.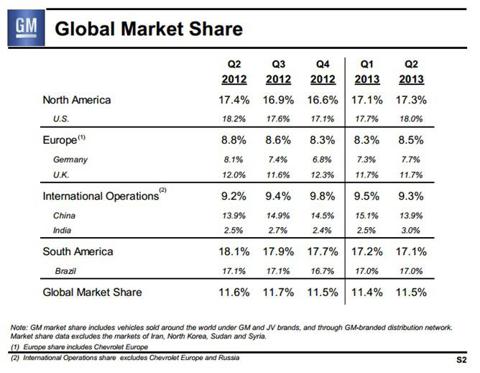 Meanwhile, China has continued its recovery from the global financial crisis which is translating into increasing demand for vehicles. In August 2013, sale of non-commercial vehicles rose by 11% to 1.35 million as compared to 1.22 million last year, according to data provided by China Association of Automobile Manufacturers.
The 11% growth shows a record increase from 10.5% in July and 9.3% in June 2013. The increasing levels of income and low car ownership rates have propelled the demand of vehicles in the country's smaller cities.
Cars from local manufacturers accounted for 38% of total sales in China where the sales of Japanese cars plunged following the Islands dispute. In August 2013, the sales of Japanese automaker Nissan (OTCPK:NSANF), which has significant exposure to the Chinese market, rose a mere 1% to 86,000 vehicles, while Toyota (NYSE:TM), the world's biggest auto maker by volume, and Honda Motor (NYSE:HMC) witnessed a 4.2% and 2.5% drop in sales to 72,100 and 55,553 vehicles respectively.
As its Japanese peers continue to struggle, GM has renewed its focus on China. Due to the enormous size and growth potential of its largest market, China (in terms of new car sales), GM has recently separated China's operations from its international unit. The new unit will now be led by its high profile executive, Stefan Jacoby, the former head of Volvo (OTCPK:VOLVY).
Expansion Plans: From SUVs to Cadillacs
According to a survey by Bloomberg, the U.S. automobile sales will rise to 16 Million in 2014. Moreover, analysts believe that the growth will come fairly "effortlessly", without any significant price cuts. This will create significant growth opportunities for GM at its home as it continues with its Chinese expansion plans.
In China, which is not only the biggest auto market but is also the fastest growing BRIC market, GM has partnered with SAIC and FAW and has maintained its 13.9% market share since Q2-2012. The company operates through two joint ventures, SAIC-GM-Wuling Automobile Co. and FAW-GM Light Duty Commercial Vehicle Co.
The company aims to launch more than 60 vehicles globally in 2013-14, including 17 new and upgraded models in China focusing on sport utility vehicles and luxury cars. It currently offers five SUVs to its Chinese customers but will add nine new or modified SUVs to its portfolio over the next five years.
GM's growth in China will come on the back of its massive investment plans in developing its infrastructure in the country. The automaker will invest $11 billion in China through 2016. A large portion of this will likely go towards the development of four new manufacturing plants. Its existing plants have been running near full capacity.
The company is also expanding its dealer network by adding 400 dealers in 2013 which will take its total to 4,200 dealers by the end of the current year. The overall strategy is to increase the company's reach in smaller tier-3 and tier 4 cities. By 2015, GM will have more dealers in China than in the U.S.
GM is also planning to export up to 130,000 vehicles from China in the current year.
Moreover, GM is ramping up competition in China's booming luxury car market. The sector has been, traditionally, dominated by European manufacturers in general and Volkswagen's (OTCPK:VLKAF) Audi in particular. GM is a small player in this segment; as per Forbes, its Cadillac has secured the last spot in China's "Top 10 Luxury Car Brands." However, the business will significantly increase competition by bringing its entire global Cadillac portfolio to the country.
GM will also increase its local production of Cadillac as it expands its dealership network. Earlier this year, the Chinese government approved GM's plan to construct a massive $1.3 billion plant which will produce 150,000 Cadillac each year. As a result, it is expecting more than 3x increase in Cadillac's sales in just 3 years from 30,000 vehicles in 2012 to 100,000 vehicles by 2015. Through this push in sales, GM wants to capture 10% market share by as early as 2020.
Interestingly, Daimler AG (OTCPK:DDAIF) is also gearing up to increase the market share of its Mercedes cars in China by investing $2.67 billion over the next two years. Add Volkswagen's dominance and Cadillac's push to the equation and we have a market which will become seriously competitive in the coming years.
Disclosure: I have no positions in any stocks mentioned, and no plans to initiate any positions within the next 72 hours.
Business relationship disclosure: I wrote this article myself with valuable contribution from Mehreen Tanveer, research assistant at Half Bridge Business Review. This article expresses my own opinions and does not constitute investment advice. I am not receiving compensation for it (other than from Seeking Alpha). I have no business relationship with any company whose stock is mentioned in this article. Neither myself nor Mehreen Tanveer have positions in any stocks mentioned and we have no plans to initiate any positions within the next 72 hours.