"Collective fear stimulates herd instinct and tends to produce ferocity toward those who are not regarded as members of the herd."


Bertrand Russell
Tesla (NASDAQ:TSLA) shares keep soaring and reach new highs every month since April. While it should be clear, after a look at the fundamentals, that Tesla's market value is totally detached from the underlying business value. In fact, Tesla's mispricing should be fairly obvious to anybody with rudimentary knowledge in business valuation, but too often rationality is being replaced by exuberance, herding and extrapolation.
Tesla's increasing price appreciation, as depicted in the share chart below, is very likely attributable to speculative capital and the retail investor crowd.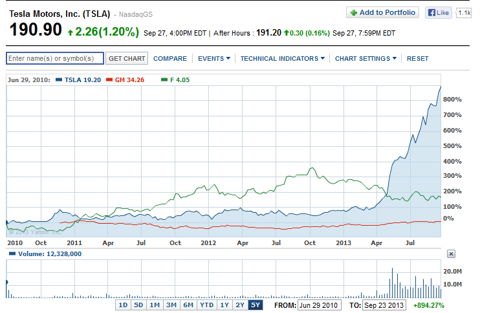 Click to enlarge
(Click to enlarge)
Investing thesis
My investment thesis conflates two dimensions. The first relates to sound principles of enterprise valuation, namely earnings and cash flow. Ultimately, businesses are valued on the free cash flow they bring in for the owners of the business. It can generally be argued that growth firms deserve greater valuation multiples as both EPS and multiples expand. The majority of Tesla investors belong to this group.
The second dimension relates to the historical evidence of how bubbles form while bullish investors mindlessly extrapolate current performance and assign sky-high valuation multiples for usually young firms. While growth firms naturally disappoint at some point due to the established concept of decreasing marginal returns, bulls (read: Tesla investors) reinforce themselves by engaging in herding behavior. Group-thinking leads to asset price inflation which eventually reverses at the blink of an eye leaves behind an army of investors with bleeding noses. Hope replaces knowledge, speculation replaces sound investment. All bubbles come to an end. Having an eccentric, high-profile CEO who adds sexiness to the company and the stock further fuels the rise of company value. The recent acceleration in capital gains suggests that a significant amount of hot, short-term capital is invested Tesla. Capital that will disappear quickly once the bubble starts to deflate. Retail investors, as usually, will bear the brunt.
Tesla investors need to ask a fundamental question: Would a rational investor rather buy an established car manufacturer such as General Motors (NYSE:GM) with 275,000 US deliveries a month (see below for a brand break-down) at a P/E of 8 or would he buy a firm with "record sales of 5,150 Model S vehicles in North America" at a multiple of 100? A note to investors: Those 5,150 vehicles spread over the entire second quarter. In total, and investors need to brace themselves, a full 13,000 Model S vehicles are now on US roads. Tesla's value proposition is everything else but attractive.
(General Motors August 2013 Sales)

Click to enlarge
(Click to enlarge)
Growth firms (and growth stock investors) usually justify high multiples by higher growth rates the new firms with perceived competitive advantages can achieve. General Motors released its retail sales information on September 4, 2013 and posted equally impressive growth rates refuting the above mentioned rationale:
DETROIT- General Motors Co. dealers delivered 275,847 vehicles in the United States in August, up 15 percent compared with a year ago. Retail sales increased 22 percent while fleet sales were down 8 percent.

Total and retail deliveries increased by double-digits at all GM brands. In total, Cadillac was up 38 percent, Buick was up 37 percent, GMC was up 14 percent and Chevrolet was up 10 percent. Deliveries to retail customers were up 38 percent at Cadillac, 22 percent at Chevrolet, 16 percent at GMC and 24 percent at Buick. Buick's retail sales were up for the 16th month in row, and it was the brand's best August since 2003. Cadillac's retail sales were the brand's best August since 1989.

Mass transition to electric cars not happening

Tesla's value is primarily being driven by the company's key product: The Model S, a green car appealing to cost conscious consumers. While there is certainly a market niche and demand for competitively priced green cars, a mass transition toward electric cars is unlikely for four reasons: First, there are viable alternatives in the market already, Toyota's (NYSE:TM) hybrid models for example are hugely popular and exhibit much higher efficiency than the average manufacturer fleet. Second, even if electric cars would be the model of the future, resource-rich car manufacturers such as GM or Ford (NYSE:F) can fairly quickly incorporate new technology into their assembly lines: These companies have decades of experience in manufacturing and have a proven track record of innovation. Third, the electric car market is a niche segment that lacks acceptance of a large pool of prospective car buyers. Brands like Cadillac, Jeep, Chevrolet, Buick, GMC and Ford have been built over decades. Many previous car owners are emotionally attached to their automobiles making brand recognition and experience a key factor in repurchase decisions.

Fourth, Tesla posts above-average increases in production and order flows. In Q2, for instance, production increased 25% from 400 to 500 units a week. Tesla also suggested that it can reach annualized (global) sales of 40,000 Model S units in 2014. Those increases, however, originate from a low production base. It is easy to post 25% increases in production when annualized production hovers around 20,000 units. A global demand projection of 40,000 units does not justify an earnings multiple of 100.

Valuation

Just to show how out of whack Tesla's recent valuation is, I have compiled a comparative overview of car manufacturers. While differing in market capitalization, scale and growth profile, peer firms GM, Ford and Toyota are successfully operating companies with cash flow records that Tesla cannot produce just yet.

Click to enlarge
(Click to enlarge)

Tesla commands out-of-touch premiums to peer group averages P/E, P/B and P/S. It should be noted, that all peer group averages are biased upward by the extreme valuation levels of Tesla. Without Tesla, the average forward P/E of the peer group would be 9.27. Tesla's inclusion in the peer group would result in a whopping 214% premium to the average P/E ratio of 32.2. While GM and Ford achieve a P/S multiple of 0.33 and 0.47 respectively, Tesla commands a valuation of 17x sales, a 264% premium on the average peer group P/S ratio. A valuation of 36 times book value also seems outrageous and is not an appropriate valuation multiple for an old-economy manufacturing company.

Business Insider also reported on the flow of funds in and out of Tesla stock in an interesting article as well as on BofA Merrill Lynch's opinion of Tesla's valuation:

"We continue to view Tesla shares as vastly overvalued and maintain our $45 PO, which is based on a 2015e EV/EBITDA multiple of about 12X (currently 12.7X). We note that our valuation multiple is relatively consistent with the simple average of 2015 EV/EBITDA multiples for a group of 35 growth oriented tech companies, based on consensus estimates."

Conclusion

Tesla's stock price rides on the fantasy that the company has a unique product that will obliterate the established car industry. If the Model S indeed gains wide-spread market acceptance remains to be seen. Car manufacturers with deep pockets (GM for instance carries about $18 a share in cash, Ford $6.5 per share) will vigorously defend their market shares as rivalry within the car industry is intense (regular sales promotions, trade-in policies etc).

Tesla, for now, remains a deeply free cash flow negative company (in fact, operating cash flows are also negative at ($128) million in 2010 and 2011 as well as ($266) million in 2012). The average negative free cash flow per year over the last three years (period 2010-2012) stood at minus $357 million. This free cash flow record does not deserve the valuation metrics currently witnessed in the market. General Motors trades at a 4.2 times ex-cash P/E multiple and is an investment where the risk/reward ratio is tilted in favor of investors. Retail investors should tread very carefully as institutional investors have decreased their holdings in Tesla stock. As always, it is usually the retail investor who turns off the light.

Disclosure: I am long GM. I wrote this article myself, and it expresses my own opinions. I am not receiving compensation for it (other than from Seeking Alpha). I have no business relationship with any company whose stock is mentioned in this article.