"Words from the Wise" this week comes to you in a shortened format as I am about to leave Cape Town for a visit to the colder environs of Switzerland and Slovenia. Although reduced commentary is provided, a full dose of excerpts from interesting news items and quotes from market commentators is included. Blog posting will be slow (and totally absent on some days) while I am on the road. The normal blogging service will be resumed on my return to Cape Town on November 16.
The Federal Open Market Committee (FOMC) maintained its extraordinarily accommodative monetary policy following its meeting on Wednesday. The communiqué had no surprises and said that the committee expected to keep the fed funds rate target in the 0-0.25% range "for an extended period". As expected, the European Central Bank (ECB) and the Bank of England (BoE) also kept interest rates unchanged at 1% and 0.5% respectively.
A hesitant economic recovery, tame inflation and severe credit headwinds suggest that monetary policy will need to stay very easy for at least another year. Liquidity trends will not be a constraint on higher prices for risk assets for a while,
said BCA Research.
The jump in the unemployment rate to a 26-year high of 10.2% in October - an increase of 0.4 of a percentage point - reminded pundits of the challenges in the labor market and broader economy. While investors' hopes of an economic recovery might have got ahead of reality, the cartoonists continually reminded us of worrisome issues …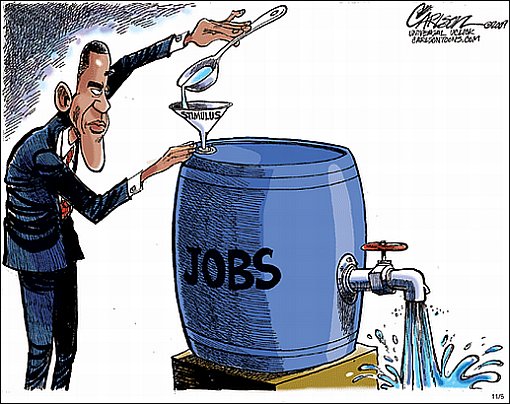 Source: Stuart Carlson, Uclick.com
The past week's performance of the major asset classes is summarized by the chart below. Gold bullion was the star of the week, especially subsequent to the purchase by India's central bank of 200 metric tons of gold from the International Monetary Fund. The price jumped by 4.7%, recording an all-time high of just over $1,100, with platinum (+1.7%) and silver (+6.6%) also handsomely higher. (See my recent post "Gold bullion surging in all currencies".)
Click to enlarge: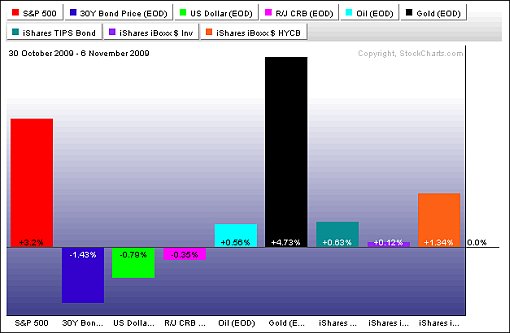 Source: StockCharts.com
A summary of the movements of major global stock markets for the past week, as well as various other measurement periods, is given in the table below.
The MSCI World Index (+2.4%) and the MSCI Emerging Markets Index (+2.4%) both made headway last week to take the year-to-date gains to 23.0% and an impressive 65.1% respectively. Interestingly, Chile is now only 3.9% down from its July 2007 high and could be one of the first markets to wipe out all the financial crisis/recession losses.
The U.S. indices reversed a two-week down-patch and all the major indices and economic sectors closed higher for the week. The S&P 500 scored a full house of gains and the Dow Jones Industrial Index reclaimed the 10,000 level, putting these indices within 2.7% and 0.7% respectively of their 2009 highs.
The year-to-date gains in the U.S. remain firmly in positive territory and are as follows: Dow Jones Industrial Index 14.2%, S&P 500 Index 18.4%, Nasdaq Composite Index 34.0% and Russell 2000 Index 16.2%.
Click here or on the table below for a larger image.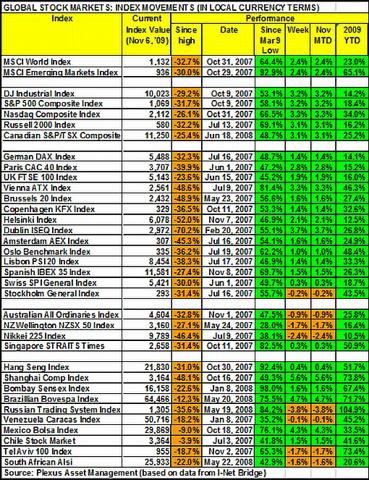 Top performers among stock markets this week were China (+5.6%), Argentina (+5.1%), Brazil (+4.7%), Ukraine (+4.7%) and Slovakia (+4.7%). At the bottom end of the performance rankings countries included Egypt (‑6.6%), Vietnam (-5.5%), Iceland (-4.2%), United Arab Emirates (-3.4%) and Serbia (‑3.3%).
Of the 99 stock markets I keep on my radar screen, 52% recorded gains (last week 15%), 43% (84%) showed losses and 1% (5%) remained unchanged. (Click here to access a complete list of global stock market movements, as supplied by Emerginvest.)
John Nyaradi (Wall Street Sector Selector) reports that, as far as exchange-traded funds (ETFs) are concerned, the winners for the week included Telebras HOLDRS (NYSE:TBH) (+13.1%), Market Vectors Gold Miners (NYSEARCA:GDX) (+12.4%), PowerShares Global Gold & Precious Metals (NASDAQ:PSAU) (+10.7%), Market Vectors Brazil Small Cap (NYSEARCA:BRF) (+9.2%) and Market Vectors Coal (NYSEARCA:KOL) (+8.1%).
At the bottom end of the performance rankings, ETFs included United States Natural Gas (NYSEARCA:UNG) (-7.2%), ProShares Short Emerging Markets (NYSEARCA:EUM) (‑5.5%), Vanguard Extended Duration Treasury (NYSEARCA:EDV) (-3.8%), ProShares Short QQQQ (NYSEARCA:PSQ) (-3.7%) and iShares Barclays 20+ Year Treasury Bond (NYSEARCA:TLT) (-2.2%).
Still on the topic of ETFs, Bespoke highlighted a list of the funds trading the furthest above (top table) and below (bottom table) their 50-day moving averages. The tables are posted with further comment.
Click to enlarge: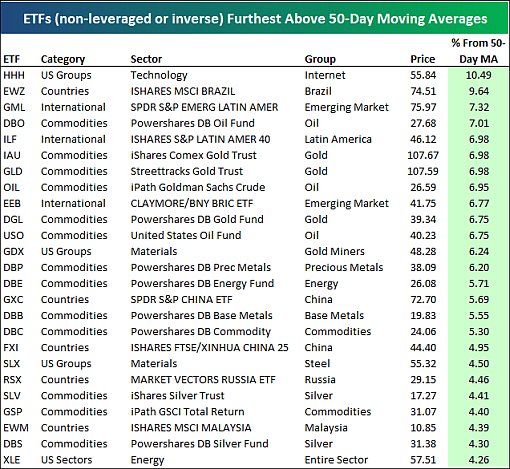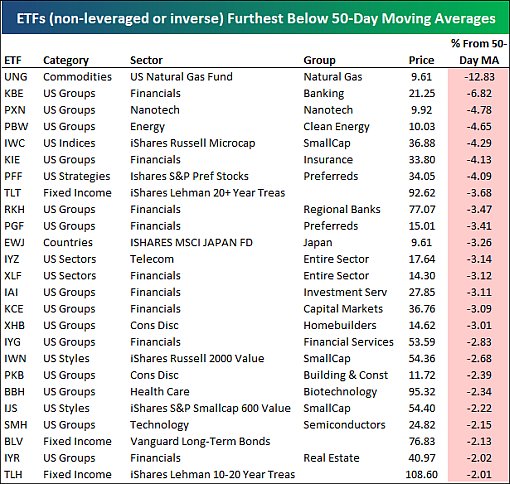 Source: Bespoke, November 6, 2009.
Referring to the surge in the gold price, the quote du jour this week comes from long-timer Richard Russell, author of the Dow Theory Letters. He said:
An integral part of our prosperity since World War II has to do with the dollar as a reserve currency. As the world's reserve currency, we could print our 'wealth' and the world would accept it. That 'free lunch' is now in the process of changing.

The key to the whole picture is the acceptance of the dollar. The dollar is compared every minute with real Constitutional money - gold. As gold rises, the dollar's future declines. At some point ahead, the world will refuse to accept dollars, which are really Federal Reserve notes. When that happens, the U.S.'s great advantage will be over.

The forces of real intrinsic money, gold, are now battering at the door of fiat money, which is money created at will out of nothing by the central banks. It's a death-struggle between real intrinsic money against 'counterfeit' or play money created by bankers. Who will win? Reality will always triumph over fantasy.
Other news is that the House, following the Senate, passed legislation that extended the $8,000 first-time homebuyers' credit until April and unemployment insurance for an additional 20 weeks. Meanwhile, the Senate aims to publish a bill on regulatory overhaul next week.
Separately, regulators closed five more banks on Friday, bringing the tally of U.S. bank failures in 2009 to 120. The latest round includes United Commercial Bank of South Francisco that reportedly received federal bailout funds in 2008.
Next, a tag cloud of all the articles I read during the week. This is a way of visualizing word frequencies at a glance. Although "bank" still features prominently, the key words have started taking on a more normal pattern compared with the crisis-related words that have dominated the tag cloud for many months. Unsurprisingly, "gold" is moving up the ranks as the metal increasingly gains favor.
Click to enlarge: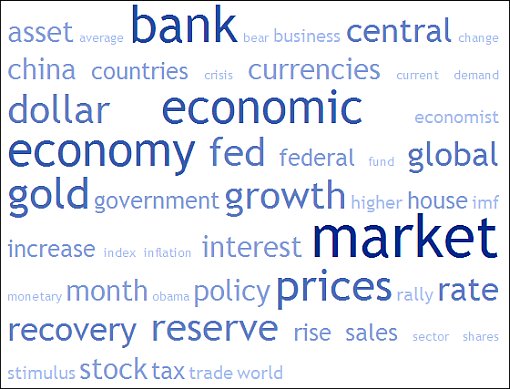 The major moving-average levels for the benchmark U.S. indices, the BRIC countries and South Africa (where I am based in Cape Town) are given in the table below. With the exception of the Russell 2000 Index and the Bombay Sensex Index, most of the indices reclaimed their 50-day moving averages over the past few days, with all the indices still holding above their respective 200-day moving averages. The 50-day lines are also above the 200-day lines in all instances.
The October lows are also given in the table. A break below these levels would indicate a reversal of the uptrend since March, i.e. reversing the progression of higher reaction lows.
Click here or on the table below for a larger image.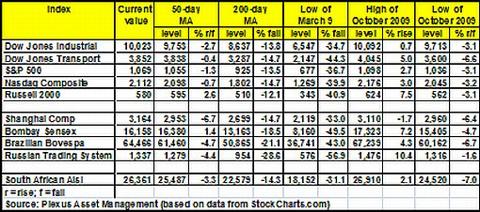 Eoin Treacy (Fullermoney) said:
Mean reversion [i.e. pulling back to the moving averages] within an overall bullish environment is the equivalent of taking a breather in a relatively long journey and is characterized by supply and demand coming back into balance for a time. As this is going on, bullish and bearish arguments increasingly compete for attention and sentiment is likely to begin to turn negative as the process unfolds. However, provided monetary conditions remain accommodative and markets find support in the region of their means [moving averages] we can continue to give the upside the benefit of the doubt over the medium to longer term.
Moving on to government bonds for a moment, the ten-year U.S. Treasury Notes yield has risen by 33 basis points since the October low as financial markets adopted a more upbeat outlook on the economy, while also grappling with concerns about massive issuance and inflationary pressures.
As highlighted in a post a few days ago, the chart below shows monthly data for the ten-year Treasury Note yield since 1998 and conveys an important message when considering the two momentum-type oscillators at the bottom (ROC and MACD). The ROC has just reversed course (crossing the zero line) for the first time since a buy signal was given at the beginning of 2007 and now indicates a primary sell signal. The MACD provided a similar indication six months ago.
Click to enlarge: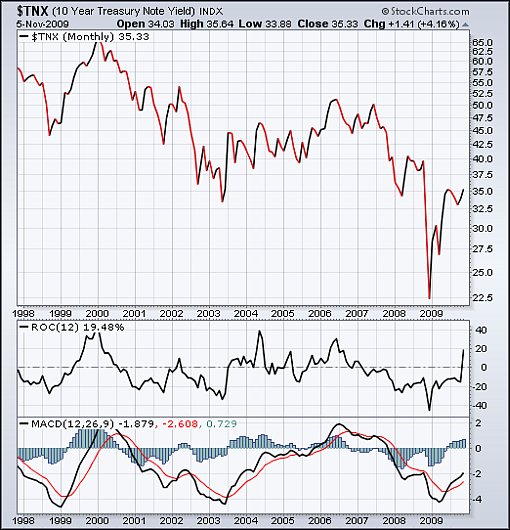 Source: StockCharts.com
Nouriel Roubini (RGE Monitor) warned (via The Wall Street Journal) that markets, be they stocks, emerging markets or commodities, have rallied too far, too fast because the global economy will experience an anemic recovery rather than the hoped-for V-shaped recovery. He said that the current "party" can continue for another six months, but it will eventually end badly as much of the rise in asset prices since March is yet another bubble created by a huge pool of global liquidity.
As said last week, I will bide my time in the stock market while the fundamentals play catch-up. Meanwhile, caution remains the operative word.

Economy
According to the results of the latest Survey of Business Confidence of the World by Moody's Economy.com:
Global business confidence has remained largely unchanged during the past two months through mid-October. Sentiment is consistent with a very tentative and fragile global economic recovery. Businesses … are more upbeat about the outlook into next year … South Americans are the most positive, and North Americans generally the most negative.
Click to enlarge: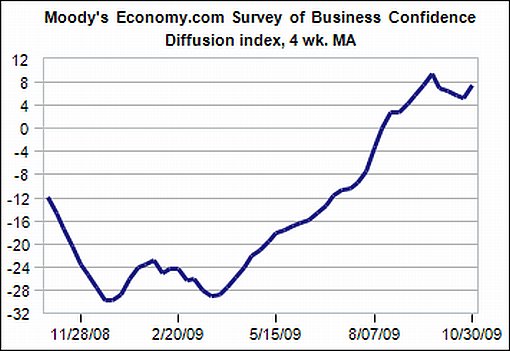 Source: Moody's Economy.com
Signs of recovery after a torrid year reverberated around the world on Monday as manufacturers reported rising output and improved employment prospects in the U.S., Europe and Asia,
reported the Financial Times. The JP Morgan global composite purchasing managers' index (PMI) rose to 54.4, up from 53 in September, the highest value since July 2004. The recovery in manufacturing was strongest in Asia, where economists said the PMI figures were consistent with pre-crisis growth rates, but also reached multi-year highs in France, the UK and the U.S.
Click to enlarge: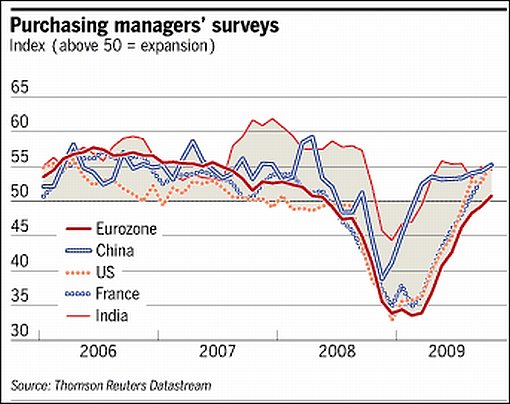 Source: Chris Giles, Financial Times, November 2, 2009.
A snapshot of the week's U.S. economic reports is provided below. (Click on the dates to see Northern Trust's assessment of the various data releases.)
November 6
• October employment report - headline jobless rate is troubling, but it is a lagging indicator
November 5
• November 4 FOMC policy statement revisited
• Total continuing claims post second weekly decline
• Productivity gains are a noteworthy, but temporary jump
November 4
• Fed retains stance of September FOMC meeting
November 3
• Auto sales rebound in October
November 2
• Factory sector maintains expansionary trend
• Housing sector - positive signs in construction data and Pending Home Sales Index
On the U.S. unemployment rate hitting 10.2% in October, Clusterstock said:
Worse yet, the 'real' unemployment rate, which adds in things such as discouraged workers who have dropped out of the labor force, hit 17.5%. Ouch.

Yet there's some light at the end of the tunnel. While the unemployment rate and 'real' unemployment rate rose in October, the rate of deterioration (year-over-year change) for both measures kept falling, as shown below. Thus we're still bleeding jobs and it hurts, but the blood loss is slowing rapidly and starting to come under control. Hopefully the patient still has a pulse by the time the blood stops.
Click to enlarge: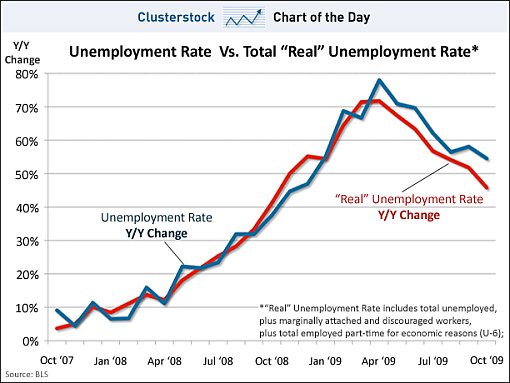 Source: Clusterstock - Business Insider, November 6, 2009.
Meanwhile, according to Financial Times,
the International Monetary Fund (IMF) projected that on current trends, even assuming some discretionary fiscal tightening next year, government debt in the advanced G20 economies would reach 118% of gross domestic product in 2014. Sweeping spending cuts and tax increases will be required across the industrialized world over the next decade to bring public finances under control following the economic crisis.
A decade of restraint looks like a likely scenario.
Week's economic reports
Click here for the week's economy in pictures, courtesy of Jake of EconomPic Data.
| | | | | | | | |
| --- | --- | --- | --- | --- | --- | --- | --- |
| Date | Time (NYSE:ET) | Statistic | For | Actual | Briefing Forecast | Market Expects | Prior |
| Nov 2 | 10:00 AM | | Sep | 0.8% | -0.5% | -0.2% | -0.1% |
| Nov 2 | 10:00 AM | ISM Index | Oct | 55.7 | 54.0 | 53.0 | 52.6 |
| Nov 2 | 10:00 AM | Pending Home Sales | Sep | 6.1% | 1.2% | 0.0% | 6.4% |
| Nov 3 | 10:00 AM | | Sep | 0.9% | 1.2% | 0.8% | -0.8% |
| Nov 4 | 07:30 AM | Challenger Job Cuts | Oct | -50.7% | NA | NA | -30.2% |
| Nov 4 | 08:15 AM | ADP Employment Report | Oct | -203K | -235K | -198K | -227K |
| Nov 4 | 10:00 AM | ISM Services | Oct | 50.6 | 52.0 | 51.5 | 50.9 |
| Nov 4 | 10:30 AM | Crude Inventories | 10/30 | -3.94M | NA | NA | 0.78M |
| Nov 4 | 02:15 PM | FOMC Rate Decision | 11/4 | 0.25% | 0.25% | 0.25% | 0.25% |
| Nov 5 | 08:30 AM | | Q3 | 9.5% | 6.4% | 6.5% | 6.6% |
| Nov 5 | 08:30 AM | | 10/31 | 512K | 525K | 522K | 532K |
| Nov 5 | 08:30 AM | Continuing Claims | 10/24 | 5749K | 5730K | 5750K | 5817K |
| Nov 6 | 08:30 AM | | Oct | -190K | -230K | -175K | -219K |
| Nov 6 | 08:30 AM | | Oct | 10.2% | 10.0% | 9.9% | 9.8% |
| Nov 6 | 08:30 AM | | Oct | 33.0 | 33.0 | 33.1 | 33.0 |
| Nov 6 | 08:30 AM | | Oct | 0.3% | 0.0% | 0.1% | 0.1% |
| Nov 6 | 10:00 AM | | Sep | -0.9% | -1.1% | -1.0% | -1.3% |
| Nov 6 | 03:00 PM | | Sep | -$14.8B | -$10.0B | -$10.0B | -$9.9B |
Source: Yahoo Finance, November 6, 2009.
Click here for a summary of Wells Fargo Securities' weekly economic and financial commentary.
U.S. economic data reports for the week include the following:
Thursday, November 12
• Initial jobless claims
• Treasury budget
Friday, November 13
• Trade balance
• Export and import prices
• Michigan sentiment
Markets
The performance chart obtained from the Wall Street Journal Online shows how different global financial markets performed during the past week.
Click to enlarge: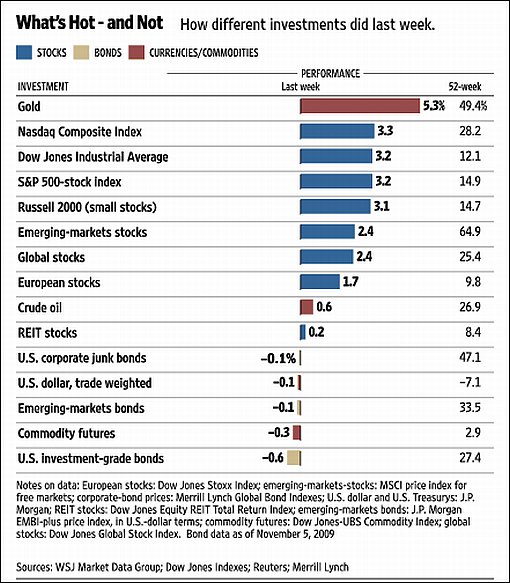 Source: Wall Street Journal Online, November 6, 2009.
The conventional view serves to protect us from the painful job of thinking,
said John Kenneth Galbraith. Let's hope the news items and quotes from market commentators included in the "Words from the Wise" review will assist readers of Investment Postcards with formulating the correct view in order to invest profitably.
That's the way it looks from Cape Town (where I will shortly be making my way to the airport for a long-haul flight to Europe).