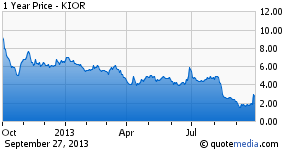 KiOR (NASDAQ:KIOR) makes a biofuel that's different than traditional biofuels. It can be refined, piped, blended, and used in engines like regular fossil-based fuels without the limitations typical of biofuels. Its feedstock is nonfood based such as wood chips and agricultural residues which tend to be much cheaper to acquire than soybean oil, sugar, or corn typical of other biofuel companies.
Last week, KIOR announced it intends to build a second facility with an approximate cost of $225 million and "up to" $50 million of it committed already by Khosla Ventures and Vinod Khosla. The problems:
1. The $50 million can be converted into shares at a premium to the "current" stock price. The stock price at the time was $1.83. A premium then could mean dilutive now that the stock price is up a lot more.
2. The phrase "up to $50 million" means it can be substantial less.
3. Even if it's the KiOR gets the full $50 million, the facility cost $225 million. Where's the other $175 million going to come from?
4. The PR went on to say "We believe these improvements to both capital and operating costs will enable us to attain financing for the planned Natchez facility on terms more favorable to KiOR and less dilutive to its shareholders." The phrase "less dilutive" wasn't quantified. KIOR's market cap is under $300 million. Raising the $175 million shortfall plus more money desperately needed for current operations and debt means that the dilution coming, even if "less," will be substantial.
5. As of the end of last quarter, KIOR's debt stood at almost $150 million, another over $16 million in current liabilities.
6. It's been consistently burning well over $20 million in cash from operations alone every quarter while relying on its credit facility to fund it. It only has $11.5 million in cash and $10 million credit left as of June 30. Basically one quarter's of liquidity left before the $50 million buys it maybe 6 months if it doesn't spend a penny of it on development of the second facility which it is intended for.
7. Nearly halfway through Q2 KiOR forecasted Q2 would have between 300,000 and 500,000 in fuel production. Instead, it came in at only 75,000 shipped, 75% below the low-end of its guidance. How could it have had such a poor handle on production with the quarter already nearly half over? This has lead to string of class action attorneys hovering over KIOR like buzzards ready to pick at a corpse. Hurt credibility and higher legal fees doesn't invite financing on favorable terms.
8. KiOR has since announced improvements in July and August, producing 172,398 gallons of fuel which is a pace of 86,199 gallons per month. However, that rate continues to be on pace far below the guidance range of Q2. To put in perspective how low that production level is, pyrolysis fuel-producing company JBI, Inc. (JBII.PK) was able to produce 82,618 gallons of fuel mostly in just 23 days from its new processor. It's next production phase not yet reported is expecting "significantly higher feed rates ." JBI has one-eighth the market cap of KiOR.
9. KiOR is calling for cash flow positive in the year 2015. "we believe that this project will enable us to achieve cash flow profitability in 2015 at a lower capital cost with decreased execution and start-up risk."
KiOR simply doesn't have the cash or credit to make it to 2015 while also building a $225 million facility. Its production and credibility are at too low of levels to low to support a high enough market cap where dilution isn't crippling. Even compared to similar much smaller companies such as JBII, KIOR's production levels are puny. Its debt levels and cash burn are at frightening levels. It has even admitted dilution is coming but has tried to play down the magnitude in vague terms such as "less dilutive." Read between the lines -- the dilution coming will be ugly. Caution is advised.
Disclosure: I am long JBII.PK. I wrote this article myself, and it expresses my own opinions. I am not receiving compensation for it (other than from Seeking Alpha). I have no business relationship with any company whose stock is mentioned in this article.