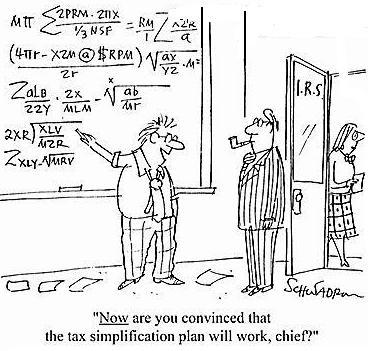 CEF Weekly Review: The 13 closed end fund (CEF) types on average were up 1.7% for the week ending 11/6/09. On an aggregate, unweighted basis, the weekly average price change for the 488 CEFs was up 1.6%.
The weighted 49 CEFs comprising the Claymore CEF Index registered an average advance of 3.4% for the week. The S&P 500, as measured by the SPDR S&P 500 ETF (NYSEARCA:SPY), increased 3.4%. The S&P 500 more than reversed its loss from the previous week.
(Click here for YTD CEF Performance. The table is based on a 272 CEF sample size as all the data fields are not available for the CEF universe.)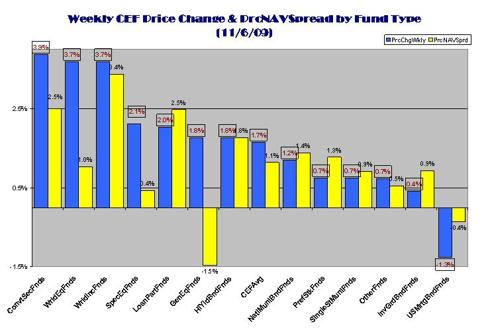 Click to enlarge
The Eqcome CEF Fear Index subsided with share prices increasing more than related NAVs (1.64% versus 1.14%, respectively). The CBOE Volatility Index (VIX), which typically moves inversely with the stock market, substantially reversed its surge of 37.8% the previous week by declining 21.2% this week. The frenetic gyration of the VIX seems to reflect the emotional nature of the equities markets as it sorts through mixed economic data.
CEF Weekly Fund Type Performance: The CEF fund types swung back in almost a pendulum-like fashion with risk-trade switch being "turned back on". ConvtSecFnds led the advances with WrldEqFnds and WrldIncFnds all advancing over 3.5%.
At first blush, ConvtSecFnds leadership makes sense as its asset type straddles both equities and debt in this uncertain investment environment. USMrtgBndFnds was the only fund type not to register either a positive advance in share price or NAV.
Lately, a simple strategy of buying fund types that underperform one week and selling them the next when their fortune's reverse would have been a profitable strategy. However, having made that proclamation you can be assured that it is no longer viable.
CEF Spread Changes: Changes in PrcNAVSprds generally follow the trend of price movement. This is typically the case when markets generate meaningful price changes. One interesting observation is GenEqFnds' NAV's advanced more than their related share price. GenEqFnds on average was only up 1.8% versus 3.4% for the S&P 500. So, its price advance did not reflect the underlying growth in NAV. It may suggest that next week GenEqFnds have some price appreciation to make up.
CEF Winners and Losers: The CEF that demonstrated the greatest positive PrcNAVSprds was the one that generated the biggest negative PrcNAVSprds last week: First Trust Active Dividend Income (NYSE:FAV). FAV's 10.4% positive PrcNAVSprd was generated by a price increase of 13.2% and an NAV increase of 2.8%. As pointed out last week, FAV pays a very substantial quarterly distribution and its shares have a tendency to drop post its ex-dividend date. An article by Alan Young on Seeking Alpha entitled "Profiting with a Dividend Avoidance Strategy" articulated this interesting strategy.
(A positive PrcNAVSprd can be viewed as a negative, subject to other metrics, as it would indicate the stock price has increased greater than the NAV. In theory, CEF prices and NAVs should move in a more tandem fashion.)
One of CEFs with the greatest negative PrcNAVSprd during the week was Gabelli Equity Trust, Inc. (NYSE:GAB). GAB's share price advanced 0.4% while its NAV increased 4.9% causing a negative PrcNAVSprd of 4.5%
GAB is one of the CEFs that employs a managed distribution policy and distributes annually 10% of its NAV to its shareholders on a quarterly basis. During the last quarter of 2008 and into 2009 it has been paying substantially all of its distribution from its capital. It recently reduced its quarterly distribution from a $.20 per share to a quarterly rate to $.16 per share. The stock trades at a 13.3% distribution yield and at par. To the extent that big caps come back into vogue, you're just "eating your young" in the meantime.
Market Perspective: The equity market's direction appears constructive based on the next five quarters' projected EPS for the S&P 500.
The following chart is a monthly comparison of the S&P 500 index versus its 12 month trailing quarterly EPS. The chart includes S&P's EPS estimates for 2010. The chart illustrates a visible correlation between the S&P 500 index and its trailing quarterly EPS.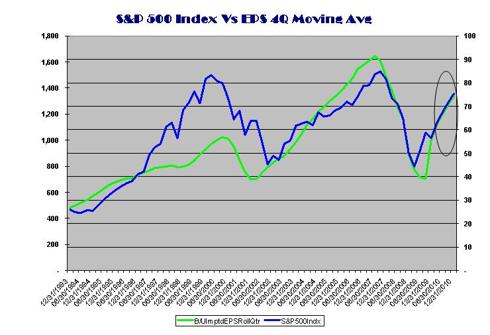 Click to enlarge
The nexus between the two is the price/earnings ("P/E") multiple investors use to value EPS. Historically the S&P 500's P/E has averaged 15.4 times versus 16.4 times on a forward looking basis since 1942. It is 16.0 times and 17.2 times, respectively, going back to 1871.
Price earnings ratios (P/Es) can vary widely from period to period based on projected growth rates, supply and demand for stocks, inflation, phases of the economic cycle and composition and accounting of earnings. The largest P/E's usually occur at the bottom of the earnings cycle as earnings contract and stocks begin to anticipate a recovery. The largest P/E occurred in 1932 at 130.7 times.
Projected S&P EPS for 2010 is $74.34 per share, up 33% from projected 2009 EPS. If one were to apply an average multiple of 15.4 times, the projected S&P 500 index would be 1144.84, up approximately 10.5% from its current moorings. If one were to choose the average P/E during the past cycle (2002 to 2009) of 18.8 times, the index would be closer to 1,400, up closer to 35%. (For the chart above, actual P/E's were used for periods up to the 3Q '09. An estimated P/E's of 18.8 times was employed for estimated quarterly EPS.)
Of course, there's a lot that can "slip between the cup and the lip". Earnings estimates can be faulty due to unforeseen economic and political events. Analysts typically underestimate EPS in the expansion stage of the cycle having been chastened by overestimating EPS at the top of the cycle.
The sequential quarterly EPS estimates for Operating Earnings per share (Bottom Up) for the S&P 500 beginning with the 4th Q '09 are: $16.58, $16.36, $18.40, $19.30 and $20.28.
(Click here for next week's economic calendar; click here for earnings announcements and estimates.)
ETFs: (Click here for ETF YTD sector performance.)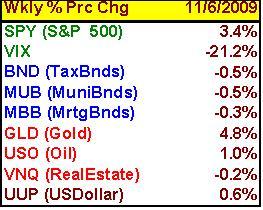 Insider Trading: The Horejsi Group continued to be buyers of its portfolio of CEFs where it is an insider. During the first week of November, the group acquired an addition 17,800 shares of Boulder Growth & Income Fund (NYSE:BIF) valued at $96,502 at a cost of $5.42 per share in 10 transactions. This brings its share holdings to 5,196,300 shares or 20.4% of the outstanding shares. The previous week the Horejsi Group was a big buyer of Denali Fund, Inc (DNY) accumulating additional $224,161 of shareholder value.
The Horejsi Group is also a major shareholder and advisor to the Boulder Total Return Fund (BTR). In addition, it is a major shareholder of DWS RREEF Real Estate Fund II (SRO) and DWS RREEF Real Estate Fund (SRQ). The group is generally viewed as an astute investor for its own account.
Michael H. Brown, a trustee of MassMutual Corporate Investors (NYSE:MCI), continues as a small scale buyer of the shares in recent months. There has been a trend of other MCI insiders buying small position in the CEF.
BofA exercised and sold out of its diminutive position in Nuveen Virginia Premium Income Fund (NYSE:NPV)—something it has been doing in a number of its other CEF holdings. Bernard J. Korman, a director of New American High Income Fund (NYSE:HYB) has been a consistent buyer of the shares over the past several months. Another director and the president of the HYB have also been small buyers. (Click here for weekly insider table.)
CEF Distribution Announcements This Week: The following is a link to a table of CEF distribution announcements this week as well as previous weeks' with yet expired ex-dividend dates. The list is not intended to be inclusive. Due to the number of announcements, only those CEFs with managed distribution programs is net investment income (NII) highlighted versus distribution yields. (Click here for weekly CEF distribution announcements.)
CEF Focus for the Week: As mentioned here last week, given the fact that GenEqFnds prices appeared to lag NAV this week, Adams Express (NYSE:ADX) may be a beneficiary. Many have expressed frustration and disappointment with its persistent discount.
Earlier this year I authored an article entitled "The Case for Tender, Liquidation or Conversion of ADX". ADX's had an average monthly discount of 13.4% since the end of 2003.
My case was essentially that the discount has been persistently and unreasonably larger and that ADX's board should do more than occasionally buy back some of its stock. It should consider a liquidation or conversion to an open-ended fund (mutual fund or managed ETF) to maximize shareholder value.
I believe the large discount is the attraction to the stock and it will become increasingly difficult for ADX to prevent an activist investor from at least attempting to close the discount in the next 12 months. Then, on the other hand, it has not yet happened.
Consider it food for discussion.
Disclosures: SPY & GLD and a diverse CEF portfolio including ADX.