EXACT Sciences (NASDAQ: EXAS) is a molecular diagnostics company that is developing a next-generation (V3), stool DNA (sDNA) based screening test for colorectal cancer (CRC) which has demonstrated the ability to detect both early-stage cancer and pre-cancerous growths. The company's sDNA-based screening technology platform has also demonstrated the ability to detect related GI cancers and pre-cancers.
Only 24% of an estimated 90 million individuals in the U.S. are currently compliant with CRC screening recommendations, which results in an estimated 68 million people who are non-compliant. The early detection of CRC saves both lives and money by avoiding the high costs of dealing with late-stage disease through expensive anti-cancer drugs and/or palliative care. Late stage (III/IV) CRC accounts for 60% of diagnoses, but the five-year survival rates for Stage III CRC is 60% and just 11% for Stage IV disease. Compare those statistics to early stage disease, which includes a 90% five-year survival rate for Stage I CRC and 70% for Stage II.
Below is the earnings model that I have updated for EXAS, in addition to a summary of updates since my 2Q09 report. The earnings model below highlights the significant market opportunity for EXAS, including estimated earning power of approximately $6 / share in 2013. Applying a 50% discount rate for three years yields a $15 fair value estimate for shares of EXAS.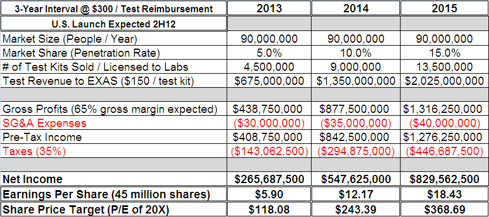 Click to enlarge
Since my 2Q09 update report for EXAS in mid-August, the share price is essentially flat (from $2.59 to $2.63), the three-month average daily trading volume has declined 37.5% (from 104,000 to 65,000), the short interest has increased by 21,000 shares (to 162,000), and cash / equivalents have decreased by $0.9 million to a level of $26.9 million.
Data is expected by 3Q10 to provide external validation of the company's stool DNA based CRC test kit while a clinical trial to support marketing clearance of the CRC test kit from the FDA is expected to begin during 2Q-3Q11. EXAS expects total costs of approximately $15-20 million for the FDA study, which will involve 20-30 sites.

A submission to the FDA for marketing clearance is expected during 2012 via the 510(k) de novo route (since no predicate device exists with FDA marketing clearance). EXAS has received extensive input from the FDA for the design of this clinical trial and will remain in close contact with the Agency, following the same model of success applied at Third Wave for that Company's HPV test.

EXAS provided guidance for an average cash burn rate of about $1 million per month during 2010, which is expected to increase slightly as t

he company continues to expand and adds additional personnel.

EXAS expects a reimbursement rate of $300 for its next-generation (V3) stool DNA based test kit for CRC while the company expects to receive approximately $150 per kit from the U.S. labs that would offer / license the test kit, in addition to gross margins in excess of 65% (about $100 per test kit in gross profits).

EXAS has thoroughly examined blood-based detection tests for CRC in collaboration with industry experts and concluded the technology is not commercially or clinically feasible at this time given very low detection of pre-cancer (18%) and early-stage (Stage I) CRC (36%) along with a 10% false positive rate. In addition, virtual colonoscopy entails a significant dose of radiation, cannot detect flat lesions, requires a full colon cleanse, and may still require a follow-up colonoscopy. Existing FIT / FOBT fail to detect pre-cancers and early-stage disease at meaningful rate.
In March, EXAS conducted a management overhaul that included Mr. Conroy and CFO Maneesh Arora, following their successful tenure at Third Wave Technologies. In early August, EXAS announced the appointment of Graham P. Lidgard, Ph.D., as Chief Scientific Officer, who has over three decades of clinical / molecular diagnostics experience and a successful track record at Gen-Probe (NASDAQ: GPRO). Other key collaborations include the Mayo Clinic (Dr. David Ahlquist), Johns Hopkins (Dr. Bert Vogelstein), Genzyme (NASDAQ: GENZ), Case Western Reserve (Dr. Sandy Markowitz).
In late October, EXAS made a SEC 8-K filing regarding its President / CEO, Kevin T. Conroy, who is considering a run for Governor of Wisconsin in 2010. Mr. Conroy stated on the 3Q09 conference call today a succession plan would be premature at this point, and he plans to make a decision in the very near future on whether to make the run for governor (this would be communicated in the form of another SEC 8-K filing) – indicating that he is only considering such a move because of confidence in the strong team that is already in place at EXAS.
The BioMedReports.com FDA Calendar service includes a database with over 400 entries of (1) pending new drug, biological agent, or medical device new product decisions at the FDA (e.g. NDA, BLA, 510k, PMA, sNDA, and sBLA filings); (2) pending new submissions to the FDA; (3) pending complete response letter (CRL) re-submissions to the FDA; and (4) pending clinical trial results. Coming soon is a premium service offered in collaboration with Investars YOU for full access to a global database of over 1,000 stocks which are organized and managed within my 22 ProActive HavRx stock indexes. This service will allow investors to create custom portfolios, personalized exchange-traded funds (ETFs), and generate investment ideas based on their personal preferences, beliefs, and opinions through specialized stock indexes that are organized and targeted toward a wide variety of themes.
Disclosure: Author is long EXAS