Tobacco heavyweight Philip Morris International (NYSE:PM) recently announced a quarterly dividend increase of 10.6% to $ 0.94 per share. Some commenters have said this dividend raise, reaching some of its highest payout ratio levels, is a reward to investors for a year of poor performance while others had predicted a lower increase due to a year of currency exchange issues.
In this article we will take an in-depth look at the financial state of PM. Financial data is gathered from MSN money and Marketwatch and is generally discussed in terms of annual results.
After growing revenue by 9.1 % in 2010,and by 12.7 % in 2011, 2012 saw a much lower increase of only 1.4 % as a result of a strong U.S. dollar. Gross profit saw a similarly low year, increasing by only 2.9 % compared to the previous years 9.3 and 16.7 % increases respectively. Despite this, the gross profit margin had increased to 66.9 % for last year's previous high of 65.7 % indicating that while they did have the currency issues, the company is actually being run more efficiently than any time in its history. In numerous books written about Warren Buffet's investing style, they state that he prefers a gross profit margin of 60 % or greater.
In keeping with this trend, the SGA expenses have declined to their lowest levels yet, currently resting at 33.2 % of gross profit after a steady decline from 36.6 % in 2008. This is right at the 30 % that Warren Buffet prefers in companies with a durable competitive advantage. Continuing with this look at the balance sheet, unsurprisingly no R&D expenses are mentioned. Cigarettes are a product that does not require continuous innovation, so low expenses in this area are to be expected and desired in a company with durable competitive advantage. Despite this, PM has a state-of-the art research facility in Neuchâtel, Switzerland where tobacco harm-reduction strategies are developed. The current depreciation as a percent of gross profit is only 0.46 % after having stayed relatively consistent over the past five years, consistent with a company with a durable competitive advantage.
When we look at the growth of net income for PM, 2012 showed a minor year-over-year growth of 2.4 % compared to the previous years' 14.5 and 18.3 % growth rates while earnings per share grew by 6.6 % after the previous years at 20.9 and 23.4 %. What paints a more attractive picture for PM is that the net profit margins in 2012 had reached a new high of 28.0 %, up from 25.3 % in 2009, again confirming both that PM is a company with a strong durable competitive advantage and that it is being run better than previous years despite a year of currency problems. Also very positive for PM is that despite this lackluster year, the increase in retained earnings has remained comparable to previous years at 15.3 % after 18 and 19 % in the previous years.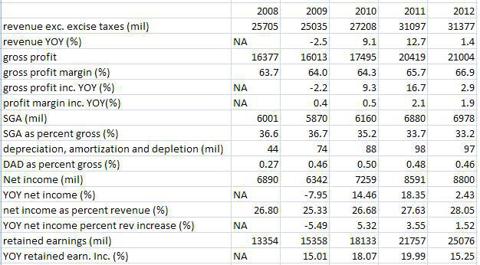 Click to enlarge
(Click to enlarge)
Now a lot of attention has been paid to the debt situation of PM and the interest expenses of PM are almost at all time highs (2010, 876 million) having reached 859 million in 2012. Despite this, the interest expense of PM was at 6.2 % of operating income, a slight increase from the 6.0% in 2011, but lower than the 7.8 and 7.9 % paid in 2010 and 2009 respectively, and all lower than the 15% percent maximally preferred by Buffet for a company with a durable competitive advantage. Now it is no secret that PM is being more liberal with debt; in 2008 the ratio of short term to long term debt was 0.05 and by 2012 it had reached 0.29, and indeed after a declining trend in the length of time to pay off all long term debt using net earnings, the most recent year saw a rise from 1.73 years to 2.0 years. (According to Buffet a company should have sufficient yearly net earnings to pay off all long term debt within three years) However, the buyback-adjusted debt to shareholder equity ratio was 0.75 in 2012, higher than the 0.70 to 0.73 seen in the preceding three years, but lower than the 0.80 seen in 2008, and right at the level Buffet prefers in a company. Capital expenditures have also increased, reaching 11.3 % of net earnings after the previous three years at 7 - 9 %, a slightly worrying trend.

Click to enlarge
(Click to enlarge)
In Warren Buffet and the Interpretation of Financial Statements, an interesting metric is used to predict where the worth of a share in a company with a durable competitive advantage should lie; that the market over time will price the company reflecting the earnings relative to the long term corporate bond yield. Buffet took the pretax earnings per share and divided them by the current corporate interest rates. Examples given are that during 2007 when the long term corporate rate was 6.5 %, the Washington Post had a pretax earnings per share of $ 54 and Coke (NYSE:KO) had a pretax EPS of $3.96. The pretax EPS of both companies divided by the corporate interest rate is $ 830 and $ 60 respectively, and during 2007 the companies traded at $ 726 to $ 885 and $ 45 to $ 64 respectively; in both cases this predicted the approximate range that the companies would trade in.

Click to enlarge
(Click to enlarge)
Now how does this work for PM? In 2008 and 2009 the pretax EPS divided by the maximum corporate interest rates paid by PM gave predicted share values of $ 72 and $ 85 respectively, but at the end of 2008 and 2009 PM was only trading at around $ 42 and $ 49 respectively. However at the end of 2011 and 2012 the share price was $ 77 and $ 86, exactly in line with what was predicted in 2008 and 09. Now to attempt to extrapolate this trend to 2013 and beyond is difficult due to the lack of ability to take into account currency effects, but this metric suggests that PM should be worth around $ 127 per share by the end of 2013, an over 40 % upside from current, and over 100 % upside to $ 175 per share by the end of 2015. While I do not want to put too much stock (pun intended) in this one value, I do believe that despite the years of PM battling currency issues and taking on increased debt, the market is undervaluing PM for being the cash generating monster that it is. As to whether it is as undervalued as the above numbers suggest, is yet to be seen and as such investors must perform their own due-diligence.
Looking forward to a discussion in the comments regarding what PM should be trading at.
Disclosure: I am long PM. I wrote this article myself, and it expresses my own opinions. I am not receiving compensation for it (other than from Seeking Alpha). I have no business relationship with any company whose stock is mentioned in this article. The book link to Amazon is an affiliate link and if you purchase the book after clicking this link, I receive a small commission.