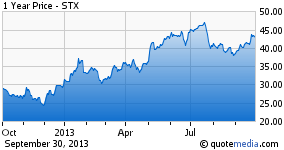 I tend to prefer stable, low-volatility companies when researching for my dividend portfolio, but sometimes a more-volatile alternative is simply too cheap to ignore. One such company is Seagate Technology (NASDAQ:STX), the well-known maker of hard drives. With substantial upside potential and an excellent dividend yield, this company might be an excellent way to take advantage of the overblown fear of declining demand for personal computers.
A little about Seagate
Seagate is one of the largest hard drive manufacturers in the world, and is one of the industry pioneers. In fact, Seagate produced the world's first 5.25" hard drive in 1980, and has shipped over 2 billion hard drives all over the world since then. Over the years, Seagate has been a technological leader, introducing the world's first 7200-rpm, 10,000-rpm, and 15,000-rpm hard drives in 1991, 1996, and 2000 respectively. Just a couple of years ago, Seagate introduced the first 4 Terabyte single-disk hard drives to the market.
Now, the point of all of that is not to give you a history lesson. The point is that Seagate is an innovator and has proven time and again that it can evolve technology quicker than its competitors. There has been lots of concern among investors and analysts that demand for PCs (and the hard drives that go in them) will drop dramatically in the coming years. I think these fears are overblown, and that tablets and smartphones will co-exist with PCs more than they will replace them.
With smartphones and tablets becoming more and more prevalent, the buzz in the memory world is that solid state storage is the future of the business, and that traditional hard drives are a thing of the past. While solid state has its advantages, such as faster performance and lower power usage, they are simply not cost-effective enough to justify their use in desktops and laptops, especially when several terabytes of storage are needed.
Yield and other numbers
Seagate pays a very healthy dividend yield of $0.38 per share, which translates to a 3.49% annual yield at the current share price. Despite being one of the highest-paying stocks in the sector, the dividend represents just a fraction of the company's profits. Seagate earned $4.81 per share in fiscal year 2013 and paid out $1.40 in dividends, for a payout ratio of just 29%, which is remarkably low for such a high paying stock. The company is projected to grow its earnings to $5.31 for the current fiscal year (2014), and even further to $5.88 next year.
This is significant for two reasons. First, it means that earnings are rising faster than the company is raising its payout. This year's dividends which will total $1.52 represent a 28.6% payout, meaning that the dividend is indeed sustainable and further raises are likely. Also, this means that Seagate trades for a ridiculously low P/E of just 8.2 times forward earnings. This leads me to believe that the potential downside is relatively limited, even if earnings growth slows considerably in the coming years.
An interesting proposal …
While Seagate and its dividend offer enough reward potential for most investors, I think there is a particular advantage to Seagate that could allow us to boost our returns. Due to the relatively high volatility level of the stock, options tend to trade at a premium. With low volatility stocks, selling an option far out of the money doesn't produce much of a return. Not so for Seagate …
My favorite way to play it is to buy the stock and sell a January 2015 $60 call against your position for $1.80. This provides protection on the downside by reducing your cost basis to $41.71 per share (current price minus the options premium), which is 4.1% below the current share price. When you factor in the $1.90 in dividends that you will receive before options expirations (5 quarterly payments), shares would have to close below $39.81 at expiration for you to lose money.
It also provides significant protection against getting your shares called away, as the $60 strike price is well out of the money. A $60 price represents a 37.9% gain over the current price. Additionally, should Seagate climb above $60 and you get called away, you keep the options premium and any dividends you've collected along the way. I don't know about you, but I wouldn't mind taking a gain of over 40% in about 16 months and walking away with it.
While I love Seagate as a stand-alone investment, this trade helps to swing the risk needle a little more in your favor, while raising the income you receive from the position to over 7.6% annually. Of course, if Seagate is below $60 at expiration, you're free to repeat the process and get even more income from this trade.
Disclosure: I have no positions in any stocks mentioned, and no plans to initiate any positions within the next 72 hours. I wrote this article myself, and it expresses my own opinions. I am not receiving compensation for it (other than from Seeking Alpha). I have no business relationship with any company whose stock is mentioned in this article.