Asset allocation is the most influential on investment outcome. There have been growing signs that the worst of the global crisis might have passed. While the US dollar may continue to weaken and the US loses significance in the global landscape, an allocation to other developed markets is deemed necessary. After all, 76% of global GDP is outside the US.
The most popular ETF to provide global diversification is iShares MSCI EAFE ETF (EFA), which tracks Europe, Australasia and Far East Index of developed countries.
GDP vs. Market Cap
EFA weights countries based on their market capitalization rather than GDP. Following chart shows its country breakdown: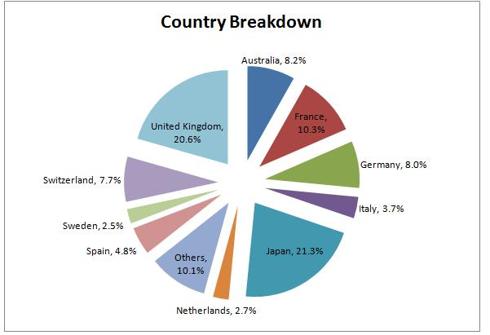 As you can see from the GDP chart below, Germany accounts for 6% of world GDP, much higher than UK's 4.4%. However, its share in EFA is much smaller than U.K.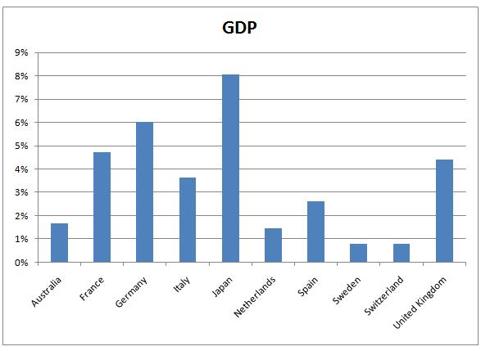 Top 5 Countries Within EFA
Country ETFs are another great way to organize a global portfolio. The Following are the top 5 countries and their ETFs within EFA:
| | | |
| --- | --- | --- |
| | | |
| iShares MSCI Australia (EWA) | | |
| iShares MSCI France (EWQ) | | |
| iShares MSCI Germany (EWG) | | |
| | | |
| | | |
Australia is a country that has weathered the global financial crisis better than most others. Since 1990, Australia only had one quarter of negative GDP of -0.7% in Q4 '08. An unemployment rate of 5.8% is also the lowest in developed economies. Chinese growth means increased demand for Australia's natural resources.
The euro zone jobless rate inched up to 9.7% in September, the highest level since records began in 1999. Consumers hit by mounting job losses can't support the economic recovery by spending heavily. No wonder EU's retail sales dropped by 0.7% in September.
The European Commission predicted that the EU will grow in 2010 at a modest rate of 0.7% as the economy moves from a sharp recession to a hesitant and fragile recovery, according to the Associated Press. With low wage growth and rising productivity growth, Germany had slowly regained its competitiveness. Other countries such as Spain and Italy's exports tend to be low value added and labor intensive. The divergence of growth rates within the euro zone is becoming worse.
EU's debt/GDP ratio is set to rise from 78% this year to 88% in 2011, far above the US's. But they are still much better than Japan's 170%.
Currency ETFs
US interest rates near zero and monetary easing have given rise to a carry trade of the U.S. dollar. The following are EFA economics' currency ETFs:
| | |
| --- | --- |
| | |
| CurrencyShares Australian Dollar (FXA) | |
| CurrencyShares British Pound (FXB) | |
| CurrencyShares Euro Trust (FXE) | |
| CurrencyShares Japanese Yen (FXY) | |
| PS DB G10 Currency Harvest (DBV) | |
| PS DB US Dollar Index Bearish (UDN) | |
| PS DB US Dollar Index Bullish (UUP) | |
Top 15 Holdings Inside EFA
The following are EFA's top 15 stocks (by % of assets) traded in the US exchanges:
Based on Yahoo Finance next year's estimated EPS, the top 15 holdings' average forward P/E is 12.8.
EFAs' biggest sector is Financial, which accounts for 26.5%. Australia's big-4 banks have maintained strong capital bases in recent years. Problem loans are forecast to decline next year when earnings are set to rebound. Other banks still face lots of problems. Santander, the euro zone's largest bank, boosted provisions for an expected rise in bad debts from housing boom hangover.
One of the promising sectors is HealthCare, which might benefit from H1N1. In addition, they are entering the fast-expanding Chinese healthcare market in a big way. Novartis, the Swiss drug giant, is pumping $1.25 billion to build two R&D centers in China.
Conclusion
Global markets are functioning normally and they might have more upside potential. The G20 may decide to reassure markets that stimulus will remain in place until a sustainable recovery has been assured. Interest rates in core countries are likely to remain low for a long time. Consumers are becoming less pessimistic about the economic outlook.
However, record high and rising unemployment as well as financial uncertainty continue to weigh on global consumer confidence. iShares.com shows as of Oct 30, EFA's P/E is 23, which is very expensive. Its forward P/E is quite attractive though.
I accumulated EFA overtime and now it becomes one of my core holdings. While there is a steady rise in correlation between US and other countries' stock markets, EFA might still give you the chance to benefit from diversification. Alpha-seeking investors might be profit more by handpicking countries, sectors or even stocks.
Disclosure: I have long position on EFA. Data are from iShares, Google and Yahoo Finance as of November 6, 2009.