It looks like the Republicans are really going to shut down the government, and with that move one must increase the chances that they lose control of the House of Representatives once again. The districting does favor them after all of these years of redrawing the lines, but with this move possibly chasing away the independent voter and the moderates, paired with increasingly far right leaning candidates coming out of the primaries we see the possibility of a revolt like we saw last time Republicans shut the government down.
If the economy is hurt by this move, you might as well pencil the Democrats in to control both houses and the executive branch.
The rest of the world is taking this news quite seriously and that is why we are seeing red across the board in Asia and Europe this morning. There are a few bright spots, but that is due to data being released and will have no bearing on the world economy opposite a U.S. government shutdown.
Chart of the Day:
If we do get closer to a government shutdown, pay attention to the gold trade. Going long some of the ETFs for a trade might be beneficial, but only for a trade!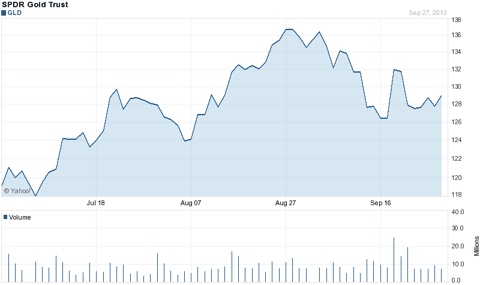 Click to enlarge
(Click to enlarge)
Source: Yahoo Finance
We have economic news today and it is as follows:
Chicago PMI (9:45 a.m. ET): Est: 53.7 Actual: 55.7
Asian markets finished lower today:
All Ordinaries -- down 1.60%
Shanghai Composite -- up 0.68%
Nikkei 225 -- down 2.06%
NZSE 50 -- down 0.97%
Seoul Composite -- down 0.74%
In Europe, markets are lower this morning:
CAC 40 -- down 1.27%
DAX -- down 1.05%
FTSE 100 -- down 0.87%
OSE -- down 0.73%
Technology
Today is the day that Carl Icahn will meet Apple's (NASDAQ:AAPL) CEO Tim Cook for lunch in New York. Based on Mr. Icahn's tweets and the interviews that Mr. Cook has done recently the market knows the topics which will be discussed and the only thing that can come out of these meetings, in our opinion, is good news. The market already knows Apple's plans for returning capital to shareholders via their share buyback program and dividend policy, but we would not be surprised to see Mr. Icahn tweet something later today or give some interviews in the near future where he basically states that all is good and Mr. Cook expressed a desire to return more capital to shareholders. Apple might be worth a speculative buy at these levels.
We dislike ZNGA but the stock is trading near the highs for the year which would ordinarily attract U.S. due to the momentum but our view is that this bullishness is the result of Facebook's success and not Zynga's. We have seen how that ends before.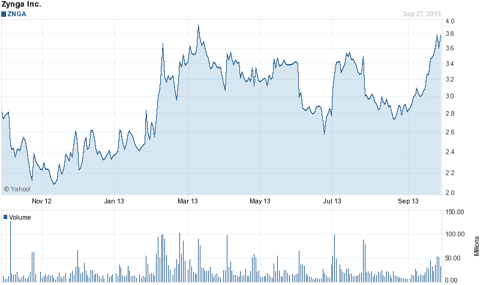 Click to enlarge
(Click to enlarge)
Source: Yahoo Finance
Also catching our eye this morning is that Zynga (NASDAQ:ZNGA) is going to have some social media gaming competition in the stock market now too. This is the result of their chief rival, and Candy Crush developer, King Games filing for an IPO. We were already bearish Zynga shares and this event pushes U.S. even more into the bearish camp. One would rather own King than Zynga in our opinion and that should create a bit of an exodus in the shares, but one must also remember that this market currency and capital raise will go a long way in helping King gain further market share. Zynga investors and speculators need to be aware of this, because although the shares could rise into the IPO for King, we think a sell-off will ensue after that. Traders might even go short Zynga to go long King in the IPO, there are many moving parts.
Retail
This JC Penney (NYSE:JCP) story keeps getting sadder and sadder as the days go by. The shares hit another multi-year low on Friday of $8.85/share before closing at $9.05/share and really throwing into question this whole secondary in our opinion. The company is probably going to have to lower the price because who in their right mind would take an upfront loss here? No one, and that also means that the company may be forced to increase the number of shares offered too, especially if they needed over $850 million for instance. This is a scary story to be sure, and we continue to believe that those wanting to play a rebound in the retail sector should look at the SPDR S&P Retail ETF (NYSEARCA:XRT) instead of individual names. The diversification will help in the end and keep one from becoming too focused on one sub-sector within retail, such as teen retailers, etc.
Obviously the early reaction was deemed a bit too harsh, but it seems nobody knows what the Feds were exactly looking for which we do find troubling.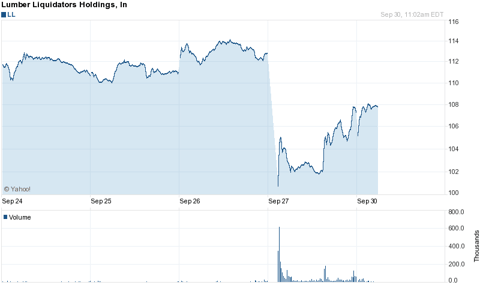 Click to enlarge
(Click to enlarge)
Source: Yahoo Finance
The big news in retail on Friday, outside of JC Penney, was Lumber Liquidators (NYSE:LL) which saw its shares head sharply lower early in the morning before rebounding as the session aged. The low of the day was $98.50/share and the close was $107.13/share with volume of 4.3 million shares, very heavy volume for this name. As everyone knows by now, the weakness was caused by the federal government raiding the company's headquarters in Virginia over what appears to be suspected improprieties in what the company was importing. The management team is stunned by this and the company has a team in place to monitor imports from their international suppliers, so this is quite interesting indeed. We are bullish all things housing right now, but this seems a little too hot for us. Readers might want to look at taking this capital and moving it elsewhere in the home improvement sector.
Disclosure: I have no positions in any stocks mentioned, and no plans to initiate any positions within the next 72 hours. I wrote this article myself, and it expresses my own opinions. I am not receiving compensation for it (other than from Seeking Alpha). I have no business relationship with any company whose stock is mentioned in this article.