Roughly a year ago, one of the most interesting stories in the smartphone arena was the battle for third place between Nokia (NYSE:NOK) with the Microsoft (NASDAQ:MSFT) Windows Phone operating system and BlackBerry (NASDAQ:BBRY) as we all awaited the release of BB10 and the new Z10 and Q10 smartphones. Each competitor had struggled and posed no threat to the top two contenders, Apple (NASDAQ:AAPL) and Google (NASDAQ:GOOG). A year later, the battle is all but over, and yet much has changed. Microsoft is buying Nokia's handset business to bolster its play in hardware and BlackBerry faces privatization at roughly $9 per share.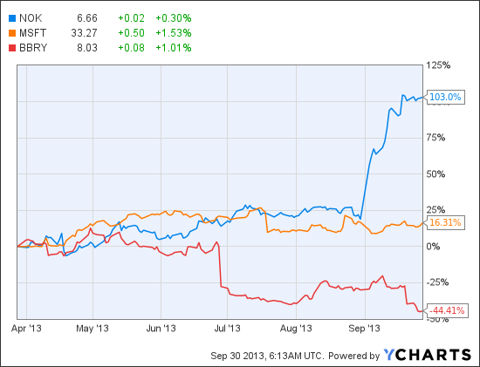 In the video below, I discuss not only why the battle was significant a year ago, but why Nokia and Microsoft each look attractive at current levels and why BlackBerry is speculative at best, and probably worth avoiding. Overall, Microsoft continue to insert itself in the conversation and shows positive metrics, Nokia's network business should have a chance to shine, and BlackBerry, while possibly worthy of competing bids, is too risky to justify any possible upside.
Disclosure: I have no positions in any stocks mentioned, and no plans to initiate any positions within the next 72 hours. I wrote this article myself, and it expresses my own opinions. I am not receiving compensation for it (other than from Seeking Alpha). I have no business relationship with any company whose stock is mentioned in this article.