Not many people know that Unilever (NYSE:UL) was formed because of a common need for palm oil, but that's where this 51-billion-euro (approx. $69B) company has its roots. Both Lever Brothers as well as Margarine Unie needed large amounts of this oil - one for soap and the other for margarine - and saw the opportunity to synergize - and Unilever was born in 1930.
Margarine Unie itself was the result of a merger between two fierce competitors in the butter and margarine market. In 1927, Samuel van den Bergh and Antonius Johannes Jurgens joined hands for mutual benefit; three years later, they formed Unilever along with William Hulme Lever and 2nd Viscount Leverhulme.
Acquisitions and Sell-offs
During the second half of the 20th century was when Unilever began its inorganic expansion spree. Among its early take-overs are:
1972: A&W Restaurants, which it later sold back in a management buyout (MBO)
1984: Brooke Bond
1987: Chesebrough-Ponds (this acquisition gave them leadership in the global skincare segment)
1989: Fabergé, Calvin Klein Cosmetics and Elizabeth Arden (Arden was sold 11 years later)
1996: Helene Curtis Industries (this acquisition gave them a 'head' start in the shampoo segment and 'fragrant' entry into the deodorant market in the United States)
2000: Unilever bolstered its foods division with the acquisition of Best Foods, makers of Hellman's and Best Foods mayonnaise brands; further strengthening its presence in the U.S. food segment, it acquired Slim Fast and Ben & Jerry's - antithetical to each other, but very profitable to own!
2008: Inmarko, Russia's number one ice-cream company; the same year, they entered into a partnership with Pepsico for globally marketing and distributing Lipton's ready-to-consume product line.
2009: Baltimor Holding, the ketchup kings of Russia; TIGI professional hair products and Advanced Education Academies were purchased for 411 million euro (approx. $555M); Napoca, a Romanian ice-cream brand was also purchased this year.
2010: Sara Lee Corporation; EVGA (Greek ice-cream brand); Diplom-Is, a Danish ice-cream company.
2011: Alberto Culver
While the acquisitions took up a portion of their business activities around the world, they were simultaneously divesting themselves of other units, such as Boursin, Lawry's & Adolph's, North American Laundry, Komili olive oil brand operating in Turkey, Bertolli olive oil and vinegar unit, JohnsonDiversey, Shedd's Country Crock, Findus (Italian Frozen Foods) and the Brazilian tomato products business.
Unilever in Recent News
Plans are afoot to acquire almost 3 mln gallons of algae-based oil for the Dove and Brylcreem product lines. The oil will be supplied by Solazyme, a startup company that uses bioengineering technology to produce proteins, sugars and oils from algal sources. Predictably, Solazyme (SZYM) has been tagged with a 'buy' rating from Goldman Sachs Group as of Wednesday, September 25, 2013, and the target price at the moment is $14.00 with a current price of around $11.10. Definitely a 'buy' rating from us, too, because the Unilever deal could possibly be used as leverage for other major deals on Solazyme's way to creating a sustainable source of fuel. Unilever, in fact, has gone this route apparently because of CEO Paul Polman's mandate of sustainable growth intended to double the size of Unilever.
In other news, Unilever has once again bagged the Gartner ranking as the 'Best Supply Chain' in Europe for its leadership and supply chain excellence. Alone, such critical acclaim may not warrant a mention here, but it is certainly something that Colgate-Palmolive (NYSE:CL) and Procter & Gamble (NYSE:PG) need to worry about. Unilever is the smallest of the three, but is clearly a leader in many areas that its competition is lagging.
Another aspect of Unilever that should have the competition biting their nails is its ability to create superior branding using digital media. Case in point is Dove, which has garnered acclaim as being a "genius marketing brand" by L2 ThinkTank in New York. By creatively engineering its reach to the consumer using a variety of digital media, Dove has shown a tangible increase in its Bath and Shower market share - from 13.6 per cent in 2009 to 15.9 per cent three years later. Their piece-de-resistance is a video that went viral and is now the most-watched online video ad. Ever! At 163 million views, this is nothing short of phenomenal. But video isn't the only medium used by the Dove campaign: they've reached out to millions of people (primarily women) through interactive content such as online games, specialized tablet device media and lots more.
The Ticker Tales: Financial Performance and Other Reasons to Buy Unilever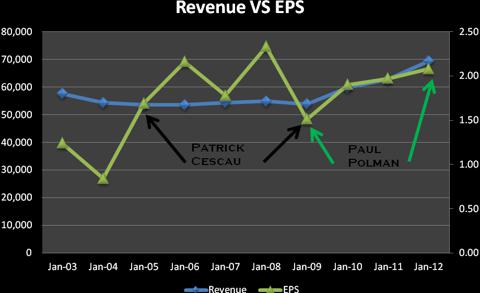 If you look at Unilever's ten year revenue growth, there is nothing much to rave about. Revenue grew at a lazy 2.09% compounded annual growth rate between 2003 and 2012. But revenue actually kept going down till 2009, before it started taking off under the leadership of Paul Polman. He is the vice chairman of World Business Council for sustainable development and it's clearly evident in the way Unilever is trying to tie up its business goals to sustainability.
Unilever has operations in over 190 countries under four business segments, Personal Care, Food, Refreshments and Home Care.
| | | | | | |
| --- | --- | --- | --- | --- | --- |
| In Euro Millions | 2012 | 2011 | 2010 | YOY Growth 2012 | YOY Growth 2011 |
| Personal Care | 18,097 | 15,471 | 13,767 | 16.97% | 12.38% |
| Foods | 14,444 | 13,986 | 14,164 | 3.27% | -1.26% |
| Refreshment | 9,726 | 8,804 | 8,605 | 10.47% | 2.31% |
| Home Care | 9,057 | 8,206 | 7,726 | 10.37% | 6.21% |
| Total | 51,324 | 46,467 | 44,262 | 10.45% | 4.98% |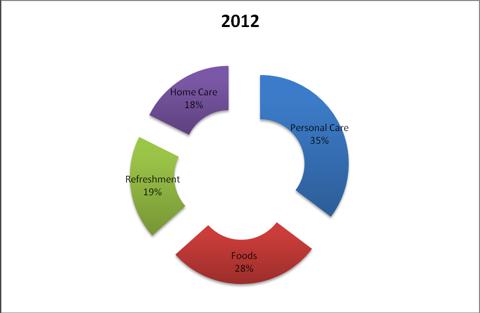 | | | | | | |
| --- | --- | --- | --- | --- | --- |
| In Euro Millions | 2012 | 2011 | 2010 | YOY Growth 2012 | YOY Growth 2011 |
| Asia/AMET/RUB(1) | 20,357 | 17,723 | 16,460 | 14.86% | 7.67% |
| Americas | 17,088 | 15,251 | 14,562 | 12.05% | 4.73% |
| Europe | 13,879 | 13,493 | 13,240 | 2.86% | 1.91% |
| Total Sales | 51,324 | 46,467 | 44,262 | 10.45% | 4.98% |
(1) Refers to Asia, Africa, Middle East, Turkey, Russia, Ukraine and Belarus.
Data Source: Unilever Annual Reports
Unilever generates approximately 39% of its revenue from Asia, the Middle East and former Russian nations. The company has managed to grow in both developed and developing markets at a rate higher than some of its peers.
Strategy: Reach Up, Reach Down and White Spaces
One of the important reasons why Unilever managed to grow at a fast clip when the world economies were growing disproportionately - some parts growing faster than others - was their reach up and reach down strategy. They are not just concentrating on premium products that get them higher margins, but also affordable products that target mass population. For example, they make Dove products that target more affluent users while Lifebuoy targets the lower income segments. Differentiation is the key for reaching up and reaching down, and Unilever seems to have an idea in place to target segments based on their earning power.
The white space strategy is to expand into new geographies and segments at a fast space. Unilever completed the Alberto Culver acquisition in 2010, and quickly launched TRESemmé in Brazil before rolling it out in India, Thailand and the Philippines. Their size and scale will help them move into markets and roll out products quickly. But they will have to innovate with the right products or do proper strategic acquisitions to expand their reach in this route.
Valuation: The Verdict
Unilever has recorded the strongest growth in the last five years when compared to its peers but still lags behind both of its competitors in terms of valuation. The P/E ratio is around 18, a bit less than Procter and Gamble's and much less than Colgate-Palmolive's. However, the most important point to note here is that Unilever achieved this growth when the world went through one of its worst recessionary periods - which make them better positioned to take advantage when growth returns. The Final Call: At this price point Unilever is a good buy. If you already have it in your portfolio, hold on to it, because it's going to be a cash cow - now and for a long time to come.
Disclosure: I have no positions in any stocks mentioned, and no plans to initiate any positions within the next 72 hours. I wrote this article myself, and it expresses my own opinions. I am not receiving compensation for it (other than from Seeking Alpha). I have no business relationship with any company whose stock is mentioned in this article.