Realty Income (NYSE:O) consolidated massively after the company announced mind-blowing Q2 results. Fears of a bubble in process of deflating subsequently eradicated 20% of Realty Income's market capitalization. Since then further capital losses plagued Realty Income investors because of a CEO change the market viewed negatively. All-in, the prolonged sell-off took down Realty's market value by 25%. Have shares now finally bottomed out? I believe so.
Realty Income shares have merely shaken out speculative capital and the core shareholder base of dividends investors is intact. The market now quotes an unreasonably low price compared to the value investors receive in return. Consequently, I have doubled my existing position in Realty Income stock at $41 per share. Given the very attractive, low-risk profile of Realty's income stream I intend to purchase more stock if the opportunity arises. In fact, I would welcome further declines to be able to add to my existing position.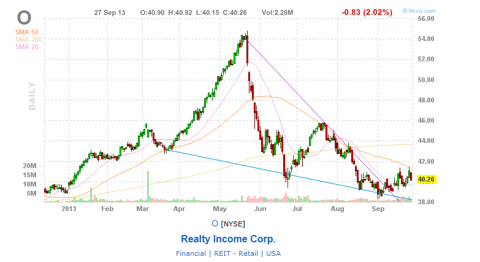 A renewed focus on fundamentals is warranted
It is no secret that Realty Income is one of the dividend stocks out there. The company announced its 518th consecutive dividend payment in August and has increased the common stock dividend 73 times since 1994 (64 times sequentially). Dividends have grown 142% since 1994 and the average annual dividend return stands at 7.4%. Turning the focus on the FFO measure, Realty's performance is equally impressive: Based on H1 2013 figures the normalized FFO per diluted share increased by a compound annual growth rate of 7.6% since H1 2009 and the adjusted FFO increased by 6.6%. Dividends per share over the same period have increased from $0.851 in 2009 to $1.057: a plus of 24% or a CAGR of 5.6%. Dividend and FFO growth rates remain in line underpinning the notion that Realty's income indeed is earned and in relation to profitability. While Realty's dividend record is impressive enough as it is, I still find it noteworthy to mention that Realty performed very well during the financial crisis: Dividends have consistently increased throughout the crisis albeit at a lower rate.
Further operational/financial improvements Realty Income accomplished in comparison to H1 2012 include:
Revenues +58%
AFFO per share +19%
Earnings per share +30%
Dividends per share +21%
Improved occupancy ratio of 98.2% (vs. 97.3% prior year).
Sustainable dividend yield limits downside risk
Realty's recurring adjusted FFOs are growing at mid-single digit rates indicating a low-risk business. In any case, the company has proven that it can sustain its dividend with room for dividend growth. The current initial yield for income investors seeking a share position is around 5.4%. Alternatives, such as bonds, continue to yield little, especially after the unprecedented boom in long-term debt issues with the expansive monetary policy of the FED to blame. Taking Realty's payment record as indication for the sustainability of its dividend, an investment in Realty Income is of lower risk than the recent volatility of Realty's shares would indicate. A sustainable dividend yield limits Realty's downside risk. Further share losses allow investors to buy Realty's income stream at a larger discount and make an investment even more attractive, not less.
Recent uncertainty surrounding CEO change
John P. Case, who was previously Realty's President and Chief Investment Officer was named as new CEO of Realty Income. Long-serving Tom Lewis will step down as CEO. The market credits Lewis with Realty's business success and REIT transformation. Lewis' abdication injected uncertainty into the market which, in my opinion, is unwarranted. While it is true that Lewis was instrumental for Realty's growth, management continuation is guaranteed via the appointment of Mr. Case.
According to Realty's September 3, 2013 press release, Mr. Case seems to be quite up to the task:
Mr. Case has worked closely with Mr. Lewis on the company's long-term corporate strategy and operational structure. Over the last few years, Mr. Case has also been responsible for implementing the company's expanded acquisitions strategy focused on increasing the size, quality and diversity of its real estate portfolio. During this period, the company has acquired more than 1,500 single-tenant, net-leased properties, for approximately $7 billion. These acquisitions have meaningfully increased the diversification and quality of Realty Income's portfolio, while significantly increasing revenue, earnings and dividends to its shareholders.
Investment opportunity
I believe Realty Income shares have bottomed out and investors should focus again on Realty's recurring cash flows from its rental properties. Growth in adjusted FFO and dividends are in line and backed by growth in Realty's underlying asset base. The dividend growth record indicates sustainable performance which is likely to continue. Investors can now purchase Realty Income shares at an initial 5.41% yield while further share declines present an opportunity to enter into Realty with an even higher yield. With or without management change, Realty Income remains a high-quality, supremely-run dividend champion that was thrown under the bus despite outstanding operating results in Q2.
Disclosure: I am long O. I wrote this article myself, and it expresses my own opinions. I am not receiving compensation for it (other than from Seeking Alpha). I have no business relationship with any company whose stock is mentioned in this article.