VimpelCom (NYSE:VIP) is one of the largest telecommunications companies in the world. Based in the capital of The Netherlands, Amsterdam, the company primarily services the emerging growth markets of Eastern Europe, Central Asia, and Africa. This gives the company the twin advantages of strong emerging markets growth prospects and Western management and transparency.
VimpelCom operates fixed-line and mobile services in seventeen countries that have a total population of 753 million.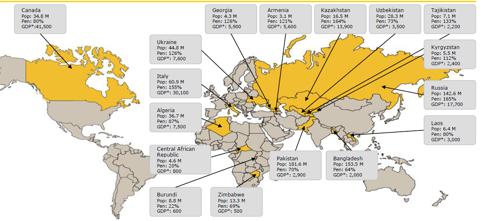 Source: VimpelCom
Of these seventeen countries, only two are considered developed economies (Canada and Italy). The remaining fifteen nations are emerging markets which gives VimpelCom tremendous growth potential. Unfortunately, many of these emerging markets are actually mature telecommunications markets. These nations can be easily identified in the chart above as those nations with penetration figures exceeding 100%. Among those with the highest penetration rates are some of the nations in the company's service area with the highest populations such as Russia and Italy. However, the company also operates in some other countries with high populations and comparably low penetration rates such as Pakistan and Bangladesh. These countries offer the company significant potential for earnings and cash flow growth as their citizens who did not previously have a subscription to any telecommunications service sign up for their first mobile phone or for in home internet access.
This very scenario is playing out in Pakistan. In the most recent quarter, the company saw solid revenue and EBITDA growth compared to the previous quarter. In the first quarter of 2013, VimpelCom's Pakistani operations had total revenues of PKR 27.2 billion. This amount grew 4.78% to PKR 28.5 billion by the second quarter. The division's EBITDA grew 3.48% over the same period, from PKR 11.5 billion to PKR 11.9 billion.

Source: VimpelCom
One of the biggest reasons for the increase in revenue was subscriber growth. VimpelCom grew its Pakistani subscriber base by 3% year-over-year. Unfortunately, declining margins caused the company's EBITDA to fall slightly compared to the year-ago quarter. There were two factors responsible for this margin decline. They are:
Higher power utility expenses
A $5 million fine related to the International Termination Clearing House. This fine was imposed on all voice communications operators in the country and should not be viewed as a sign of any potential wrongdoing at VimpelCom.
The company's Pakistani operation could see its EBITDA margin increase in the next quarter. That is because the $5 million fine that was imposed on the company was a one-time event and not a recurring charge. Therefore, the company will not have this expense reducing its profit going forward. The large expenses that the company incurred due to power utility expenses are also not likely to be repeated. One of the worst power blackouts in Pakistan's history occurred in May 2013. This caused the company to have to consume an inordinate amount of fuel in its own power generators in order to keep the network online. This was ultimately insufficient due to the extent of the power blackout and the company suffered some network downtime once the generators ran out of fuel. VimpelCom had to spend the money to provide fuel for its generators and also suffered some revenue loss due to the inability of customers to use its telecommunications network. This is not an event that is likely occur every quarter and the third quarter should see increased margins as the company will not be negatively impacted by this event again.
Another promising region in which the company operates is the Commonwealth of Independent States, consisting of Kazakhstan, Uzbekistan, Armenia, Kyrgyzstan, Tajikistan, and Georgia. This is a region of the world in which Swedish telecommunications operator TeliaSonera (OTCPK:TLSNF) has also had great success. VimpelCom has also been seeing success here with revenues surging 6.87% in U.S. Dollar terms in the last quarter alone. The company also grew its revenues by 17.3% in U.S. Dollar terms over the past year. Unlike in Pakistan, the company was able to expand its EBITDA margin in the region to a very solid 49.8%.

Source: VimpelCom
The company may see its growth rate in the Commonwealth of Independent States slow down going forward. With the exception of Uzbekistan, every country that the company includes in this category has a telecommunications penetration rate of over 100%. Thus, any growth that the company experiences must necessarily come from customers switching from other providers to VimpelCom or from already existing subscribers choosing to upgrade their service. As the countries and citizens in the region become wealthier due to economic growth, this latter source of growth is certainly likely to play out. Unfortunately, there is little growth to be had from obtaining subscribers who previously had no service at all outside of the citizens of Uzbekistan.
VimpelCom could be an excellent investment for dividend-focused investors. The company has the stated dividend policy of paying out at least $0.80 per share per year. This represents a 6.96% yield at current prices. This amount is annually reviewed and updated depending on the company's cash flows. VimpelCom's policy is to pay out a "significant part" of its operating free cash flow to shareholders, defined as operating cash flow minus capital expenditures. This should ensure that investors see steadily rising dividends from the company as its emerging markets growth story plays out. This policy also has the advantage of imposing significant discipline on management. This dividend policy pulls most of the company's available cash out of management's hands and should prevent or reduce the risk of historically value-destroying activities such as empire-building acquisitions. However, this same policy results in the company having a somewhat spotty dividend history due to events that significantly reduce its cash flow such as the Great Recession a few years ago.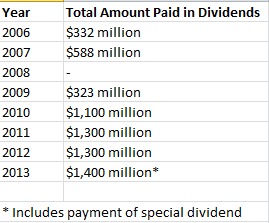 VimpelCom is quite reasonably priced relative to its peers (Data sourced from CapitalIQ and Yahoo! Finance):

As shown by the chart, VimpelCom is the lowest price stock out of these peers and has by far the highest dividend yield. One reason for this may be the perceived risk of the company. As VimpelCom operates almost exclusively in countries that generally have more governmental corruption than countries in Western Europe or North America, the company has a much higher risk of being a victim of this corruption than any of its peer group. However, VimpelCom has experience operating in nations with these governmental regimes and investors appear to be adequately compensated for the increased risk due to the company's lower price relative to its peers and its higher dividend yield (and higher growth prospects).
Disclosure: I am long OTCPK:TLSNF. I wrote this article myself, and it expresses my own opinions. I am not receiving compensation for it (other than from Seeking Alpha). I have no business relationship with any company whose stock is mentioned in this article.
Additional disclosure: I am long shares of TeliaSonera trading in Stockholm (not the pink sheets shares).