Two weeks ago, a sudden spike in gold was seen after the FED announced that it would continue its monthly $85 billion bond purchase program. Nonetheless, the positive effect of the decision did not hold long when St. Louis Fed President James Bullard said on Friday, September 20, that "a small taper is possible in October" and the decision not to move at the latest meeting was "borderline." The gold market gave up all the gains it had made. Last week was "quiet" for gold except on Friday, September 27, as gold prices spiked more than 1% after Chicago Fed President Charles Evans said that there is a chance that the FED will not move to scale back its bond-buying program until early 2014. What should we think about these contradictory remarks made by FED presidents?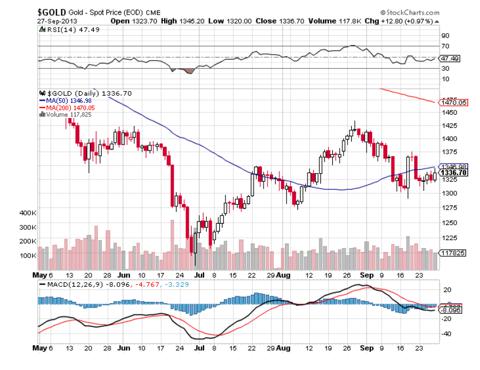 Click to enlarge
Source: StockCharts
The next potential bearish factor for gold could be the FOMC Meeting on October 29-30. Nonetheless, it is not if you remember what the FED said. The decision not to taper QE in September, even though Bernanke began talking about tapering QE in May 2013, and most economists expected the FED to announce a taper of $10/15 billion, can be attributable to three main reasons:
The FED's decision is data-dependent and the economic data was not robust enough
Before tapering, the FED needed first to revise downward its economic forecasts and it did it
Upcoming fiscal debates. At the September FOMC, Bernanke said: "The extent of the effects of restrictive fiscal policies remains unclear, and upcoming fiscal debates may involve additional risks to financial markets and to the broader economy. In light of these uncertainties, the Committee decided to await more evidence that the recovery's progress will be sustained before adjusting the pace of asset purchases." To put it bluntly, the FED does not taper because Congress is insane.
As a result, it is fair to say that the FED will not taper at the October FOMC Meeting because:
So far, recent data have, on balance, underperformed
October is right in the middle of fiscal debates.
In fact, the U.S. government faces two fiscal crises:
On October 1, the U.S. government is bracing a possible shutdown. House republicans refused to pass a budget unless it results in a delay to Obama healthcare reforms while the government needs to pass a short-term budget before the U.S. fiscal year ends at midnight on Monday. A U.S. government closure could cost the U.S. economy up to $2 billion as roughly 8000,000 U.S. Federal government workers would be put on temporary unpaid leave.
On October 17, the U.S. government will hit its debt ceiling, leaving the country with about $30 billion to meet its obligations while net expenditures on certain days can be as high as $60 billion. A failure to reach a deal would be catastrophic for the economy and it cannot be ruled out as Obama clearly reiterated his vow not to negotiate over the debt ceiling: "I won't negotiate on anything when it comes to the full faith and credit of the United States of America." As the October FOMC Meeting is around the same time as the debt ceiling deadline, it is likely that the FED will not adjust the pace of its asset purchases.
To sum up:
The FED is not likely to taper at the October FOMC Meeting so this is bullish for gold
The two fiscal crises that the U.S. government faces could trigger gold panic buying from investors as it will be seen as "the currency of last resort." Gold is in fact highly correlated with sovereign debt problems as I wrote here in a previous article. We have already seen buying panic in the gold market in August/September of 2011 during the U.S. debt ceiling debate when gold reached an all-time high of $1,920 an ounce on September 6, 2011. I do not think it will be different this time.
Disclosure: I have no positions in any stocks mentioned, and no plans to initiate any positions within the next 72 hours. I wrote this article myself, and it expresses my own opinions. I am not receiving compensation for it (other than from Seeking Alpha). I have no business relationship with any company whose stock is mentioned in this article.