Near-record car sales recorded by all five major US car makers are likely to see a marked improvement in the firms' bottom-lines. US vehicle sales in the month of August were at the highest levels in six years. General Motors (NYSE:GM), Toyota (NYSE:TM), Chrysler, Ford and Nissan (OTCPK:NSANY) all made huge volume gains in the month of August. Global sales leaders recorded an impressive 22.8% monthly gain. GM recorded a 15% sales growth in August, the monthly sales being the best since August 2008. Ford recorded a 20% sales growth, Nissan's sales grew 22.3% and Toyota's 21%. The August US vehicle sales by various automakers works out to an annualized 16 million units.
Not only did the automotive behemoths sell more cars in August, they also sold at higher-than-average prices. The average transaction price for every vehicle sold (this includes options and incentives) climbed 3.2% Y-o-Y to $31,252. What's even better is that industry analysts expect the trend to continue in the coming years. The analysts are optimistic annual US vehicle sales could hit more than 16 million units by 2018, and may go as high as 17 million units.
General Motors Corporation is the 2nd largest auto-manufacturer in the world by virtue of its considerable global market share and vehicle unit sales. GM designs, manufactures and sells cars and trucks as well as automobile parts all over the world. The company also offers automotive financing services to its customers through General Motors Financial Company,Inc. GM's automotive operations meets customer demands through four automotive segments namely GM International Operations (GMIO), GM North America (GMNA),GM South America (GMSA) and GM Europe (GME). General Motors worldwide vehicle sales for the whole of 2012 was 9.3 million units.
Market Share
General Motors commanded an 11.4% global market share in the second-quarter of 2013 after sales of 2.49 million units; a 3.2% improvement compared the firm's market share in Q2 2012. GM still maintains second ranking after Toyota in global market share. Toyota occupies the commanding heights of the global auto-manufacturing industry with 2.54 million vehicle sales in Q2 2013. GM's close competitor Ford Motors (NYSE: F) sold 1.56 million units last quarter.
Despite the sales slump in China, Toyota still maintains first place in terms of global market share. GM's US sales are, however, climbing at a faster pace than Toyota's. GM outsold Toyota by 10,000 units in the US in the second-quarter.
North America remains GM's stronghold, a market where the giant auto-maker derives a commanding 62% of its total sales revenues. Sales revenues in Europe come in a distant second at 13% of total revenue while South America accounts for 10% of its revenues. The rest of the company's international operations (Latin America, Asia-Pacific, Middle East and Africa) generate a further 10% of revenues.
High Customer Satisfaction Levels
Customer satisfaction is critical when in the auto industry. GM has been able to capitalize on the high popularity of its Chevrolet model that has helped it maintain a good customer satisfaction rating (see graph below) in the domestic US market.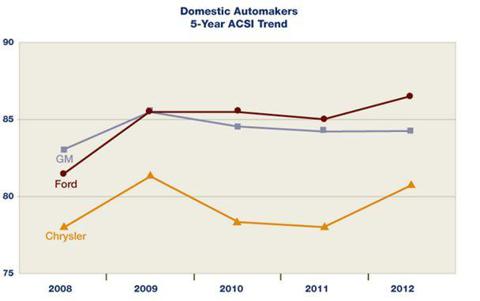 North American Market
Perhaps General Motors biggest worry is the shrinking earnings in its biggest market-North America. Profits in this market fell a worrying 14% to just $1.41 billion in the first-quarter alone. The falling profits in North America were brought about by a 12% production cut in its leading truck models.GM makes most of its money from SUV and truck sales. The lower profits were also occasioned by the restructuring of GM's manufacturing plants in anticipation of the planned manufacturing activity of GMC Sierra trucks and Chevrolet Silverado.
GM currently makes $1,747 profit on each vehicle it builds, down from $1,905 recorded last year. This is due to the huge incentives offered by the automaker in a bid to clear off its inventories in preparation for summer sales. In comparison, Ford Motors managed to eke out a $3,114 profit from every vehicle it sold in North America last quarter. Its European operations, however, fared much worse than GM's and returned a $462 loss compared to the latter's $175 million loss.
Rising sales in the US and China
China remains GM's most promising market. Its sales jumped 10.6% compared to last year. Even more notable is the fact that GM piped its major rival Volkswagen (NYSE:AG) in the Chinese market in the quarter after selling 1.57 million units compared to Volkswagen's 1.54 million units.
The demand for pickup trucks in the US rose sharply by 8% in June 2013 compared to last year fueled by growing housing demand.
The China gains are significant, considering that Toyota seems to be losing traction there.
Future Catalysts
Wall Street expects General Motors' financial performance to improve for the remaining second half of 2013, driven by GM's introduction of 13 new Chevrolet models in the U.S. as well as an additional 12 new models in other regions around the world. General Motor recently announced that it intends to operationalize 4 new plants in China by late 2015. This will boost overall production by at least 30% or 5 million units.
In a move aimed at trimming its losses in the European market, GM plans to close down its German factories in 2016 due to a slackening demand that has shown no signs of receding for six straight years. GM is also shifting its Opel Mokka production facility from its current South Korea location to Spain. Opel is GM's loss-leader in the European market. This might not be enough to completely turn around the company's European market; at least not according a research done by Barclays which revealed that GM is likely to face sequential deterioration in its European market with a few potential upsides that might be realized due to better pricing, improved inventory health and incremental production.
GM continued to show why it is regarded as the top-dog, as far as heavy duty trucks are concerned, when it unveiled its 2015 Chevrolet Silverado HD and the GMC Sierra Denali HD. During the Texas State Fair.
Final Words
GM seems well-positioned to gain a more competitive edge in the increasingly lucrative emerging markets, particularly China, where demand is steadily growing. The ongoing improvement in sales volumes and better pricing will significantly improve the automaker's bottom-line. GM's European market segment is also gradually cutting its losses and might rebound around 2015. Demand for light trucks in the US is growing at a healthy pace. GM looks set to make a major comeback in the space of just a few years.
Disclosure: I have no positions in any stocks mentioned, and no plans to initiate any positions within the next 72 hours. I wrote this article myself, and it expresses my own opinions. I am not receiving compensation for it (other than from Seeking Alpha). I have no business relationship with any company whose stock is mentioned in this article.