Canadian Income Trusts are in a good position to make money for investors after adjusting to the Halloween Betrayal of 2006, the Alberta royalty overreach of 2007 and the global financial follies of 2008. Each of the six stocks in our coverage is in an upward fundamental volume trend per unit adjusted for debt reduction and high income distributions (see chart Volume per Unit, below). The adjustment casts the trusts in a better light when reported volume is divided by adjusted units that have been declining for most of the trusts (see chart Units Outstanding, Adjusted, below). Bumps in the trend prior to the market peak last year reflect acquisitions.
The three largest conventional trusts acted as consolidators of smaller trusts in the face of changing trust taxation in 2011. Now those trusts are focused on reinvesting more cash flow. Considering our latest comparative analysis, Enerplus Resources Fund (NYSE:ERF) retains a low McDep Ratio of 0.79 after we reduce estimated Net Present Value (NPV) to US$32 from US$36 a unit.
The largest income stock, Canadian Oil Sands Trust (OTCQX:COSWF), has our buy rating, while the other five also offer attractive appreciation potential indicated by low McDep Ratios.
The second, third and fourth largest, Penn West Energy Trust (NYSE:PWE), ERF, and Pengrowth Energy Trust (NYSE:PGH), are well-positioned in lighter crude oil in the Western Canadian Sedimentary Basin (WCSB) where multi-frac horizontal drilling is attracting new excitement. One of the smaller stocks, Peyto Energy Trust (OTCPK:PEYUF), has unique concentration on long-life natural gas in the deep WCSB. The other smaller stock, Freehold Royalty Trust (OTCPK:FRHLF) has unique top line royalty rights that are usually reserved for the provincial government in Canada. We expect to visit Peyto, Freehold and Birchcliff Energy (OTCPK:BIREF) when we are in Calgary on October 20-21 for Penn West's Analysts Day.
Some McDep Ratios May Be Less Accurate
McDep Ratios for PWE, ERF, and PGH may be understated by perhaps 0.1 compared to our standards for large cap stocks. That tentative observation follows from the literal interpretation of a quick test that relies primarily on two variables, adjusted reserve life and Next Twelve Months (NTM) cash flow. Favorable results from new emphasis on reinvestment could boost both variables. Meanwhile, investors can get a rough impression of the consistency in McDep Ratio calculations by comparing PV/Ebitda with Adjusted Reserves/Production. Higher PV/Ebitda is generally associated with higher reserve life.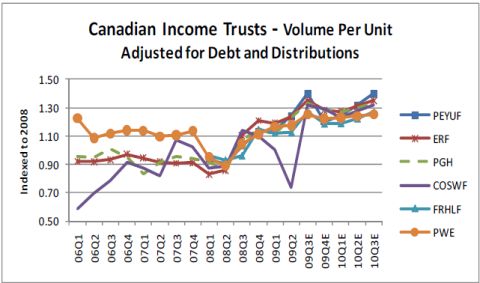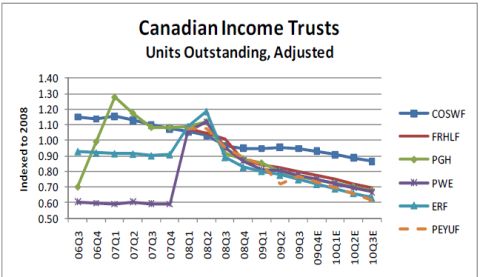 Originally published on October 16, 2009.