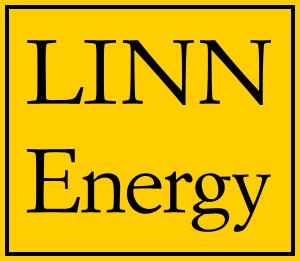 On September 12th Linn Energy (LINE), the largest of all upstream MLPs, announced it would acquire mineral rights on 6,250 net acres in the Permian Basin of West Texas. This acreage would include 124 producing wells and 300 identified locations for future drilling. The total cost was $525 million. Here is a quick synopsis of the deal:
30 million barrels of oil equivalent reserves,
Of which 70 percent is oil
A reserve life of about 17 years at current production of
4,800 barrels of oil equivalent per day
Secondary "waterflooding" recovery techniques would add another 24 million barrels of reserves (it's unsure if tertiary recovery methods would be possible after that).
Low operating expenses of $15.00 per barrel in a historic, well-mapped producing geography.
Linn is really big on the Permian. Even before this acquisition the company held 100,000 net Permian acres. In addition, Linn's proposed acquisition of Berry Petroleum will add another 61,000 net acres to its Permian asset base.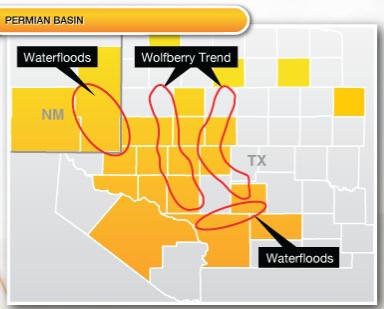 Linn's current Permian position. Courtesy of investor relations.
By now it should be clear what Linn is trying to do: Build a base of conventional, oily Permian acreage. This article will look at the specifics of the most recent Permian transaction and how it fits in the "big picture" with Linn.
Do We Really Need ANOTHER Acquisition?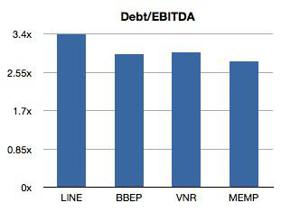 That's what I thought when I first heard the news. Compared to other upstream MLP names Linn easily has the highest relative debt. At this point, it probably has the lowest distribution coverage ratio for the year, too. Given the uncertainty swirling around this name, I would guess management would want to bring debt down to a level comparable to its peers and focus on rebuilding some margin of safety with the distribution.
Apparently Linn is still in acquisition mode. And it will probably stay that way until either rates go much higher or demand for this mature acreage overwhelms supply. I'm not holding my breath on either of those. With that in mind, lets look at the actual transaction.
Bolt-On Bargain
To roughly find out whether this was a good deal, lets do some simple math. So, the deal cost $525 million for 4,800 barrels of oil equivalent production per day. Remember, 70% of this future production will be oil and about 30% should be gas (any NGLs as a percentage of gas will be a "bonus" in my calculation). Considering a WTI price of $100 per barrel and a Henry Hub price of about $4 per thousand cubic foot, we use a weighted average and get revenue per BOE of $77.20.
We then subtract the $15.00 per barrel of total operating costs to get an average margin of $62.20 per barrel. That's nearly $300,000 in margin per day. Assuming the average well operates 340 days per year, we get about $101 million per year: a breakeven of 5.2 years. That's a pretty good deal. We see real value when we consider that the reserve life of the acreage is about 17 years.
This is a rough calculation, but it's a good indication of the value this deal brings to the table. Keep in mind this does not account for price fluctuation. If Linn buys expensive put options on this production, my equation does not account for that cost (or the potential upside). Also, the equation does not consider Net Present Value discounts. But on the upside, the equation also does not consider potential water flooding benefits. Nor does it consider possible tertiary recovery methods which could follow, such as steam or polymer flooding.
The Big Picture
What does this acquisition mean regarding the SEC's informal investigation or the acquisition of Berry Petroleum? Probably not much. We still don't really know much about either event yet. While management has made some amendments and semantic changes, it's best to wait for the event's conclusion to judge the ramifications. I do find it interesting that management continues to acquire. It could be a sign of confidence, but I don't want to read into something which may not be there.
Conclusion
In any case, this acquisition made sense for a few reasons and Linn got a very good price. I do still trust management's judgment on this one. While I am concerned about debt levels and distribution coverage (now slated to be 0.96 for the year), I can see what Linn is doing: Steadily building up its Permian asset base.
Is Linn Energy a buy right here? Maybe. If you don't mind the uncertainty. I have a feeling this one will either bolt up or down. And as I've written in the past I DO believe Linn is a profitable business. The company is trading at 9 times "DCF" (I have to use quotations now), lower than any other upstream MLP I've checked. Before I add more shares, I'd like to see what the SEC says about Linn and the Berry acquisition. By then it might be too late to jump on board, but that's what I plan to do. Regarding this Permian acquisition, there are no patterns in the tea leaves, but I do think this was a really good deal.
Additional Sources:
"Debt to EBITDA" chart by author, data by Morningstar and respective partnerships' 2013 guidance.
Disclosure: I have no positions in any stocks mentioned, and no plans to initiate any positions within the next 72 hours. I wrote this article myself, and it expresses my own opinions. I am not receiving compensation for it (other than from Seeking Alpha). I have no business relationship with any company whose stock is mentioned in this article.