Stocks of the European Oil group, made up of five buy-recommendations, Total (NYSE:TOT), StatoilHydro (NYSE:STO), Royal Dutch Shell (RDS), BP plc (NYSE:BP) and BG Group (OTCQX:BRGXF), have low McDep Ratios that fall within the tightest range (0.75-0.87) of the six industry groups in our coverage. McDep Ratios for the European stocks have reversed a three-year slump (see chart below). In the context that lower McDep Ratio stocks should return more than higher McDep stocks, BP has underperformed modestly over three years.
Otherwise, occasional extremes appear to get reduced in a pattern of reversion to the mean. Among the three majors, BP and TOT have the traditional oil concentration near 60%, while RD has a traditionally greater concentration on downstream and natural gas. STO has the highest concentration on natural gas production. BG profits from a dominant natural gas trading position and is the largest partner of Petrobras (NYSE:PZE) in deep offshore Brazil oil discoveries. Fundamental trends for the five stocks are favorable with futures prices for oil and natural gas for the next six years trading above 40-week averages. The five stocks are also bargains at median cash flow multiple (EV/Ebitda) of 5.9 and pay high dividends at the median rate of 5.3% a year.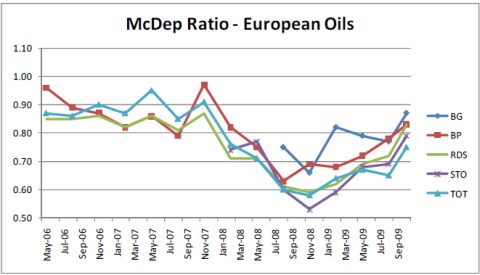 Originally published on October 20, 2009.