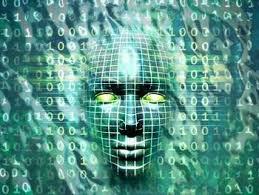 Recently Facebook (NASDAQ:FB) made public that it had assembled a team of experts to begin work on its "Deep Learning" Artificial Intelligence project. Facebook has hired deep learning expert Marc'Aurelio Ranzato away from Google for its new group. Other members include Yaniv Taigman, cofounder of the facial recognition startup Face.com , computer vision expert Lubomir Bourdev and veteran Facebook engineer Keith Adams
The project is an attempt to develop an AI or Artificial Intelligence program that can simulate the neural network type processing that the human brain uses. Deep learning has shown potential as the basis for software that could work out the emotions or events described in text even if they aren't explicitly referenced, recognize objects in photos, and make sophisticated predictions about people's likely future behavior.
Facebook's chief technology officer, Mike Schroepfer, will say that one obvious way to use deep learning is to improve the news feed, the personalized list of recent updates he calls Facebook's "killer app." The company already uses conventional machine learning techniques to prune the 1,500 updates that average Facebook users could possibly see down to 30 to 60 that are judged most likely to be important to them. Schroepfer says Facebook needs to get better at picking the best updates because its users are generating more data and using the social network in different ways.
"The data set is increasing in size, people are getting more friends, and with the advent of mobile, people are online more frequently," Schroepfer told MIT Technology Review. "It's not that I look at my news feed once at the end of the day; I constantly pull out my phone while I'm waiting for my friend or I'm at the coffee shop. We have five minutes to really delight you."
Digital Trends recently reported that Facebook's AI project is also looking to get "emotional".
This past year, Facebook started asking you more than just what you were doing or thinking about in the status update box; it also wanted to know how you were feeling. The AI Facebook is developing will take this a step further, because the site wants to be able to know what the inflection and emotion behind your posts is; things like sarcasm are hard (for a computer… and some people) to read, and funny-sarcastic post that gets 20 comments and "likes" might not initially get the right News Feed treatment because Facebook just didn't get it.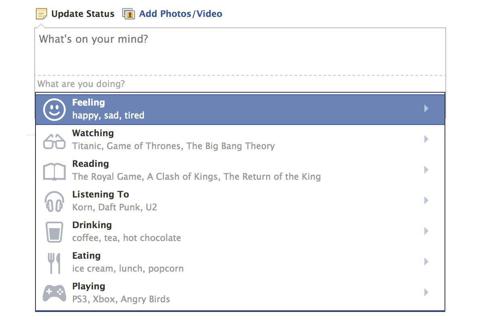 Click to enlarge
Any by understanding your emotions and what your like better, Facebook might be able to show you the types of things you're more likely to want to see - or not want to see. For instance, if you write "Really, we get it, your baby is cute - please post 18 more albums of them today!" Facebook would be able to understand you actually don't want to see more baby photos.
With Facebook shares trading at all time highs in the 50-51 dollar range, many investors are beginning to question the potential for growth to feed this growing share price. The advertising dollar impact with a successful AI program in place is nothing less than huge. Television has been losing ad dollars consistently as Web based ads have proven to deliver a significantly higher ROI. Taking advertising to the level of understanding how you feel at any given moment gives Facebook an advantage that others simply do not have a window into.
Facebook has successfully made the move to mobile and mobile is where everything is converging. By successfully implementing AI software to help disseminate the tremendous amount of data that is and will be able to be mined, Facebook is positioning itself to be the undisputed leader in Mobile advertising.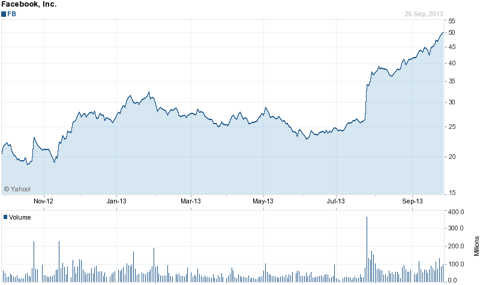 Click to enlarge
Today's stock price may seem high to some but when set against the future potential that Facebook is looking to bring to market these prices will some day look like a bargain.
Disclosure: I am long FB. I wrote this article myself, and it expresses my own opinions. I am not receiving compensation for it (other than from Seeking Alpha). I have no business relationship with any company whose stock is mentioned in this article.