Unsung Hero
The Nokia (NYSE:NOK) Lumia 520 has been a stellar market performer for Nokia. For a company like Nokia, who rely a ton on the hardware business, the success of the relatively low-profit margin device was dismissed as damaging Nokia's margins. Microsoft (NASDAQ:MSFT) sees the sales success of the Lumia 520 in a different light. At the recent Microsoft employees meeting it was billed as the most successful Windows hardware product ever. Combined with the recent comments from a Microsoft executive about the importance of breaking through and attacking the lower-end of the market with devices it isn't a large leap to see that there will be a Lumia 520 successor pushed as soon as the Microsoft/Nokia purchase goes through. The latest Kantar World Panel results support this thinking. Dominic Sunnebo, strategic insight director at Kantar Worldpanel ComTech, comments:
Windows Phone's latest wave of growth is being driven by Nokia's expansion into the low and mid-range market with the Lumia 520 and 620 handsets. These models are hitting the sweet spot with 16 to 24 year-olds and 35 to 49 year-olds, two key groups that look for a balance of price and functionality in their smartphone.
The no-contract market is big money both in the U.S. and globally. It is very important to remember the amount of money Microsoft used to back the HTC Windows Phone 8X when Windows Phone 8 was launched. The completed purchase of the Nokia handset division will eliminate the need to "protect" them from having an OEM dominate the Windows Phone market like Samsung currently does the Android market. We've witnessed Google (NASDAQ:GOOG) purchase Motorola, in part, to have a hardware division to curb Samsung's unimpeded dominance over the platform.
(click to enlarge) Image Courtesy WPCentral.com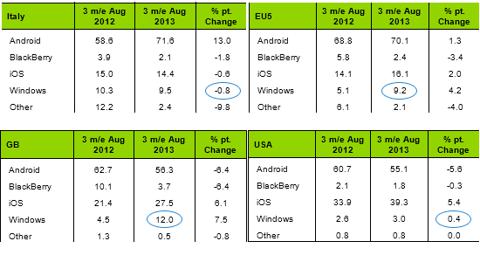 Living Room Heavyweight
Just like our smartphones are our one device to rule most of our mobile lives Microsoft is betting large that the Xbox One will be the device the masses turn to in the living room. The Xbox Fitness programming looks set to allow Microsoft to tap into the $20 Billion fitness industry. This is a major differentiator for Microsoft as they release their upcoming next-generation console against Sony's (SONY) PlayStation 4. Despite a sketchy survey released that paints a pessimistic holiday season for the Xbox One compared to the PlayStation 4, it is Microsoft who is continuing to tick the boxes needed to be relevant now and in the future. Xbox Fitness will be an unlimited bonus to everyone who owns an Xbox Live Gold membership for a year. This provides another reason for adults to justify upgrading to an Xbox Live Gold account. Remember that Xbox Live is now a Billion dollar business. Continued original programming investment is key to sustaining that business. Having a non-tech savvy mom be able to walk into the living room and simply say "Xbox on…Xbox fitness" and be welcomed with exactly what she needs on screen to get started with her exercise routine is simple and a positive engagement that prompts positive mouth to mouth testimonies.
Evaluating Microsoft's Fundamentals
Fresh off of being approved by the U.S. Government and UK Government for government use Windows Phone 8 still has much more to offer in the coming months to the enterprise sector. The approval of governments as BYOD devices is a huge hurdle passed. The UK's approval comes a good time as Windows Phone's market share is surging in the UK. Low-cost hardware, consistently improving app selection and in early 2014 the Enterprise Pack for Windows Phone 8.1 will add a ton of features requested by enterprise customers.
BlackBerry's (NASDAQ:BBRY) decision to abandon the consumer market essentially means in the BYOD era BlackBerry has virtually zero chance to get their BlackBerry 10 hardware devices into the hands of consumers. The only piece of really good news for BlackBerry is that the install base on BES 10 Servers grew from 19,000 to 25,000 from July to the end of Fiscal Q2. This does represent both active and test servers to be clear. The confusion and bleak outlook provides very little incentive for corporations to invest in BES 10 (BlackBerry Enterprise Server) hardware and pay monthly fees when they can get comparable mobile device management from Microsoft and have hardware that is built with the device management in mind. Vertical integration was one of the main reasons BlackBerry hardware remained a preference for so long and now they have given Microsoft the opportunity to become the new face of enterprise vertical integration. What does that mean to investors? A nice, consistent source of recurring revenue should be generated. Software and service revenue always carries with it high gross profit margins.
The importance of Windows InTune in my case for BlackBerry cannot be understated. Selling $70 per year licenses to iOS and Android users represents the largest and quickest way for Microsoft to not only firmly establish themselves as being a long-term enterprise solution but a selling point. Microsoft could encourage businesses utilizing Windows InTune device management to push employees to purchase Windows Phones in exchange for a per-user discount on InTune. This works out to close to $6 ARPU (Average Revenue Per User) for service and Microsoft would stand to make much more as the user becomes deeper embedded into the consumer side of the Windows ecosystem.
Android Patents Royalties a Boon to Microsoft's Mobile Efforts
Microsoft's wise change of focus to the low and mi-range of the smartphone market should delight investors who are looking at market share as a prime indicator of sustained success. The upcoming push by Microsoft should serve to continue to rapidly capture market share in emerging markets. The continued success this brings to Microsoft will place them in position to persuade OEMs to look more closely to investing into the Windows Phone platform as an alternative. It is estimated that Microsoft receives an average of $8 off each Android smartphone and tablet. That amounts to well over $400 million dollars in 2012 and $1.51 billion so far in 2013. With all leading market analysts predicting the smartphone market continuing to expand well into 2017 that Android patent royalty figure could rise to as much as $5 billion dollars if Android continues to own the dominant market share going forward. That kind of profit infusion into your mobile business means Microsoft face very little pressure to focus on the high end of the market where only Apple (NASDAQ:AAPL) seems to enjoy continued success and profit. They can concentrate on the enterprise and emerging markets and grow their ecosystem. As a device and service focused company going forward the ability to push subscriptions to their customers will present an opportunity for their multiple billion dollar businesses to continue to grow and remain relevant.
If mobile integration is the future than Microsoft is positioned well to capitalize. Focusing on the low to mid-range of the smartphone market is the fastest way to grow your market share. A rumored refresh of the popular Nokia Lumia 520 is said to be debuting at Nokia's Nokia World late in October. This is much needed to continue the Windows Phones momentum taking place globally. The Xbox Fitness app/service positions Microsoft squarely above Sony's PlayStation 4 for buyers looking to maximize value in their next console purchase. I've shown off the Xbox Fitness service to people close to me and they all agree that it's a valuable thing to have. I am confident the $100 price difference isn't insurmountable for Microsoft over the long-run. Initially parents will aim for the lowest purchase cost possible for the holiday buying season but as Microsoft continues to build out their offering and market their differentiating features the tide will turn and when the mass market is ready to upgrade to their next consoles the Xbox One will be positioned as a preferred choice. Looking at the metrics behind the continued growth and enormous amount of Android patent royalty fees Microsoft has managed to generate investors have to like the clear trend. As the mobile market grows and Android's share of the tablet market continues to grow Microsoft stands to financially benefit even more. Who doesn't like a company that a single division is projected to make over $5 billion dollars without lifting a muscle of their own by the year 2017? I encourage investors to think long-term and evaluate Microsoft's current market price compared to what it will garner when these key components begin to bear even more fruit.
Disclosure: I have no positions in any stocks mentioned, and no plans to initiate any positions within the next 72 hours. I wrote this article myself, and it expresses my own opinions. I am not receiving compensation for it (other than from Seeking Alpha). I have no business relationship with any company whose stock is mentioned in this article.