SodaStream International (NASDAQ:SODA) sliced through its 50 day SMA today when it declined in share price through $63.44, as indicated in the chart below, and finished the day at $62.37 a share. If it crosses the 200 day SMA of $56.75, you know what that means -- that's right, it means nothing. Typically when a stock forms what is called a "death cross," 50 SMA crosses below the 200 SMA, it is a sign of a longer-term downtrend as characterized by the rules of technical analysis. However, shares of SODA have performed this death cross pattern before and yet the stock had reached new 52 week highs post this technical event.
With roughly 21.5 mm shares in the float, less than 5% daily volume exchanging hands on average, short interest now nearing 48% of the total float and repeated technical breaches along any chart pattern one desires to offer, SODA long-term investors might be more greatly benefited by investing alongside the company's fundamental execution than technical aspects of the stock. Unfortunately, I can't begin to inform you how many investors cited trading SODA according to a pattern they saw developing and wound up stuck in the stock for longer than they had anticipated as the pattern didn't fully develop and wound up turning against the supposed pattern. Fortunately, two events usually take place to allow traders out of their respective positions; the fundamental execution by the company resulted in a higher share price and traders were able to close out their position, and from that higher share price short speculators initiated positions alongside long-side investors taking profits and the share price once again fell by 10% or greater.
The two aforementioned technical events have kept SODA in a channel for the better part of the last 4 months, and by all accounts, the channel should breach in Q4 and upon recognition of the company achieving stated goals for fiscal 2013. By and large, the current share price volatility is no different than what happened to the share price action in 2012 and if long-term investors are inclined to discover any relevancy in technical analysis for SODA, they would find greater efficacy in the YOY 12 month chart of SODA, which depicts the share price tracking the fundamental execution of SodaStream from November through year-end. November represents the company disclosing Q3 results and with three quarters of improved and outperforming results behind it and having disproved the "fad" notion yet again, investors are more inclined to begin piling into shares of SODA as they have done in all three previous years during this time period. (Click here for depiction of share price appreciation in month of November through year-end)
As investors on both sides of the coin look forward to November, according to the thesis previously outlined, this thesis will likely only hold true once again if SodaStream fundamentally executes its business model, which is dominating the "new" at-home carbonated soft drink product category. I hesitate to use the term "new" as the company is now celebrating more than 3 years of success in the Americas and nearly a decade (in current form) in other regions. In terms of defining the company's success, one needn't look any further then its YOY revenue and earnings growth, which is unparalleled by any small appliance or beverage company to date.
Let's look at what SodaStream analysts are expecting for the current quarter slated to end September 30th and fiscal 2013. It is important to understand that the estimates offered through Capital IQ are stated in GAAP performance, which is not typical.
Earnings Est

Current Qtr.
Sep 13

Next Qtr.
Dec 13

Current Year
Dec 13

Next Year
Dec 14

Avg. Estimate

0.73

0.67

2.57

3.33

No. of Analysts

11.00

10.00

10.00

11.00

Low Estimate

0.66

0.46

2.50

2.98

High Estimate

0.99

0.78

2.62

3.53

Year Ago EPS

0.80

0.36

2.09

2.57
Revenue Est

Current Qtr.
Sep 13

Next Qtr.
Dec 13

Current Year
Dec 13

Next Year
Dec 14

Avg. Estimate

145.20M

171.38M

567.26M

672.46M

No. of Analysts

9

9

10

10

Low Estimate

141.80M

165.00M

563.30M

594.00M

High Estimate

149.60M

176.00M

572.00M

717.54M

Year Ago Sales

112.48M

132.95M

436.32M

567.26M

Sales Growth (year/est)

29.10%

28.90%

30.00%

18.50%
| | | | | |
| --- | --- | --- | --- | --- |
| Earnings History | Sep 12 | Dec 12 | Mar 13 | Jun 13 |
| EPS Est | 0.72 | 0.39 | 0.55 | 0.57 |
| EPS Actual | 0.80 | 0.36 | 0.57 | 0.60 |
| Difference | 0.08 | -0.03 | 0.02 | 0.03 |
| Surprise % | 11.10% | -7.70% | 3.60% | 5.30% |
EPS Trends

Current Qtr.
Sep 13

Next Qtr.
Dec 13

Current Year
Dec 13

Next Year
Dec 14

Current Estimate

0.73

0.67

2.57

3.33

7 Days Ago

0.73

0.67

2.57

3.33

30 Days Ago

0.73

0.67

2.57

3.33

60 Days Ago

0.92

0.46

2.51

3.26

90 Days Ago

0.92

0.46

2.51

3.26
For those of you who are looking at the EPS Trend and noting the adjustments in the September quarter and December quarter, those adjustments have been made to accommodate for SodaStream allocating its A&P spend more broadly over the third quarter than in previous years. Consequentially, the company's EPS estimate for Q3 has come down vs. the year ago period and the Q4 EPS estimate has gone up vs. the year ago period.
The most recent product line announcement for SodaStream came last week when the company outlined the debut of a new soda maker, which should garner a lot of attention. The SodaStream Play, designed by Yves Behar, the world-renowned designer and social entrepreneur made its debut at design junction during the London Design Festival from September 19-22. Adopting the concept of "play it your way," the new SodaStream Play will be available in six fresh, strong colors and is the first soda maker in the world that can be color-customized to fit the preferred design choice or kitchen interior of the consumer. As an innovative new feature, the refined mechanics of the machine allow the high-gloss slider column to automatically return to the original position after being pressed, simplifying the process of carbonation. The Play will work with either the 60L or 130L CO2 cylinder, providing even greater user flexibility. SodaStream Play will be available in stores in Spring 2014.
In the company's press release detailing the SodaStream Play, CEO Daniel Birnbaum stated the following:
"This new soda maker maintains the design language of the Source family, yet has a clear identity, with a price point that will appeal to a larger segment of the market. Customization is a key part of our product portfolio ethos; the ability to mix-and-match the heads and columns of the Play with different colors reflects the empowering choice we provide consumers to decide how fizzy and how much flavor they desire. We understand that people want a product that is fun yet can fit within the aesthetic of their living space. Play allows you to do just this."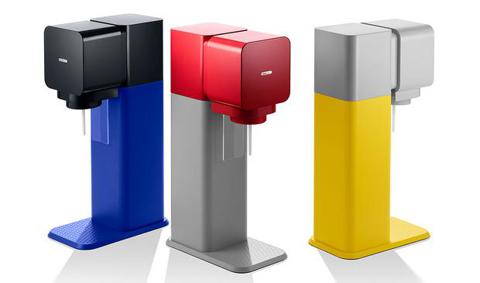 "With a price point that will appeal to a larger segment of the market," that's what Mr. Birnbaum said right? Now we have to analyze what the potential will likely be for this offering by the CEO.
During the summer of 2012, Capital Ladder Advisory Group (CLAG) released a 35 page research report that forecasted and/or predicted several operational steps SodaStream would likely employ in the coming years. One of which we happened to forecast was that the company would advance to market a soda maker that was in the price point range of $49.99-$64.99. If what Mr. Birnbaum has stated holds true, CLAG's forecast will likely also hold true. But why and what makes this price point development so important? The current SodaStream platform is more weighted for adoption among middle income consumers as the average soda maker system/kit carries an upfront cost of roughly $90. This price has come down from a year ago, but still relegates itself to a certain consumer demographic. With the SodaStream Play at a price point that would appeal to a larger segment of the market, one can assume that SodaStream can accomplish greater market distribution and greater household penetration rates; the two go hand-in-hand as SODA has demonstrated over the years. Just one example of this probability can be forecasted through SodaStream's partnership with Wal-Mart (NYSE:WMT). Wal-Mart has over 5,000 locations in North America, but only about 3,500 of those locations have a small-appliance department with products over the $49.99 price point. SodaStream is currently not in the other locations which are general merchandise Wal-Mart locations and numbering at roughly 2,000 stores. These new product launches slated for 2014 could broaden SodaStream's distribution with Wal-Mart next year, and I would suspect has not been factored into analysts' projections as a possibility.
In a recent interview with Sodastream's Chief Innovation and Design Officer, Yaron Kopel, Mr. Kopel discusses that the customizable SodaStream Play will be around $10 more expensive than the single color version. In addition to the SodaStream Play, SodaStream will be more broadly developing and distributing the Source Wood and Source Electric in the coming quarters. The company debuted the SodaStream Wood at the International Home and Housewares Show earlier this year, but based on current analysis, it appears the company is gearing up for a near-term product launch that could come in early 2014. SodaStream has also designed a new vending machine, which will dispense cold, filtered, still and sparkling water into a cup or container.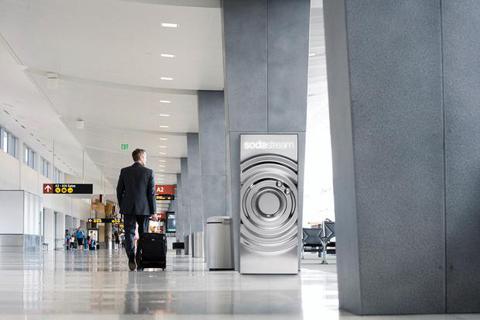 With this product initiative, the company can effectively market its product and brand name in more commercial places such as hotels, airports and municipalities. Nowadays, more and more individuals carry a bottle or cup of some kind with them on-the-go. With bottled beverages for the on-the-go consumer so prolific, when do you not see someone with a drink in hand, or as some in the South say, "drank"? Living in South Florida myself, I can tell you that most people have a bottled beverage with them at most times throughout the day with the constant heat. The SodaStream Fountain vending machine allows the consumer to refill that cup or container for a cheaper and more eco-friendly price than purchasing a new bottled beverage.
SodaStream has shown its capabilities with taking costs out of the soda maker system before. These new product initiatives, with a price point aimed at a larger market segment, could prove to garner not only greater sales for the company, but a revisiting of estimates by analysts for fiscal 2014 and beyond. As SodaStream expands its product line and distribution, it will likely expand its revenue potential.
Moreover, SodaStream is continuing with its CO2 expansion. Earlier this month, the company launched the 130L spare cylinder at Bed Bath and Beyond (NASDAQ:BBBY) accompanied with greater distribution at the retailer of the Revolution soda maker kit. While we don't have the orders in hand at the moment, we will be obtaining them within a matter of days. It would not be surprising to see Wal-Mart move forward with the CO2 product line next year and begin to offer the 130L exchange and spare cylinder. Once again, our discussions with other analysts prove that they have yet to discover these developments at Bed Bath and Beyond, which could assist SodaStream in outperforming analysts' estimates.
On October 20th, Capital Ladder Advisory Group will be visiting with SodaStream's CEO and other executive as we tour their headquarters and facilities in Israel. We will have a plethora of information to disseminate upon our return and hope investors find the information fruitful.
Disclosure: I am long SODA. I wrote this article myself, and it expresses my own opinions. I am not receiving compensation for it (other than from Seeking Alpha). I have no business relationship with any company whose stock is mentioned in this article.