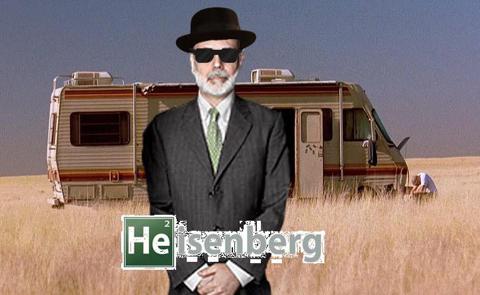 Click to enlarge
I suppose there are some who didn't watch the Breaking Bad TV series which just ended Sunday after 5 spectacular and riveting seasons. Those following the series readily know who Heisenberg was. He was the cook who ran the meth lab putting out the dope.
We know the Treasury needs the dope to support the government's spending habits. Subsequently, the treasury turns to the Fed Chairman (Heisenberg) and his distribution network, which consist of Fed Governors and the Primary Dealer network to print and distribute more money.
But, what if suddenly the lab is shut down, what's Heisenberg left to do?
Bulls that rely on a steady supply of "pure" Heisenberg-quality QE sense there could be trouble with the flow. After all, how can QE addicts deal with a taper of the product-especially the pure stuff?
Anyway, global investors Monday weren't happy with the syndicates running DC's House of Cards, so markets sold-off.
Only a handful of market sectors seemed immune to selling-some bond sectors (NYSEARCA:IEF) and especially solar (NYSEARCA:TAN). The higher the beta, the worse the decline in equity sectors-emerging markets (NYSEARCA:EEM) and REITs (NYSEARCA:IYR) were hit the most. Equity sector losses ranged from -1.70% (NYSEARCA:FXI) to -0.20% (NYSEARCA:IWM). The dollar (NYSEARCA:UUP) was flat and gold (NYSEARCA:GLD) was slightly lower. Of course, end-of-quarter window dressing was a reason losses weren't greater, not to mention many are just unimpressed by the repetitive DC show.
There was some positive economic data Monday including the Chicago PMI (55.7 vs. 54.5 expected, and prior 53); however, within the data, Employment was at a 5-month low. The Dallas Fed Activity Index jumped to 12.8 vs 6 expected, and prior at 5. Disappointing data came from China PMI at 50.2 vs. 51.2 expected, and prior at 50.1.
Volume increased on selling while breadth per the WSJ was negative.

Click to enlarge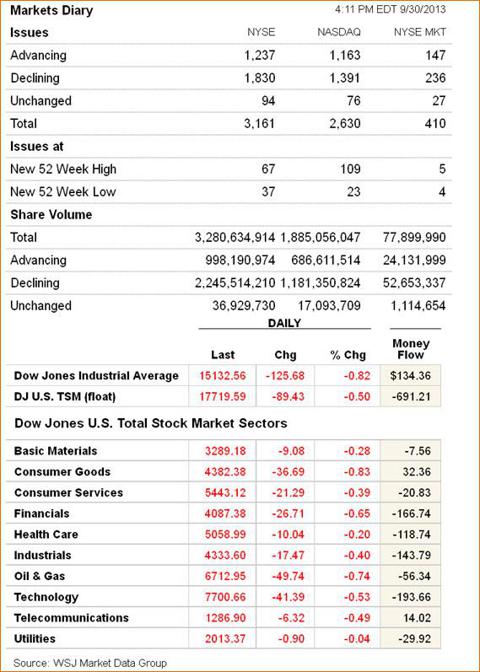 Click to enlarge
NYMO

The NYMO is a market breadth indicator that is based on the difference between the number of advancing and declining issues on the NYSE. When readings are +60/-60, markets are extended short-term.

NYSI

The McClellan Summation Index is a long-term version of the McClellan Oscillator. It is a market breadth indicator, and interpretation is similar to that of the McClellan Oscillator, except that it is more suited to major trends. I believe readings of +1000/-1000 reveal markets as much extended.

VIX

The VIX is a widely used measure of market risk and is often referred to as the "investor fear gauge." Our own interpretation is highlighted in the chart above. The VIX measures the level of put option activity over a 30-day period. Greater buying of put options (protection) causes the index to rise.

SPY 5 MINUTE

SPX WEEKLY

DIA WEEKLY

INDU WEEKLY

QQQ WEEKLY

QQEW WEEKLY

XLF WEEKLY

XLY WEEKLY

TAN WEEKLY

Click to enlarge

IEF WEEKLY

UUP WEEKLY

GLD WEEKLY

GCC WEEKLY

VEA WEEKLY

EEM WEEKLY
...
It seems StockCharts is down and therefore I'm unable to proceed in a timely fashion.
Perhaps bulls can ignore the government shutdown for now as long as the Fed keeps printing money. I don't think we've ever seen such amazing partisanship. Having gone through it several times in the past and with things then being worked out, perhaps bulls just won't take it seriously for now anyway.
It's hard to know what's next with this political situation. The administration and senate are betting the public will blame the republicans. But this seems to be cynical politics at its worse. I posted the image below this weekend for subscribers since Reagan and O'Neil (two opposites politically) nevertheless found ways to work together to get things done without the extreme partisanship.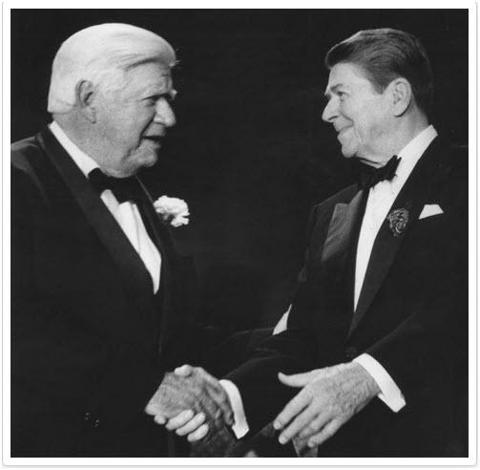 Click to enlarge
Let's see what happens.
Disclosure: I am long QQQ, QQEW, XLY, TAN, VEA. I wrote this article myself, and it expresses my own opinions. I am not receiving compensation for it. I have no business relationship with any company whose stock is mentioned in this article.