Turmoil regarding a potential (and likely brief) government shutdown relating to debt ceiling debates and the impact of the national health insurance mandate should not obscure the continued bad price action in the PM (precious metals) sector. Throughout September the miners went back into a funk and some are now barely 10% above their June 26 secular lows. This article examines a few reasons that this poor performance is confusing as well as disappointing and then offers suggestions on how to play this intriguing, vital and challenging sector.
Those who study the economics of PMs often cite laws like the inverse correlation of the USD to PM stocks traded on North American markets. But as I several times have noted, this correlation has disappeared in the era of QE. From its September 5 monthly high at 82.63, the DXY index dropped steadily to the 80.24 level (the lower end of its 52-week range) and PMs have dropped with it.
Another fading truism is that PM prices correlate inversely with bond yields. However, since the September Fed announcement that QE would continue, the 10-year has dropped dramatically from just under 3% to 2.62%. That is a bad yield for a 10-year note (those depending on fixed income now feel that part of QE-pain) but it saved the housing recovery and the nominal value of bond holdings, for now. However, PMs have been dropping with bond yields.
Less frequently, observers have cited a non-correlation if not an inverse "safe-haven" relation of PM issues to equities. There is no clear correlation here either, neither an inverse correlation or a direct one. For example, Monday September 30, amid broad-based market decline (58% issues declined, 3% were unchanged), PMs were mostly down. Exceptions were the three major PM miners: Barrick Gold +.49%, Goldcorp (NYSE:GG) +.97% and Newmont Mining (NYSE:NEM) +.43%. Gold and energy streaming company Franco Nevada (NYSE:FNV) that I have mentioned as consistently outperforming its sector in recent months was +.60, streamer Royal Gold (NASDAQ:RGLD) +1.04% and Tahoe Resources (NYSE:TAHO), nearing production of its major site, Escobal in Guatemala were +3.05% on an otherwise dismal day.
Those who follow the sector know that price rarely reflects fundamentals like increasing demand and slowly growing supply. Asian Central Banks and individuals continue to queue up for gold and silver and retail buying in America and Canada is strong as this chart shows:
Retail buying of Silver Eagles during the first 8 months of the year nearly surpassed the total for 2012.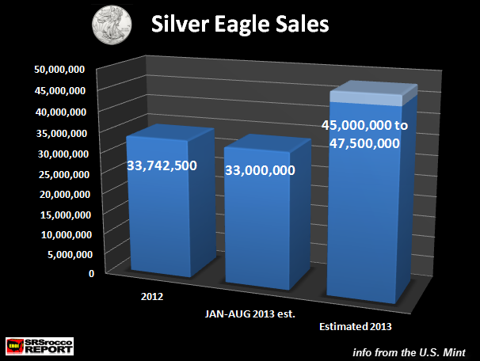 While uncertainty and major disagreement in DC clearly cools equity indices, its relation to PM action is unclear. On what then is one to base investing and trading decisions?
The positive case for silver is clear: it is a vital tech-industrial metal that also draws steady and this year enormous interest from retail buyers of bullion and numismatic coins like Morgan Silver Dollars (minted 1878-1904, 1921). I have documented the levels of buying in Asia in many previous articles and a link above. Demand for PMs has been masked by massive sell-down in ETF holdings like Spider Gold (NYSEARCA:GLD) and iShares Silver (NYSEARCA:SLV) prompted at least in part by radically reduced price estimates for the metals. Change in net gold ETF flows: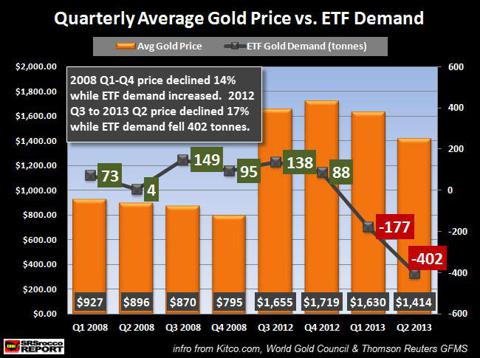 This may not comport with demand for physical metal but has a great impact on price action of bullion ETPs like Sprott Physical Silver (NYSEARCA:PSLV) and even more on PM miners.
What to Do: A strong case can be made that PM ETPs and miners are undervalued, strong value buys good for trading or, in the case of the best companies, for a mix of buying to trim for gains while retaining a portion for eventual market tops. Ongoing devaluation of all major currencies suggests that PM prices should rise significantly and they may do so. It also is clear, though rarely discussed in major forums that there will a new world currency system in four-five years as one prestigious journal suggested. Thus, those who do not shun PMs on principle or do not feel themselves dangerously over-weighted have good reasons to buy. Nearly all equity sectors are near 52 week or multi-year highs. While they may and probably will go higher next year, the room for appreciation in PMs that are near long-term lows is greater. However, investors should remember that strong hands have disproportionate interest and impact on the small PM sector.
The safest way to invest for trading or longer term holding and trimming is to buy the best companies when they are, as most of them now are, near 52-week or even multi-year lows. These companies can be identified by revenue and cash flow / debt ratios, revenue growth, multiple producing sites in safer jurisdictions (North America including Mexico) and board members experienced in metallurgy, geology, mining and prospecting. By these criteria, my view of the best companies is steady: First Majestic Silver (NYSE:AG), Endeavour Silver (NYSE:EXK), McEwen (NYSE:MUX), Yamana (NYSE:AUY) Fortuna Silver (NYSE:FSM) and, among the streamers, FNV and Silver Wheaton (NYSE:SLW). All except FNV and AUY, +.39% were down heavily September 30, from FSM -2.41% and AG -2.71% to MUX -5.14%. Note however that for 18 months MUX usually has outperformed the sector whether it was basing, rising or declining: it remains 50% above its June low. The PEA on its Los Azules site in Argentina shows 5.4 billion lbs indicated of Copper and 14.3 billion pounds inferred: indicated gold oz. are .8 million with 2.6 million oz. inferred on a 35-year mine life. By contrast, junior streaming company Sandstorm Gold (NYSEMKT:SAND) is about 16% above its low and Silver Standard Resources (NASDAQ:SSRI) with its major site at Penasquito in northern Argentina and its huge development project, Pitarilla in Durango State, Mexico is barely 11% above its 52-week low.
Investors should consider that during PMs continued general decline on September 30 the four main streaming companies, FNV, SLW, RGLD and junior SAND held up better than the miners and, as noted, FNV and RGLD were solidly green. The knowledgeable Jason Burack believes that SAND has big upside once the supply crunch from slowing E&D hits the markets leading juniors to rebound strongly. It is a reasonable thesis.
The best companies are tightly run and should rise strongly. In 2Q for example, AG cut production costs, decreased E&D 20-30% at its five operating mines while increasing silver equivalent oz. production 50% and doubling output in lead and zinc. Similar results were reported by EXK in its recent report at the Denver Gold Forum. Check the relevant web sites for news releases and consider all factors in investing. The thesis remains strong and problems in the economy in general make a case for a position in physical bullion.
Investment decisions hinge on the extent of your extant holdings, net worth, income stream and tolerance for volatility. While the top companies named above should outperform going forward, the nature of price action in the sector, particularly in anxious times when PMs often are the first assets sold, driving prices lower, suggests that you use limit orders that take into account Monday's high-low range in the plays you want to make. Take care and have good fortune.
Disclosure: I am long AG, EXK, SLW. I wrote this article myself, and it expresses my own opinions. I am not receiving compensation for it (other than from Seeking Alpha). I have no business relationship with any company whose stock is mentioned in this article.
Additional disclosure: I own PM companies in diversified funds and individually.